If you're planning a sailing vacation on the Dalmatian Coast (and you should be!), Split, Croatia should most definitely be a part of your trip. As the second largest city in Croatia, Split still only has 160,000 residents, but when 3,000 of them live within the palace, you know you'll need to check it out. As is typical with other coastal cities in this region, Split has a rich history of trade, military, and many different cultural influences. Most famously, Split has the Palace of Diocletian, essentially a small city built for the Roman Emperor Diocletian to retire to. Nowadays, Split is also famous for being one of the locations used for filming during Game of Thrones as well as a destination for sun-seeking, history-loving travelers.
Many people use Split, Croatia as a jumping-off point for sailing vacations in the Mediterranean, or specifically in the Adriatic Sea and we find that 2-3 days bookending a trip is the perfect amount of time to see our favorite sites in Split, Croatia. If you have more time than that, lucky you! Almost all of our suggestions of places to visit in Split, Croatia can be taken at a leisurely pace, easily filling up at least a week.
9 Things to do in Split, Croatia
1. The Palace of Diocletian
As mentioned, this palace is almost always mentioned in the same breath as Split. The palace is really more like a compound and is woven into the very fabric of Old Town Split. It's now a UNESCO World Heritage Site and is best seen as early in the morning as possible to avoid crowds. There are four gates named after different metals to enter the palace walls, the most notable being the gold gate. We highly recommend seeing this entrance because you'll be treated to a sculpture of Grgur Ninski by Ivan Meštrović and legend has it that his toe brings luck to the person who rubs it. There's no mistaking which toe you're supposed to rub. Trust us.
Within the palace, there's a lot to see. First, you'll need to visit the St. Domnius Cathedral, completed in 305 A.D. as a mausoleum for Diocletian and in the 7th century became a church. The gold altar really is breathtaking. If you're able, walk up the 180 steps to the top of the bell tower to take a good look at the city — it's well worth the small additional fee.
Stop by the Vestibule, which was once a meeting hall at the palace. Its round shape and exposed brick make it a magnet for acapella singing groups, specifically Klapa (a traditional style), so hopefully, you'll be treated to a performance.
Don't miss the Temple of Jupiter, a beautifully preserved Roman monument that was eventually converted into a baptistry, but still displays one of the 12 sphinxes brought to the palace from Egypt during the construction of the palace (which wasn't even completed by the time Diocletian was ready to move in).
Finally, take a quick walk through the substructures, the basement pathways underneath areas of the palace. If you happen to be a Game of Thrones fan, you might recognize this area (now home to little shops) as where Daenerys kept her dragons, at one point.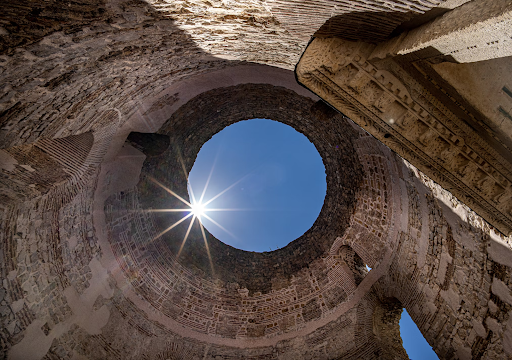 2. Wander through the Old City squares
While the Palace of Diocletian is technically in Old City, Split, the Old City does extend beyond the palace. We love to wander through the People's Square (Pjaca) where you'll see its unique 24-hour clock centerpiece and can grab a bite to eat on the patio of one of the restaurants. We also suggest Fruit Square, which, as you can probably guess, used to be filled with fruit vendors. Now, people visit to admire the Baroque architecture, the octagonal Venetian watchtower, and the Milesi Palace. Carrying on with your tour of squares, you should stop by Republic Square. You'll know you've found it because it looks a little out of place with its red buildings. It was built to remind visitors of Split's Italian influence, specifically St. Mark's Square in Venice.
3. Hike Marjan Hill
On the west side of the city is the beautifully green Marjan Park. If you embark on the relatively short walk up to one of the viewing areas, you'll be rewarded with a gorgeous view of the city, mountains, and the Adriatic Sea. You can actually choose whether to walk up the stairs or take a forest hike. The Vidilica viewpoint is beautiful, but we recommend continuing to the Telegrin point, where the view is even better.
4. Relax (or play) on one of Split's best beaches
Croatia is known all over the world as having some of the best beaches and while we do recommend visiting some of the beaches on the islands during your sailing vacation in Croatia, you can still catch some rays while in Split. Bačvice is probably the most popular beach, mainly because it's so centrally located, and while the water is clean and the sand is soft, it can get busy. That being said, busy isn't always bad! You might get to watch (and learn) the uniquely Croatian game of Picigin, where players try to rally with the inside of a tennis ball without letting it hit the water. Points are awarded for style!
Some of our other favorite beaches in Split include Firule, Kasjinu, Stobreč, Zvonac, and Kastelet. Depending on where you're staying, some of these beaches might be a short (or long) walk, but most people just take an Uber to get to the beaches a little away from downtown. And if you really want to treat yourself to some privacy, you can pay to reserve either a lounge chair or a whole cabana at the Mistral Beach Club at the Raddison Blu.
5. Visit a Museum or Gallery
Because of Split's fascinating history, it has some unique museums and galleries. The Museum of Croatia Archeological Monuments is a large collection of items, mainly from the Medieval Era, and gives great insight into the history of the area and the people who lived there. Similarly, the Ethnography Museum of Split is a great place to visit if you aren't trying to cram everything into one weekend. We also recommend the Ivan Meštrović Gallery, which is housed in a villa that he had originally built for himself in the 1930s. There are 200 sculptures displayed both inside and outside the villa. Speaking of art, Split's Museum of Fine Art features a 3500-piece private collection of art from the 14th century up to the present day. Finally, if you love all things boating, you can visit the Croatian Maritime Museum of Split to learn more about how the city operated as a port and the kinds of ships that have come in and out of its harbour.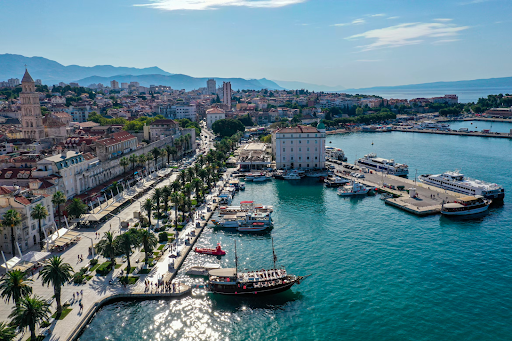 6. Stroll the Riva
No trip to Split is complete without visiting the Riva promenade. While still having Split's signature laid-back attitude while surrounded by breathtaking architecture and landscapes, the Riva is also a busy little tourist and local destination. Walk, eat, people watch!
7. Go on a late-night SUP adventure
Stand-up paddleboarding is extremely popular in Split and as soon as you try it, you'll see why. You really can't beat being on the water with the historic city to one side, and the Adriatic Sea to the other. Some tour companies do night tours with lights under your SUP, so you can see the sea life swimming below you.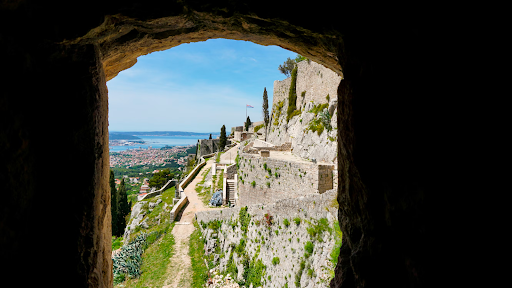 8. Klis Fortress
Yes, this is 10 kilometers northeast of Split, but this Medieval Castle is worth it. It's built onto a limestone bluff and if it looks familiar to you, again, it's because it was filmed as the city of Meereen in Game of Thrones. We actually also recommend a visit to the Klis Fortress because of the view of Split you'll see while up there!
9. Veli Varos
Speaking of fun places to wander, you have to check out Veli Varos. This area is pedestrian only and the streets are so narrow that you might even be able to touch the buildings on either side! Veli Varos is home to many churches, but the church of St. Nicholas with its huge bell tower is an essential stop on your walking tour.
BONUS: Krka National Park
If you don't need to rush out of Split, take a morning and head to Krka National Park. It's about an hour from Split, but it's well worth it. Head straight to Skradinski Buk and swim in the 400m x 100m natural pool fed by 17 waterfalls. We won't pretend that you'll be alone, but even if it's a little busy, you'll still get a chance to experience the beauty of the falls.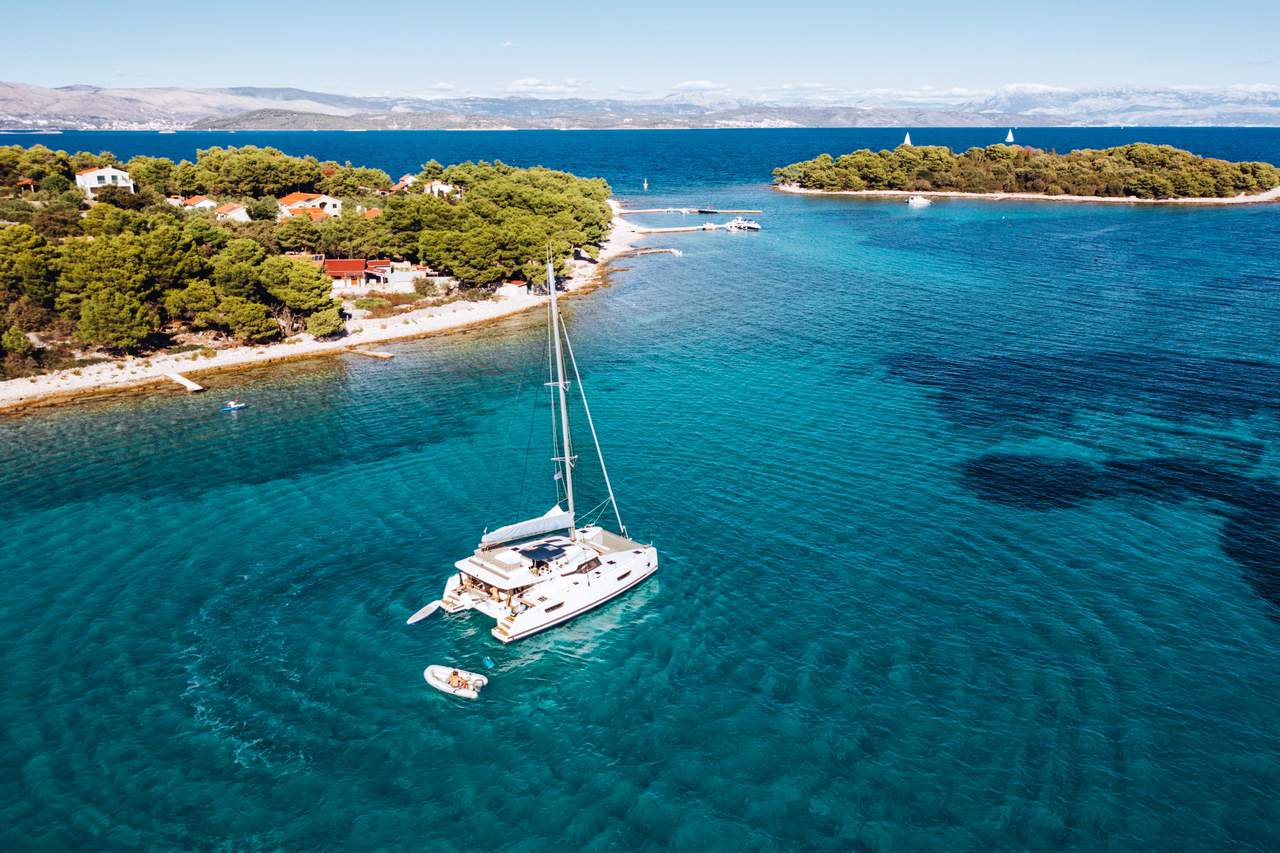 As you can tell, we're rather fond of Split, Croatia. It's such a fascinating little city that we think has it all: natural beauty, history, architecture, beaches — what more could you ask for? Our Navigare base is in Trogir (which we also recommend leaving time to wander around), which is just across the bay from Split and only about a 30-minute drive from downtown. We would love to help you plan your charter yacht vacation in Croatia.