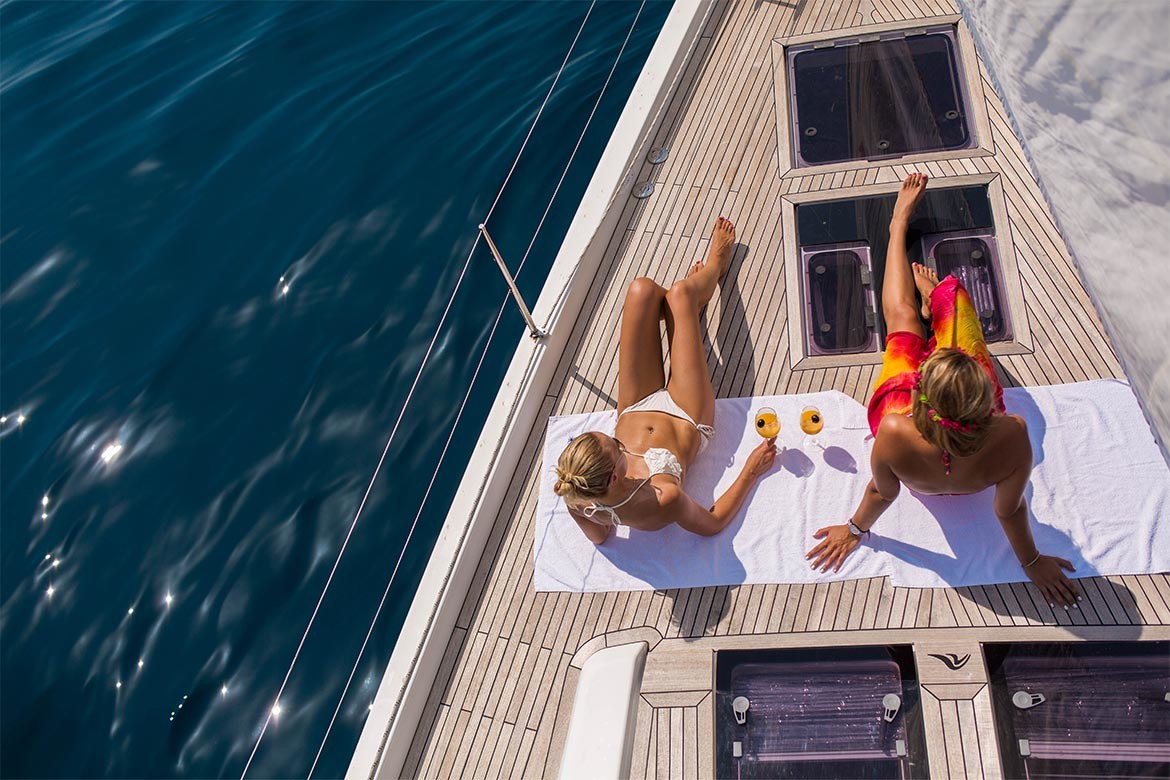 If you are planning your next sailing vacation with your family and friends, you have come to the right place! Navigare Yachting offers a wide selection of sailing boats and catamarans in 8 countries.
This step-by-step guide will lead you through the booking process, whether you wish to book directly with Navigare – either online or by phone/email – or through a Navigare agent. We detail below the different stages of booking a charter yacht:
Ready to sail? Let's get started!
1. Search for a yacht
You will start your booking journey on the Navigare Yachting home page or from the desired destination page: BVI, Croatia, Greece, Spain, Sweden, Thailand, Turkey, USA). To help you identify your destination, read through the Navigare destination pages to learn what to expect, the best time to visit, and travel tips. If you are familiar with the destination you can proceed easily to the corresponding page.
If searching from the home page, select your parameters by selecting from the search console drop-downs, then hit "Search":
Desired destination
Charter Type:

Sailboat charter
Catamaran charter
Luxury Crewed Charter
Cabin Charter

Number of cabins
And your sailing dates* (check-in and check-out dates)
*Note: for BVI and Thailand you can choose any day in a week with a three-day minimum charter duration, while the other destinations require a fixed charter schedule, usually Saturday through Saturday, but Sunday through Sunday is also available in Croatia & Spain.
The tip: While we strive to be as flexible as possible, non-standard booking periods can usually only be accommodated outside the high season. Please contact us now to enquire about rates and availability for your specific dates.
Once you've initiated your search, the next screen will display a list of yachts matching your criteria.
The icons next to the boat provide some key details such as:
production year
yacht length
number of cabins (a "+" mark shows the number of additional crew cabins)
maximum number of guests allowed onboard
availability of air-conditioning
availability of generator
availability of Wi-Fi
If the 360 virtual tour is available for the yacht, you can preview the yacht in 3D.
The currency will be automatically chosen based on your location (for North America USD, for Europe EUR, for Great Britain GBP) or you can adjust it yourself in the upper right-hand corner of the website.
Feel free to refine your search at any time by changing the parameters of your search on the left-hand side, or by filtering further by brand or model. You may also access another level of the filter by equipment of the yacht:
Type of sail (Furling/Roll or Full batten sail)
Air-conditioning
Wi-fi
Heating
Generator
Autopilot
Bow thruster
Electric Toilet
Electric Winch
Teak Deck
Flybridge
GPS Chart Plotter
On the right side of the page, you can see the prices of the yachts:
If the price is displayed in red, the status "Not available" will display, and you will not be able to book this yacht for the selected period.
If the price is displayed in green, the yacht is available for the selected period!
Expert traveler's tip:
Book as early as possible! You will enjoy our early bird discount if you book at least 6 months before your departure. Contact us to request a quote today.
If your plans are flexible, browse our special offers on remaining yachts closer to the departure date, by visiting our Last Minute Discounts page.
While browsing yachts, you can click on the button "Details" to enter the selected "yacht details" page and learn more about that particular yacht.
2. Configure your booking
Once you click on a yacht of interest, you'll enter the "yacht details" page.
The same icons as the yacht search results display next to the yacht images: production year, yacht length, number of cabins, the maximum number of guests allowed on board, and availability of air-conditioning/generator.
Additional details include:
photos of the yacht
full specifications
equipment level
customer ratings from past charter clients
360 virtual tour if available
Video check-in if available
Special offers when applicable
If available, the 360 virtual tours and video check-in allow you to get familiar with the yacht.
The Virtual check-in video allows you to learn and explore all the technical details and systems of the yacht from the comfort of your home before you even step on the yacht.
The 360 degrees virtual tour will take you around the selected yacht to get the full experience of the yacht before booking.
The pricing information and availability calendar you saw on the search results page will be displayed for the yacht of choice. You may browse the calendar to check availability for other charter periods. (Remember: there is a fixed weekly charter period for all destinations, except BVI and Thailand where a three-day minimum charter period applies).
The charter fee displayed includes:
Yacht rental price
Mandatory extra if applicable
Optional extras (once selected by you, see below for details)
To rent a yacht in BVI, Croatia, Greece, Spain, Sweden & Turkey, there is a mandatory extra "Carefree Pack" that is added to your charter price.
This pack includes insurance coverage which means: no deductible, no damage waiver, and no security deposit to pay at the base – or ever! There is no other hidden cost.
In addition to insurance coverage the Carefree Pack provides:
welcome package: (matches (2), paper roll (1), toilet paper (4), garbage bag (1), dish mop (1), dish sponge (1), washing liquid for dishes (1).
final cleaning
bed sheets & towels
dinghy, outboard engine & fuel
cooking gas
full water tanks
2 x snorkeling equipment
free Wi-Fi Internet on board
Additionally, the Carefree Pack for Trogir, Croatia includes the Navigare bus transfer to the base in Seget Donji from the airport.
The Carefree Pack is paid at the time of booking where available – there is NO additional payment due! Once again, no security deposit, no deductible, no damage waiver!
Exceptions: If you wish to charter a yacht in the USA, a mandatory deposit that covers the insurance of the yacht is added to the yacht rental price. In Thailand, a deposit is required and is payable at the base.
Optional extras differ by destination and include additional yacht equipment (water toys, stand-up paddleboard, railing net, etc.) as well as services such as a hired skipper or hostess, plus permits & transfers where applicable.
To review the available extras for a particular yacht, click on "Edit Extras" or "Add+" next to the "Optional Extras".
Please note: the hired Skipper is a service Navigare offers in ALL destinations.
Once you have added all the extras and reviewed the yacht specifications & equipment, you're ready to book. Simply follow the green button "Book now" to complete the checkout process, outlined below.
Or if you need clarification about the yacht or its equipment, or require any other assistance, please send us an inquiry through the blue button "Send inquiry". Simply fill in your contact information and insert a message with your questions. One of our booking agents will assist you promptly.
About the check-out process
The "Book now" button will open the check-out page. In the left column area, you can preview your selection with the selected yacht and extras.
You will be asked for the contact details necessary for the online booking and payment, including your full name, complete postal address, email address, and phone number.
We ask that you become familiar with our Terms & Conditions regarding the rental of a yacht with Navigare Yachting as well as our Privacy policy, so you understand how we use your personal data in the yacht charter process. Tick both checkboxes to verify that you've read and understood both disclosures before you may continue with the check-out process.
If you have a promotional code, you may enter it at this stage, and the adjusted price will be reflected on the next screen.
Your charter fee must be paid in full no later than 40 days ahead of departure (or within 2 days of a last-minute booking). You have the option to pay by credit card or by bank transfer, in up to 6 installments. (details below)
Planning Tip – when is the boat reserved?
Book directly by credit card on our website and your yacht is reserved right away.
If you opt to pay by bank transfer, we will lock in the preliminary reservation and confirm the booking after the first payment has been received (required within 7 days).
When you submit a booking request online, the preliminary reservation (which we call "option") holds for 5 days and is non-binding. If you do not confirm the booking within 5 days, the option will expire automatically, and the status of the boat will return to "available" so other customers may book it.
By Credit Card
Bookings paid by credit card allow you to split your payments into up to 6 installments. Please check your booking confirmation and login area to ensure all the details are correct.
To pay by credit card, you'll be asked to choose the type of credit card (VISA, MasterCard, Maestro, American Express, or Diners) and the number of installments. Please note: our system will automatically maximize the number of installments depending on the start date of your charter.
If you opt for more than one installment, you will receive a payment link every month to the email address you supplied at the time of booking. You may pay a monthly installment yourself or send it to someone else from your crew by forwarding the payment link. Note: Do not click the link before forwarding. This link can only be used once, or it will expire (including if you click on "Cancel" when the payment form loads).
Finally, the last page is a payment review showing you the breakdown of your current payment, future installments (if applicable) as well as payments to be made at the base (if applicable). Follow the button "Pay securely now" to be redirected to the Payment Gateway page. We will hold the reservation of the yacht in your name until you complete the booking process.
Please note: You will be redirected from the Navigare website to the Payment Gateway "WsPay", a Croatian payment solution that guarantees your payments are secure.
On that page, you will provide your credit card details and cardholder information.
>> If You are paying with Visa or MasterCard, the 3D secure customer authentication applies - the payment gateway will initiate a redirection to the website of the card-issuing bank for you to authorize the transaction with your bank.
>> If you pay by American Express, the charter fee will be displayed in Kunas, the Croatian currency.
Our system will hold your yacht reservation for 20 minutes, you must therefore complete the payment process within this time window.
After successful payment, you will be taken to the booking confirmation page and you will receive the confirmation mail with the member's login area credentials where you can see all the details of your booking, and payments and will be able to register the crew.
By Bank Transfer
If you would like to pay by bank transfer (wire transfer, or ACH in the US), indicate so during the booking process. You have the option to pay the charter fee in one (100%) or two payments (of 50% each). The yacht will be put on option and you will receive an option confirmation with members-only login data where you can check your booking and payments.
Within 1 working day, our Booking Agent will email you your booking contract and booking confirmation with the payment instructions. Your yacht will be reserved (on option) for 7 days. You are to pay the first payment within 7 days, and if the second payment (if applicable) is due 40 days before departure. You will be notified by email when your payment is due.
3. Member-only area
In the confirmation email, you will receive after booking your charter yacht successfully, you will get the login details to access your member-only area. You can log in by clicking "My Navigare" in the header of the web page. Your username is the email you have used to rent a yacht.
In the members-only area, you can preview your booking, send inquiries, and payments, and as well register crew before arriving at the base. We strongly advise you to register the crew ahead of time to speed up your checking upon arrival at the base.
4. Information you need to submit before the trip
Upon confirming a booking, you will receive the login details for "My Navigare" where you'll enter your name & passport number for every guest no later than 14 days before your charter departure.
Additionally, you will need to add your skipper's sailing license number if required for your destination. The skipper will also need to present his or her sailing license at the base during check-in. This is not applicable if you are hiring a skipper through Navigare Yachting.
All of the above information is required before you will be allowed to take the boat out.
We make it convenient for you – simply download the Navigare Experience app and fill in all the requested information directly from your phone. Read more about the Navigare Experience app in a dedicated section of our FAQ page.
If you need a transfer from the airport or a hotel, submit your request during the online booking by choosing the "optional extra-transfer". Be sure to provide your charter specialist with your arrival time, pick-up location, and contact number.