Have you ever been on a yacht before? Maybe you have already enjoyed sailing on a cruise ship before and are now looking for something more private? Regardless of your experience, we will take care of everything to make your holiday as comfortable and unforgettable as possible. No prior sailing experience is necessary!
Wake up in a private bay, take a morning swim in the crystal-clear water and enjoy the extensive breakfast the crew has prepared for you while you dry in the sun. Maybe you'll start to think about what you'd like to do today… find the best place for snorkeling… find a local winery for some wine tasting… or just enjoy the bay for the day, sunbathing, reading, and playing with your kids before you let the skipper take you to the next hidden spot. If you prefer excursions on shore, your skipper will arrange it for you and take you there.


Relax, lean back, and enjoy the freedom far away from the crowd together with your family and friends and no one else.




The concept of this product is simple - all you have to do is to determine the date when you want to go on your dream sailing vacation. The rest is on us. All the yachts from our fleet are at your disposal with a professional skipper and hostess who will make sure that your holiday becomes a lasting lifetime memory.


HOW DOES IT WORK
You'll board your private charter yacht at the marina, if you stay within driving distance to our Mediterranean bases, we will make sure there is free parking waiting for you. If you arrive by flight, we will arrange for someone to pick you up at the airport. Check in to the yacht easily via the Navigare Experience App. The crew will meet you at the yacht as soon as it's ready for departure. Your yacht is stocked with food and drinks and you can now start your holiday, lean back, and enjoy the freedom of being out at sea far away from the crowd, but with a dedicated crew to take care of you and your party on board.


WHAT DOES THE ALL-INCLUSIVE SAILING PACKAGE INCLUDE?
7-day hire of a fully equipped sailboat or catamaran
Skipper
Hostess
Full board (3 meals a day)
Unlimited consumption of domestic alcoholic and non-alcoholic drinks (spirits are not included in the price)
All berths on the route
Fuel
Insurance


PRICES
Mediterranean on a Catamaran from: 1.399 – 2.099 EUR/person
Mediterranean on a Sailing Yacht from: 1.149-1.630 EUR/person
BVI on a Catamaran from: 1.810-2.160 EUR/person
BVI on a Sailing Yacht from: 1.217-1.717 EUR/person


NOTE: The expressed price is per person for 7 days of sailing. The minimum number of registered passengers to travel is 6.
All our yachts are thoroughly cleaned and sanitized between charters, and all of the touchable surfaces on the boats are disinfected before the next guests arrive.
*FREE rebooking applies for departures 2020 – contact our booking team for more detailed information.



Book your perfect private and carefree holiday out at sea.



WHERE TO SAIL?
The greatest advantage of this type of vacation is the freedom to determine your sailing route - you decide where and when to sail. We would like to suggest some of our best routes, but the decision is all yours.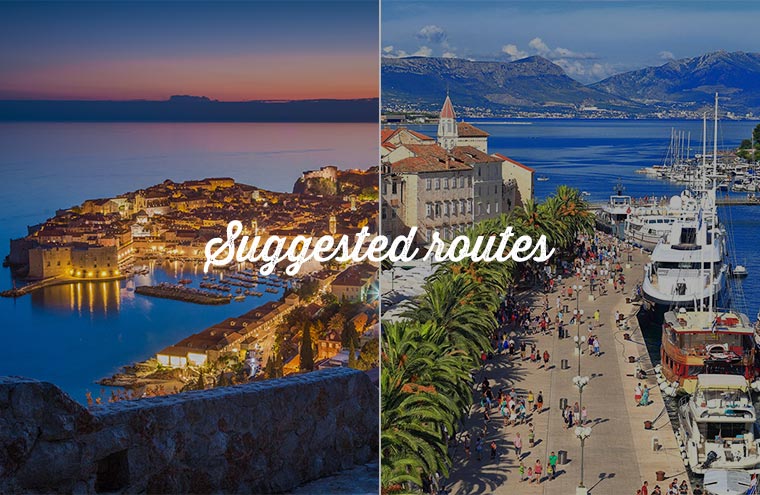 DUBROVNIK – TROGIR/ SPLIT
The 7-day sailing route includes islands Šipan, Mljet, Korčula, Lastovo, Vis & Hvar
DAY 1
: Dubrovnik – Šipanska Luka (Island of Šipan)
DAY 2
: Island of Šipan – Polače
DAY 3
: Island of Mljet – Korčula (Island of Korčula)
DAY 4
: Island of Korčula – Skrivena Luka (Island of Lastovo) - swimming at Lastovnjaci
DAY 5
: Island of Lastovo – Vis (Island of Vis)
DAY 6
: Island of Vis – Hvar (Island of Hvar)
DAY 7
: Island of Hvar – Marina Seget Donji
TROGIR TO TROGIR
The 7-day sailing route that includes islands Brač, Hvar, Vis and Šolta
DAY 1
: Trogir – Milna (Island of Brač)
DAY 2
: Milna – Stari Grad, swimming at Uvala Tiha (Island of Hvar)
DAY 3
: Stari Grad – Palmižana (Paklinski Otoci) – Hvar (Island of Hvar)
DAY 4
: Hvar – Uvala Stončica, Vis (Island of Vis)
DAY 5
: Vis – Budikovac, Komiža (Island of Vis)
DAY 6
: Komiža – Maslinica (Island of Šolta) – Blue Cave (Island of Biševo)
DAY 7
: Maslinica – Krknjaši (Island of Drvenik Veli) – Trogir
With an All-inclusive Sailing product, we want to encourage clients who have never sailed to embark on their first sailing adventure.
Navigare Yachting is one of the world's leading brands in the yachting industry. We are recognized for the premium quality of service, innovativeness, and flexibility.