Navigare Yachting is one of the world's leading brands in the yachting industry. We are recognized for the premium quality of service, innovativeness and flexibility.
With All-inclusive Sailing product we are to encourage clients who have never sailed to embark on their first sailing adventure.
You might have already been in Croatia several times, but if you have not sailed, you have not experienced all the benefits that Croatia provides: hidden bays, peace and quiet, inaccessible natural beaches on more than 1000 islands, crystal clear waters, rich underwater world, excellent gastronomy, beautiful sunsets and more.
The concept of this product is simple - all you have to do is to determine the date when do you want to go to your dream sailing vacation. The rest is on us. All the yachts from our fleet are at your disposal with a professional skipper and hostess who will make sure that your holiday becomes a lasting lifetime memory.
What does the All-inclusive sailing package include?
7-day hire of fully equipped sailboat or catamaran
Skipper
Hostess
Full board (3 meals a day)
Unlimited consumption of domestic alcoholic and non-alcoholic drinks (spirits are not included in the price)
All berths on the route
Fuel
Insurance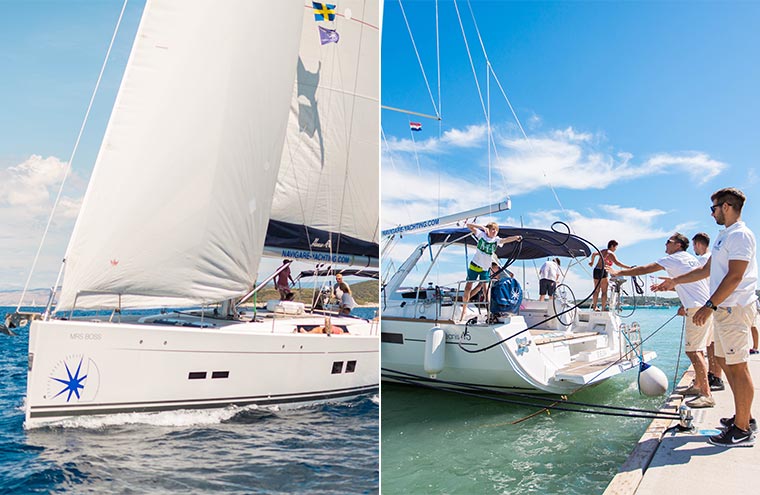 Prices
SAILBOAT
1.4.-1.6. - 699 EUR
1.6.-29.6. - 1.099 EUR
29.6.-10.8. - 1.299 EUR
10.8.-28.9. - 1.099 EUR
28.9.-31.12. - 699 EUR
CATAMARAN
1.4.-1.6. - 1.299 EUR
1.6.-29.6. - 1.599 EUR
29.6.-10.8. - 1.999 EUR EUR
10.8.-28.9. - 1.599 EUR
28.9.-31.12. - 1.299 EUR
NOTE: The expressed price is per person for 7 days of sailing. The minimum number of registered passengers to travel is 6.
Where to sail?
The greatest advantage of this type of vacation is freedom to determine your own sailing route - you decide where and when to sail. We would like to suggest some of our best routes, but the decision is all yours.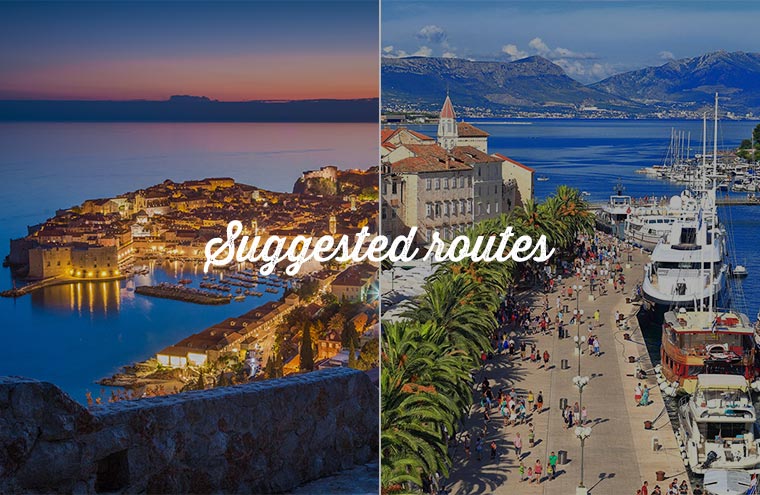 DUBROVNIK – TROGIR/ SPLIT
The 7-day sailing route that includes islands Šipan, Mljet, Korčula, Lastovo, Vis & Hvar
DAY 1
: Dubrovnik – Šipanska Luka (Island of Šipan)
DAY 2
: Island of Šipan – Polače
DAY 3
: Island of Mljet – Korčula (Island of Korčula)
DAY 4
: Island of Korčula – Skrivena Luka (Island of Lastovo) - swimming at Lastovnjaci
DAY 5
: Island of Lastovo – Vis (Island of Vis)
DAY 6
: Island of Vis – Hvar (Island of Hvar)
DAY 7
: Island of Hvar – Marina Seget Donji
TROGIR TO TROGIR
The 7-day sailing route that includes islands Brač, Hvar, Vis and Šolta
DAY 1
: Trogir – Milna (Island of Brač)
DAY 2
: Milna – Stari Grad, swimming at Uvala Tiha (Island of Hvar)
DAY 3
: Stari Grad – Palmižana (Paklinski Otoci) – Hvar (Island of Hvar)
DAY 4
: Hvar – Uvala Stončica, Vis (Island of Vis)
DAY 5
: Vis – Budikovac, Komiža (Island of Vis)
DAY 6
: Komiža – Maslinica (Island of Šolta) – Blue Cave (Island of Biševo)
DAY 7
: Maslinica – Krknjaši (Island of Drvenik Veli) – Trogir