Lagoon 46 vs Bali 4.4 vs Fountaine Pajot Elba 45
A model comparison of three catamaran brands for charter or purchase
Catamarans are wildly popular these days, both in charter and in private ownership, and the sweet spot for most cruising couples is the mid-forty-foot segment. Cats offer a comfortable platform, system redundancy, stability under way as well as at anchor, and plenty of room for privacy and guest separation. In this size segment, sailing designs from three top French builders pop to the top of the list and they include the Lagoon 46, Bali 4.4 and Fountaine Pajot Elba 45.
Let's look at some highlights as well as pros/cons of each and remember that all are available through Navigare Yachting for charter as well as purchase.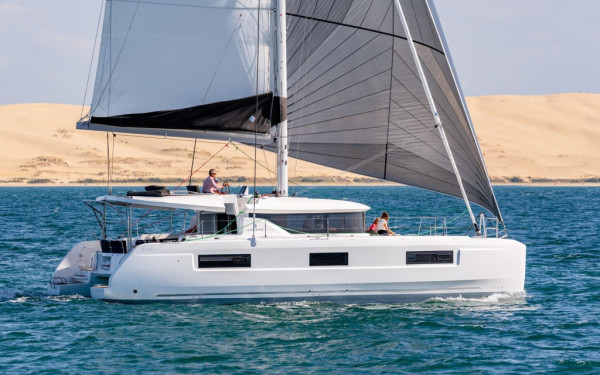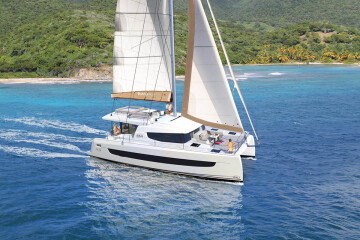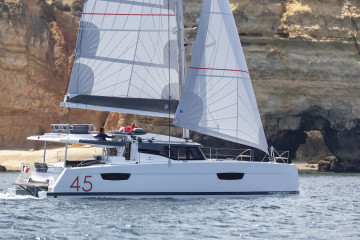 Lagoon 46
The Lagoon 46 is the little sister of the ground-breaking Lagoon 50 and aspires to pack many of the bigger boat's innovative features onto a smaller platform. It replaced the successful Lagoon 450 of which nearly 1,000 units were launched. Tech specs include 45' 11" LOA, 26' 10" beam, 4' 5" draft, a 34, 773 light displacement, and 1,323 sq. ft. of standard sail area.
Designers VPLP and Patrick Le Quement developed a profile with angular transoms, wrap-around windows (which are larger than the predecessor's) and a sloping hardtop that creates the perception of movement. The two steps from the transoms are low and wide so the transition to the cockpit is gradual and comfortable and the engine room hatches open aft so checking the motors under way is safer.
The cockpit table folds up for a quick family breakfast or opens for dinner seating for a crowd. Steps from the cockpit lead directly up to the port side deck for quick access while a small hatch in the bimini opens to pass drinks or small items from the cockpit to the flybridge without ever having to make the trip.
There's a compact lounge on the foredeck with a settee wrapped around the windlass cover that serves as a compact platform for cocktails. The forward saloon window opens to pass food and drinks directly from the galley forward saving steps and spills.
Conveniently, the flybridge is accessed via molded stairs on both port and starboard. The helm is offset to port for good visibility forward since the driver isn't on the centerline looking directly into the back of the mast as on the previous model. There's a long bench seat and a triple sunbed with moveable back rests for crew to rest or keep the skipper company under way. The two aft supports for the hardtop serve as ladders up to the bimini top where you access the sail. Their design is tricky though because they're narrow, slick and difficult to use even when the boat isn't moving.
Like other brands, the Lagoon 46 is available with a three-stateroom owner's layout that includes a posh master suite in the starboard hull or four cabins with ensuite heads and separate showers. Blackwater tanks for the heads are under the cabin soles rather than in the hull sides which makes the cabins feel wider.
The salon has comfortable seating and lots of stowage space. To port and forward is an angled nav desk with a B&G MFD, a second VHF radio and autopilot control so you can drive from inside.
The mast was moved aft to minimize hobby-horsing and the rig is taller with a higher aspect ratio to capture the wind up high. Mast height is 76 feet so she won't fit the ICW but the 1,323-square feet of upwind sail area will deliver respectable performance. With the optional Code 0, expect to sail 9-10 knots in 15-16 knots of breeze on the beam. The jib is on a self-tacking track so single-handing this big boat is fairly easy.
With an added focus on performance, the Lagoon 46 promises a sporty sail and a quick passage to the next destination.
Pros:
Proven features brought over from a bigger model

Quick and easy passage from the cockpit to the side deck and flybridge via additional steps

Wheel is offset to port for better visibility

Lots of stowage options for provisions in the galley
Cons:
Forward exterior lounge is fairly small with just the windlass cover for a table

Tall mast is not ICW-friendly

Ladder supports to the bimini top are hard to use, especially under way

No direct access to the forward lounge
Bali 4.4
The Bali 4.4 replaces the previous Bali 4.5 and nestles between the 4.2 and 4.6 in the range. The design is by Olivier Poncin and the builder is the reputable French company, Catana, that has been building ocean going cruising cats for decades. Tech specs include 45' 1" LOA, 24' 3" beam, 3'10" draft, a 28, 200 light displacement, and 1,270 sq. ft. of sail area. Like the Lagoon 46, the Bali 4.4 has a self-tacking jib.
Like other Balis, the 4.4 has the three features that set this brand apart in the production cat market. First is the combined indoor/outdoor living concept where the cockpit and salon are the same space with a shifting boundary. The tilting "garage door" lifts up and away at the touch of a button making the inside part of the outside. When the sliding side windows are open, it's like being in an outdoor cockpit without duplicating the traditional saloon/cockpit spaces.
Second is the solid foredeck where the traditional trampoline is replaced by an enormous sunbed and a dedicated forward seating area. For those who like to lounge outdoors, this will functionally replace the aft cockpit. An added feature here is the door that now connects the salon and the forward lounge. This door works well for two reasons: 1) It creates an easy traffic flow so drinks and food can move easily between the galley and the lounge and 2) it provides exceptional airflow for ventilation, especially at anchor.
The generous forward cockpit seating area has a large table, an L-shaped settee to port and a straight bench to starboard. There's also a vast sunbed ahead. The hard foredeck provides solid footing for crew working to catch moorings or anchoring. It adds weight, but it also stiffens the boat overall. (Another nice feature here is the easy access to the propane locker to starboard which makes changing bottles a snap since it's not buried somewhere under a seat.)
Finally, there are the house-style appliances (think side-by-side refrigerator with a water dispenser and ice maker and a four-burner stove top). These have become immensely popular and make this catamaran very approachable for new boaters. In fact, liveability is highlighted throughout with large showers and low beds that are easy to access so everyone feels at home. The Bali 4.4 is available with four cabins or three where the entire port hull becomes the owner's suite. There's also an option to add crew accommodations in the bows.
Four more points worth mentioning: 1) The amount of stowage space on this Bali is exceptional – up to five tons can be packed on although you may want to use prudence since cats are sensitive to loading. 2) Much thought went into safety and handholds. When moving forward along the deck or up to the flybridge, there's a handhold for every step you make. 3) Bali found room for an outdoor grill on a boat that doesn't have a traditional aft cockpit which is impressive. 4) The flybridge design puts the helm at a mid-level so it's not too high or low and you'll never have to climb onto a slippery bimini to reach the mainsail bag.
Making a boat feel more like a house helps to build confidence in new and experienced boaters alike. The emphasis on all Balis is comfort and the 4.4 doesn't disappoint.
Pros:
Large solid deck forward stiffens the boat, makes crew footing better and adds lounge space

Direct passage from salon to forward lounge

Home-style galley with full-sized refrigerator and stove

Many clever stowage options for things like propane and the shorepower cord
Cons:
Only one main seating area that doubles as both salon and cockpit

Air draft too tall for ICW

Not the traditional catamaran layout with an aft cockpit that may be preferred by some

Helm station has only two winches which makes sail handling slower
Fountaine Pajot Elba 45
Fountaine Pajot differentiates their models not just by length but also by name and their 45-footer is the Elba 45 which was launched in 2019 as a replacement to the Helia 44. With an appealing profile, it's proven to be a very popular design and initially, over 100 units sold before the first one even splashed. Tech specs include 44' 2" LOA, 24' 8" beam, 4'4" draft, a 29,982 light displacement, and 1,280 sq. ft. of sail area.
Designed by Berret-Racoupeau, the Elba 45 is six inches beamier as well as six inches longer than her predecessor. An impressive feature is the flybridge and helm area that is a kind of hybrid. The helm is on the bulkhead adjacent to a lounge space atop the bimini. This configuration keeps the profile lower than on full flybridge designs so it lowers the center of gravity and keeps the boom (somewhat) lower and more manageable. The 110-square-foot lounge up here is where everyone will want to spend their days – and happy hours.
The Elba 45 has a traditional layout with a large aft cockpit, a sleek interior salon and a spacious (aft-facing) galley. A real bonus is the option for an electric swim platform that connects the two hulls. It can carry an 11-foot tender, eliminates the need for davits, creates a great play space when lowered which is good for kids or anyone getting ready to go snorkeling or diving, and finally – it's a terrific way to get out of the water without needing to climb a ladder which is helpful for groups with children, pets or older guests.
Unlike the other two models discussed here, the Elba 45 has a mast under 60 feet tall which means it could travel down the ICW and clear many low bridges. There's a large overlapping 120% genoa and no self-tacking jib so it's not as easy to single-hand but three Lewmar winches at the helm make sail handling a breeze. Expect upwind speeds to be half of true wind speed. In other words, you'll sail 8 knots in 15-16 knots of true wind at a 50 degrees apparent wind angle. Under power with the upgraded (60-hp) diesel engines, expect an 8-knot cruise.
The saloon is a spacious180 square feet with the galley running along the length of the port side. There is no chart table, only instruments in a cabinet by the sliding entry door and that means you'll have to drive from up on the flybridge regardless of the weather.
Inside, there's plenty of natural light from the surrounding windows. In fact, the forward saloon window swings open for good ventilation and serves as a connection to those on the foredeck. Like the other two models, the Elba 45 comes in four (Quatuor) or three (Maestro) cabin layouts with the owner's stateroom in the port hull. A crew berth is available in the forward starboard bow with a separate head in the forward port bow.
There's plenty of seating in the cockpit with a transom seat, a starboard side lounge and an L-shaped dinette but don't expect to get more than six around the table for dinner. For overflow guests, there's another lounge on the foredeck along with a traditional trampoline where you can lay and watch the bows part the waves.
The FP Elba 45 features breakaway keels which separate from the hulls without causing damage in case of a grounding and that's a great safety feature since cats tend to venture into shallow waters.
Pros:
Option for an electric swim platform for easy water access

Breakaway keels for safety in case of grounding

A proven design that follows a successful formula

ICW-friendly with a mast under 60 feet tall
Cons:
No self-tacking jib

Cockpit seating is plentiful but a bit choppy with a small dining table

No interior nav desk or ability to drive from the inside

The forward lounge has no table
Which is better?
All three designs are very comparable and fit well into their class, but they do have subtle differences to accommodate varying preferences and tastes. The sail area to displacement is relatively similar. What we are finding is that any of the boats are very well built for their purpose. Spending time onboard will really help choose the model that best fits your desires.

| | | | |
| --- | --- | --- | --- |
| | Lagoon 46 | Bali 4.4 | FP Elba 45 |
| Length overall (ft) | 45'11" | 45'1" | 44'2" |
| Beam (ft) | 26'10" | 24'3" | 24'8" |
| Draft (ft) | 4'5" | 3'10" | 4'4" |
| Sail area (sq. ft) | 1,323 | 1,270 | 1,280 |
| Lt Displacement (lbs) | 34,773 | 28,200 | 29,982 |
Whichever model you choose for charter or ownership, you'll enjoy comfortable cruising and extended exploration. The best part is that you can test out each of these models on charter with Navigare Yachting prior to deciding which best matches your long-term needs. Happy sailing!