IMPORTANT GUIDELINES FOR CHARTER GUESTS' ARRIVALS IN BVI
As of December 1st, the BVI territory has reopened to tourism with the below retrictions. Additionally, sea ports are set to reopen March 1st 2021. Until then, all arrivals must happen through EIS airport on Beef Island.
All guests sailing in the British Virgin Islands must comply with the travel protocols, including:
Before traveling to BVI, you must:
Obtain a negative PCR test taken up to 5 days before arrival (children under 5 do not require testing)

Contract COVID-19 medical travel insurance, for guidance visit: https://www.bviaacloud.com/covid-19-protocol/covid-19-travel-insurance

;

Register online and submit your travel details (1) for approval on the BVI Gateway:

http://bvigateway.bviaa.com

(It includes the payment of the $175 bundle of two PCR tests + tracing app and bracelet.) T

he travel insurance, and a copy of your booked reservation will need to be uploaded, and the negative PCR tests results will be supplemented once received, but

you must submit them BEFORE you travel

. One submission per traveler including children.
Updated December 11: travelers must begin their application no later than 48 hours before travel. Applications on the BVI Gateway portal must be completed at least 24 hours before travel dates and time. All applicants in pending status who have not completed the necessary requirements 24 hours prior to traveling will be denied. For tech support or questions: bvigateway@bviaa.com or WhatsApp messaging only at: 284-496-6129.
Upon arrival in BVI, you must:
Take another PCR test either at the airport, ferry dock (seaports are expected to reopen to private and public ferry service on January 21, 2021) or medical facility (Day-0 PCR);

Be fitted with a waterproof tracking bracelet and companion app on your smartphone;

Be transported by a pre-assigned "Gold Seal" certified taxi service arranged by our base staff (contact details below).
Once at our base & sailing, you must:
Wait for the negative results on the Day-0 PCR for all guests (24 hours)

at one of the approved mooring sites marked on the map below, or at our dock

(2);

Remain on a 4-day quarantine on your charter vessel. This means all guests must stay within 30 ft of the vessel at all times until quarantine clearance;

Take another PCR test on Day 4, and clear the quarantine once the negative results are received for all guests -- expect 24-36 hours (Day-4 PCR);

Fly the quarantine flag and keep it up until you clear the quarantine;

Moor only in approved mooring sites and stay moored between 6pm and 5am until you clear the quarantine. The latest map will be shared during your charter briefing.
(1) At the same time you submit your arrival details to the BVI Gateway, send them to the base for transfer arrangements. Contact details below.
(2) You will be contacted by phone. The base will assign you a BVI phone number ahead of arrival and guests must communicate this number to BVI health officials upon arrival to expedite your departure from the dock!
IMPORTANT REMINDERS:
Guests must stay on their vessel until all Day-0 PCR results come back negative. Expect 24 hours, though you may need to spend your first 2 nights at our dock;

The Nanny Cay resort is off limits to guests until they get cleared from quarantine;

Provisions will only be

delivered

to your vessel (you cannot go to a store!). Orders must be placed 7 days before arrival. For assistance, please contact our base.
Your contact at the Navigare base:
Avril Hypolite, Client Coordinator & Office Manager: avril@navigare-yachting.com
Phone/Whatsapp: (284) 346-5632

Map of latest approved mooring sites: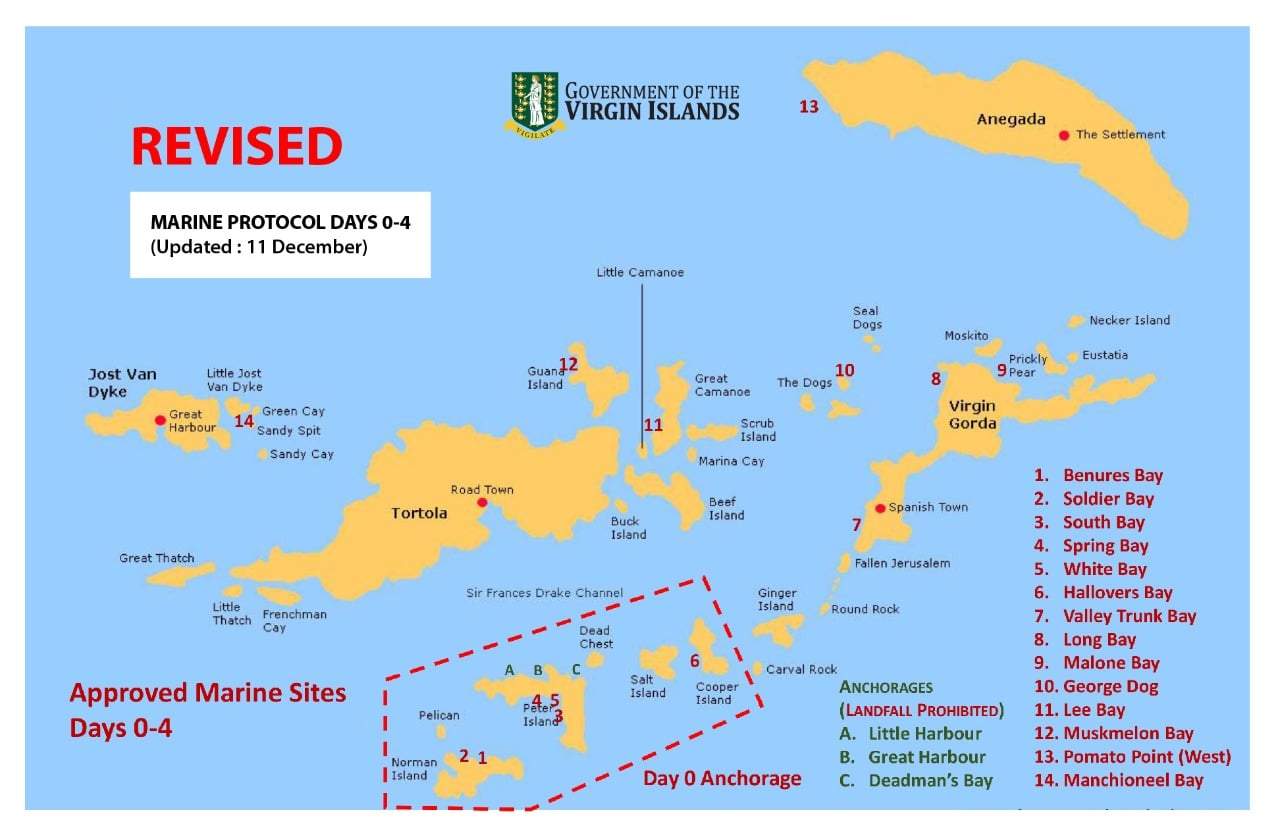 IF YOU HAVE A CHARTER PLANNED:
If you wish to wait and understand the protocols better to see how we can accommodate or alter your charter within reason, please note we would like to confirm your booking no later than 30 days before departure. You may reach out to us then, or we will contact you and hopefully by then the above questions will be more clear.
If you already know you won't charter under the current circumstances, please let us know if you wish to:
• set new dates to sail in BVI, so that we can guarantee availability for you in the future
• take a voucher to rebook at a future date/yacht/destination to be determined.
We ask that guests make their decision no later than 30 days before departure.
Thank you for your kind patience as we continue to navigate uncharted waters together - pun intended.
The entire team at Navigare Yachting is standing by to assist with your re-booking and answer questions as you postpone your travels. If you booked your charter through an agent, please contact your agent for assistance.
We wish to thank you for your patience and continued trust in Navigare Yachting.