Is the Navigare Smart program the right fit for me?
Fantasizing about becoming a yacht owner and traveling the world at leisure, but are you on the lookout for a lower total investment? Navigare opens the door up for investors who see yacht charter as the smart investment that it is and are looking to enjoy all the freedoms that yacht ownership allows, at a fraction of the cost.
Overview of the ownership program
What is the Smart Program?
Become a yacht owner for a slice of the total cost of the yacht, building up your investment gradually over time. Whilst the charters work away to pay for the cost of your investment, you can indulge in the unique benefits of owning your boat and enjoy the use of our holiday program. To begin your investment journey, you can decide to purchase your yacht through Navigare at either a 50%-60% initial payment with Navigare Smart or a 40%-50% initial payment + balloon payment of 15% at the end of the charter period of 6 seasons, with Navigare Smart Low. Placed in our charter fleet, we take the stress out of charter management and arrange the yacht maintenance and charter operations on your behalf. Not only do you have the peace of mind that your yacht is well looked after, but also by the end of the term the yacht will be yours, and you will be free to sell the boat or simply sail away!
There are so many perks to yacht ownership, with the flexibility and freedom to travel and an investment that builds slowly over time. But the most coveted perk of all is the incentive that yacht ownership gives you to get out there and enjoy life! Some Navigare yacht owners like these programs so much, that they are now onto their third and fourth boats. And if you're thinking of retiring and cruising in five years, why not start on that plan now?
If all this sounds like a piece of heaven to you, it's time to invest!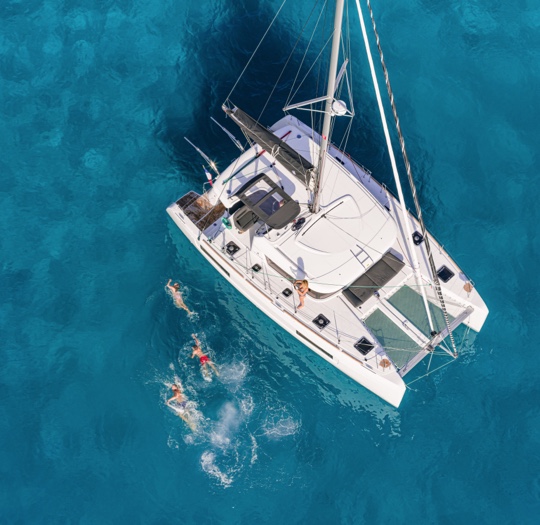 Key benefits of owning a sailing yacht or catamaran in charter management
START YOUR INVESTMENT JOURNEY
Your investment journey starts here! Make the most of the funds you have and make an investment that brings you a steady repayment, whilst allowing you to travel the world and live the adventurous sailing lifestyle from the comfort of your yacht.
FORGET ANY ADDITIONAL COSTS
Leave your worries on the shore and enjoy your yacht stress-free, knowing that there are no hidden costs for maintenance. Keeping the boat maintained is an essential part of yacht ownership and can be a time-consuming chore. With Navigare Complete we ensure the quality of your yacht at zero cost to you. With our unique online Service Platform, you can follow all planned services in real time, and when it is time for the yacht to be sold second-hand, you will receive an automatically generated service book.
EXPLORE THE WORLD
Dreaming of Mediterranean sunsets, clear blue waters, and Caribbean adventures? Roam the seas at your leisure with up to 12 blissful sailing weeks a year, reserved just for you. Not only is this service available for your yacht, but you also have the unique opportunity to test out a wide variety of boat models, visit new destinations, and even take your adventure on land. With a personal concierge service, Navigare helps you to create your best sailing holidays yet, and you can share the unrivaled experience of sailing with loved ones, as owner weeks can be used by your direct family members.
Navigare Smart program and financial aspects
Why does the upfront cost vary?
The reason for the range in % cost is that the figures vary by model and by destination — the most attractive boats (catamarans in the 40-50ft range) in the most attractive destination (BVI, Seychelles) will yield the best returns, thus the total investment from your side will be less.
How may I finance this purchase?
When you choose Navigare Smart you pay only 50-60% of the total yacht and the charter income will finance the rest. You don't receive any revenue from this charter program as the revenue covers the mortgage, service, maintenance, and insurance (with Service Platform access). Choose from the most exclusive brands and models, such as Lagoon, Bali, Fountaine Pajot, Island Spirit, Beneteau, Dufour, Jeanneau, and Arcona.
SMART
- Lowest initial payment is 40-60% -
Smart Low

First Payment (50%): 225 000 €

Second Payment season 6 (15%): 67 500 €


During 6 seasons you get:
A yacht
Up to 12 weeks of owner time (sailing and luxury stays)
Professional yacht and charter management
Dedicated owner support
All operational costs for the Yacht are covered by Navigare
Net cost: 292 500 €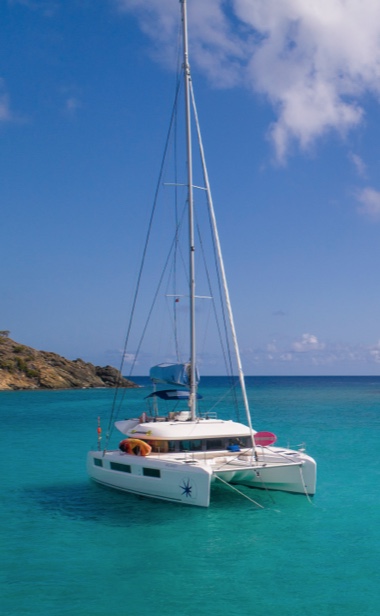 Additional benefits that come with owning a new sailboat or new catamaran
Start your new lifestyle – CREATE YOUR DREAM HOLIDAY
Gain exclusive access to Navigare's Holiday Program when you take part in any of Navigare's Investment Programs and earn points to exchange for unforgettable holidays. The larger your yacht, the more points you get to use on a yacht of similar size, or smaller for even more sailing time.
Become a Global Sailor
Hoist your sails and rev your engines! With the holiday program, you can become a global sailor, with the potential to set sail for up to 12 weeks every year on your yacht, or another equivalent yacht of your choice. With so many glorious sailing destinations around the world, it can be difficult to settle on just one, but with 11 Navigare bases and access to over 50 destinations worldwide, you have the flexibility to experience a multitude of different locations.
Customize your Holidays According to Your Wishes
Our Holiday Program doesn't just stop at sailing in one of our worldwide destinations, we also offer a large variety of on-shore vacations. From luxury villas in Thailand, Costa Rica, Jamaica, or Florida, to ski resorts in the Alps or Aspen, you can customize your vacation to suit your wildest desires.
Get the VIP Treatment
Live life like a VIP and let our dedicated high-class concierge team assist you in planning the most exceptional holidays you've experienced yet.