Stockholm is such a fascinating and beautiful city because, while it is a single city, it's made up of 14 islands, which isn't something you see every day. As a result, Stockholm is divided into island neighborhoods filled with unique architecture, a wide (and we mean wide) variety of museums, and everything you need to spend your days (or weeks) simply exploring.
1. Visit one of Stockholm's many museums
Stockholm is a host that aims to please. There are museums for everyone from rural-life lovers to modern art aficionados. Here are some of our favorite museums in Stockholm:
Modern Art Museum

Vasa Museum - The 64 gun warship from the 17th century is available for viewing in all of its restored glory

Skansen - This open air museum depicts rural life (complete with actors) and even has a zoo with reindeer

The Medieval Museum - Get to know Sweden from the 13th century up to the 16th century while letting your kids dress up as knights

Swedish History Museum

The Viking Museum

The Nordic museum - housed in a palace that took 19 years to complete, this is the museum if you're interested in Sweden's history from about the 16th century on.

The ABBA museum - we weren't joking about how there's a museum for everyone in Stockholm!

Technical Museum - Experiment and be fascinated by exciting exhibits and head scratching challenges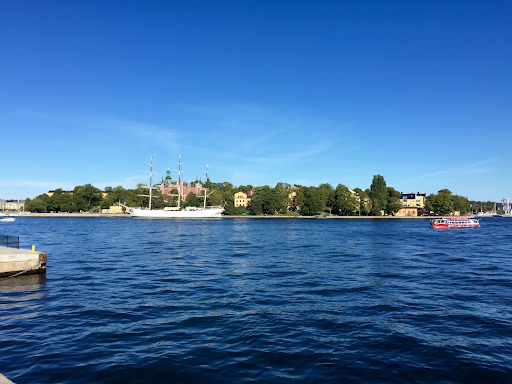 2. See Stockholm from the water
To get a handle on the city, we suggest starting from the water (something you're probably happy to hear). Stockholm's waterways are remarkable and give you a good feel for which parts of the city you might like to explore. There are obviously guided boat tours, but you can also grab a kayak and explore! Some of the islands a little further out are uninhabited and great for camping.

3. The Royal Palace
We were tempted to put this under "museums", but while there are multiple museums within the palace, it's certainly more than history. The King of Sweden still lives here and the palace hosts a wide variety of business on a daily basis.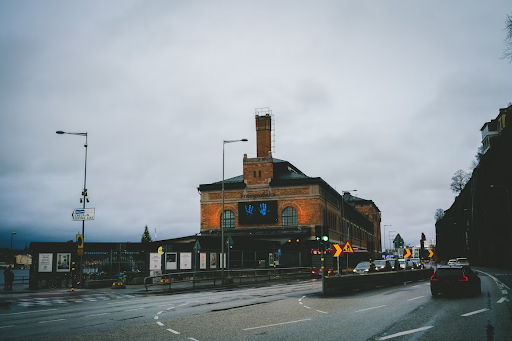 4. Fotografiska
Photographers and anyone who enjoys photography absolutely must pay a visit to Fotografiska. The gallery rotates exhibitions regularly, so many people put this on their itineraries every time they are in Stockholm. Note: you can book English tours in advance, if you'd like.
5. Go for a swim
If you happen to be visiting Stockholm in the summer and fancy a dip, head over to Långholmen island, where you can join locals for a swim. You could also brave Hornstulls Strand, but the water is quite chilly! That being said, the area is great to hang out in and you can find one-of-a-kind clothing at their market.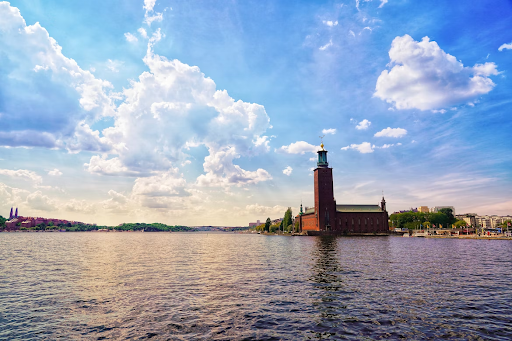 6. The City Hall
You can't go to Stockholm for the first time and not visit The City Hall. It's one of the most memorable buildings in the city and is so full of art that you may find yourself there all day. Plus, you get to imagine what it would be like to receive a Nobel Prize (which is hosted here).
7. Take a picturesque walk
While you can take guided walking tours, Stockholm is also a perfect city to explore on your own, and at your own pace. Below are a few areas we love to get lost in.
Monteliusvägen - This 500 meter trail is close to the Fotografiska and is one of the places where you can catch a near-perfect view of City Hall and Gamla Stan.
Stortorget - The oldest square in the city is also the quaintest. With it's colorful gabled buildings and fascinating history, Stortorget in Gamla Stan (Old City) is a must-wander.
Rosendals Garden - Head out for a beautiful walk among the gardens and then enjoy a meal that takes farm to table to the next level (they serve what they grow).
Djurgården - You'll likely find yourself in and around this park/island more than once, as it houses some of the museums and other attractions you'll have on your itinerary. Make sure you give yourself some time to people watch and just enjoy the park itself.
Strandvägen - Strolling through some of Stockholm's priciest real estate is a fun way to spend an afternoon, especially when it comes with stops at some of the delicious cafés and restaurants in the area as well. There's no shortage of interesting architecture in Stockholm and this row of apartments is residential design worth admiring.
8. Enjoy some local Swedish cuisine
There are so many restaurants that we couldn't possibly start naming them. Instead, we will say that you should simply make sure that you're in a good foodie neighborhood around mealtimes and be spontaneous. Oh, and don't hesitate to be predictable and try the Swedish meatballs. They are famous for a reason! As we mentioned before, we do think the restaurant at Rosendals Garden should be on your list.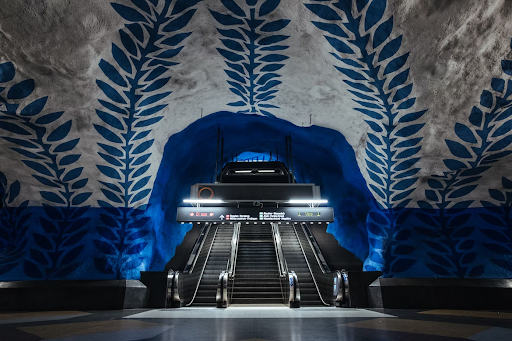 9. Take the Stockholm subway
While underground transportation is certainly convenient, you'd be hard pressed to find us recommending the subway as "somewhere to visit" in a city guide post. Stockholm is different. Their subway system has been called the longest art exhibit in the world and you'll have to check it out to see why. 150 artists have contributed to what we would consider to be one of the coolest art galleries in the world. There are around 100 stations (and art at most of them), but here are a couple of highlights:
T-Centralen Station

Stadion Station

Universitetet Station

Hallonbergen

Mörby Centrum

Radhuset

Solna Centrum
You can buy different versions of unlimited stop passes to make sure you see as much as you can!

10. Relax at a spa
After some time wandering around Gamla Stan, you can treat yourself to some self-care at Centralbadet. Spending the afternoon in the Nordic sauna and swimming pool at this spa (within a historic building from 1904) is exactly what you'll be craving after a morning on foot. That being said, there are so many spa treatments and different saunas and baths that you might find yourself going here more than once.
It was hard to choose only 10 things (and we know we got cheeky by putting some things together), but Stockholm just has so much to offer! It's such a fascinating city, perfect for admiring with a snack, some good walking shoes, and ending with a sauna.
It's such a creative city, and the perfect starting point for a sailing charter vacation with Navigare Yachting. The Navigare base is located in Lidingö-Gåshaga, about 30 minutes from downtown Stockholm. Explore Stockholm and venture out to the thousands of tiny islands in Sweden with Navigare Yachting.