Explore, Adventure & Enjoy Croatia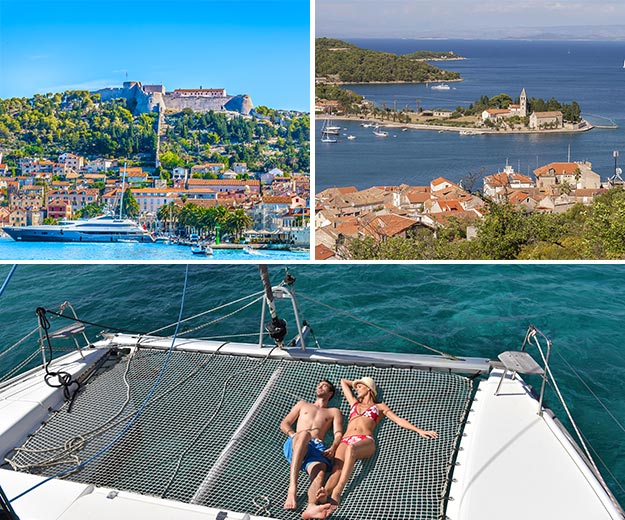 Hvar - Vis - Couple on Catamaran

The summer sailing season in the Adriatic Sea is an exciting time and there's never a more spectacular opportunity to sail and explore the islands of Croatia. These jewels of the sea are home to warm weather, crystalline blue waters, exciting outdoor adventures, historic sites and ancient ruins, and some of the best dining & drinking options in the region.
Frolic at the island of Drvenik, with a coastline that's famous for delightful sand and pebble beaches, scenic coves, and peaceful bays. Enjoy traditional Dalmatian cuisine at one of the island's many small family restaurants and cafes. Drvenik is one of Croatia's great unspoiled treasures.
Visit Vis Island and Vis Town, destinations for lovers of great wine and food. The island is also home to notable ruins from ancient Greek and Roman times, as well as impressive Roman Catholic churches and more recent medieval ruins. Outdoors enthusiasts can explore the island's natural caverns and rugged trails.
The island of Hvar is a wonderful destination to enjoy fun in the sea or the sun. Its pristine beaches receive more sun than any others in the region, making for a summer wonderland filled with swimming, snorkeling, sunbathing, and just relaxing. Local wines are regionally famous, perfect for sipping as you watch the sunset. The ancient fortress of Fortica has exquisite views of the harbor, town, and sea.
The Pakleni Islands, known regionally as "Hell's Islands" because of the local shipbuilding industry, are each unique and appealing. Some are havens for nature, with amazingly clear and warm waters teeming with aquatic creatures – prepare yourself for some of the best swimming of your life! Other islands are home to outstanding dining, drinking & entertainment options, with a local atmosphere that blends easy-going fun with jet-setting thrills.
The Dalmatian Coast and the islands of Croatia have something for everyone, and there's no better way to enjoy them than with a cabin charter holiday from Navigare Yachting.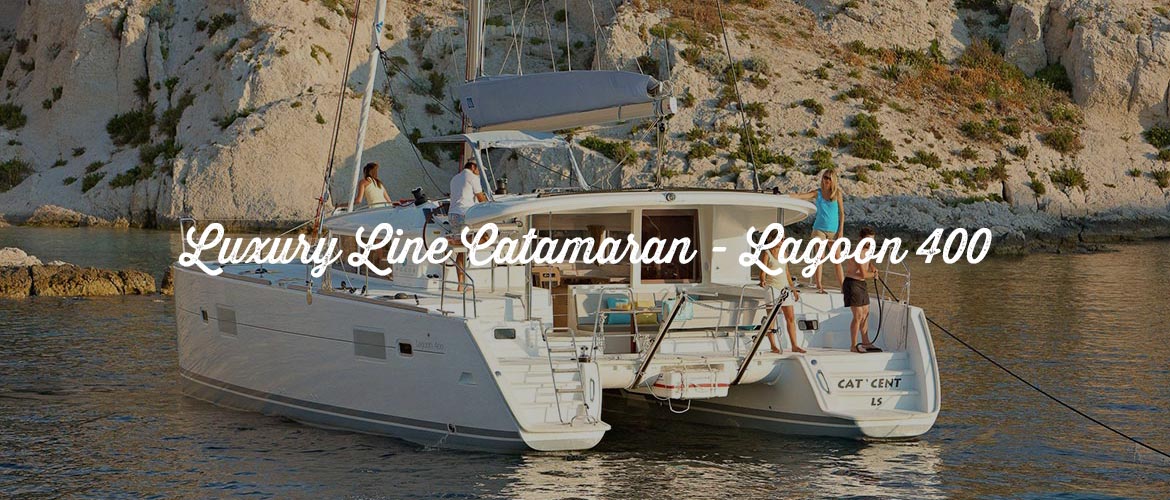 The Lagoon 400 stands for comfort, simplicity, ease of use, performance, and innovative design. This yacht is designed for coastal or ocean cruising. The interior of the Lagoon 400 is equipped with thoughtful details to enhance life in a bright and open environment. It features an elegantly furnished, spacious interior with a cockpit and salon on the same level, as well as 4 double cabins and 4 separate toilets with showers. On deck, a large roof with a gentle curve extends from the cabin front aft across the cockpit, essentially creating an outdoor salon with a voluminous lounge area, well-lit at night by halogen lamps. This luxurious and even more spacious model offers you comfortable sailing.
Our Experience Croatia is ideal if you want to combine your passion for sailing with a personal tour of some of Croatia's historic destinations, where you can enjoy some of the best dining, wine, and entertainment options. We will taste some of the best restaurants in the Middle Dalmatia region.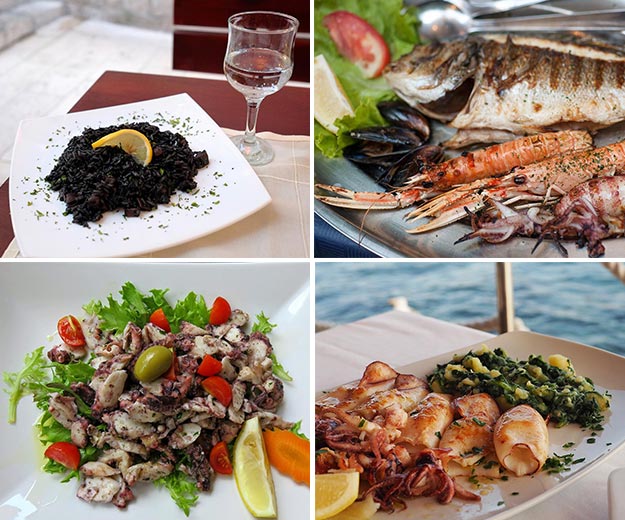 Black Risotto - Grilled Sea Food - Octopuss Salad - Traditional Squid Dish

DAY 1: Depart and sail for Drvenik, the closest nearby Croatian island. A night spent at anchor.
DAY 2: Sail due south for the island of Vis, and the lovely scenic town of Komiza. Dinner ashore at a local restaurant.
DAY 3: Visit the spectacular Blue Cave on the island of Biševo, just offshore from Vis, then sail to the town of Vis itself to attend a special wine tasting. Dinner ashore, to enjoy a meal of peka, the regionally famous Croatian dish, and a night spent at anchor in the town harbor or nearby.
DAY 4: Hell's Islands: sail to Hvar and "Hell's Islands" (Pakleni Islands), anchoring in a quiet bay. Dinner on board, with potential option to visit Hvar via taxi boat (additional cost).
DAY 5: Also on the island of Hvar is the town of Starigrad. After a day of sailing, enjoy dinner at a small restaurant and the potential option for a visit to a local wine cellar, with transport by van (additional cost).
DAY 6: Sail to the island of Solta. Schedule permitting, there is a walking tour of the ancient monastery at Blaca. Anchor in a quiet local bay, with dinner at a small restaurant in the town.
DAY 7: A final day of sailing and swimming, with arrival back to the base at Trogir in the late afternoon.
NOTE: Planned routes may be changed according to weather or other circumstances.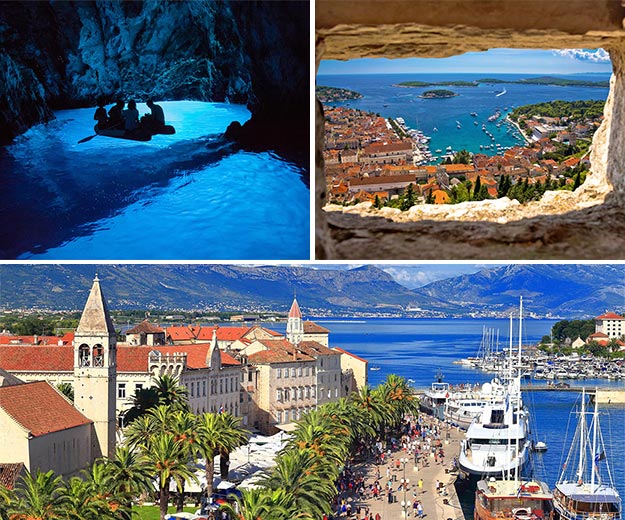 Blue Cave (Island of Biševo) - Hvar - Trogir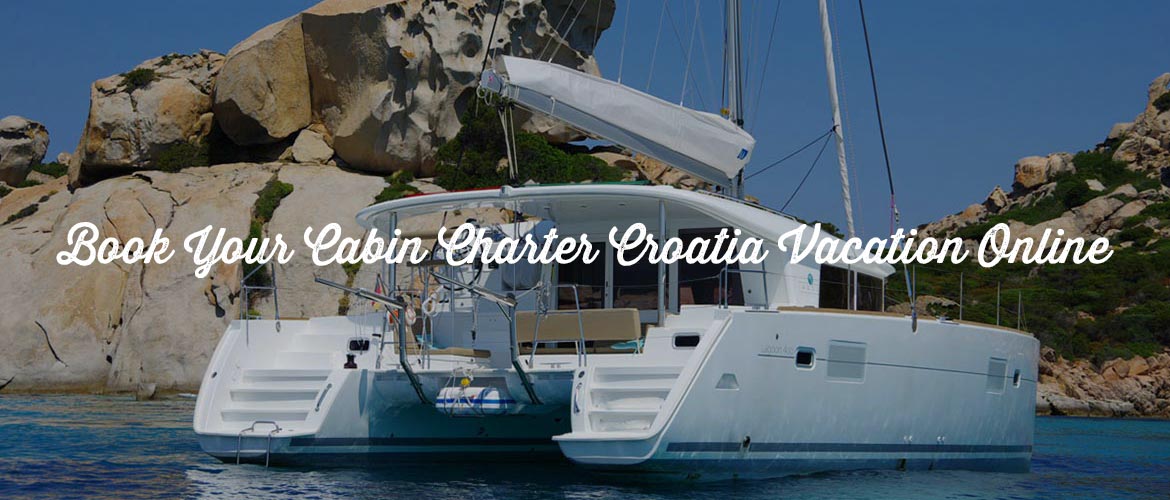 The Adriatic Sea and the gorgeous islands of Croatia beckon! Book your Cabin Charter Croatia sailing holiday today and you'll get the best rates, including our exclusive payment plan: you can pay for your Croatia holiday in up to six monthly installments. We make planning your adventure as simple and easy as possible.
For any questions and for bookings, please contact us by filling out the form below.
We look forward to hearing from you!