8 Reasons to Ditch the Cruise Ships and Go on a Yacht Charter Instead
If you are planning a trip to the Caribbean, you might be considering booking a cruise. After all, it's a pretty common way of traveling these days, especially in warm destinations.
We are here to widen your perspectives and let you know there is another type of "cruise" in the Caribbean that we think you should consider instead. We are of course talking about a private yacht charter.
Good news! You don't need to know anything about boats or sailing in order to charter, you can easily book a local Navigare Yachting captain who will take care of the boat for you and guide you to must-see destinations. Let's go through some of the top reasons to ditch the crowded cruise ships and book an intimate yacht charter getaway instead.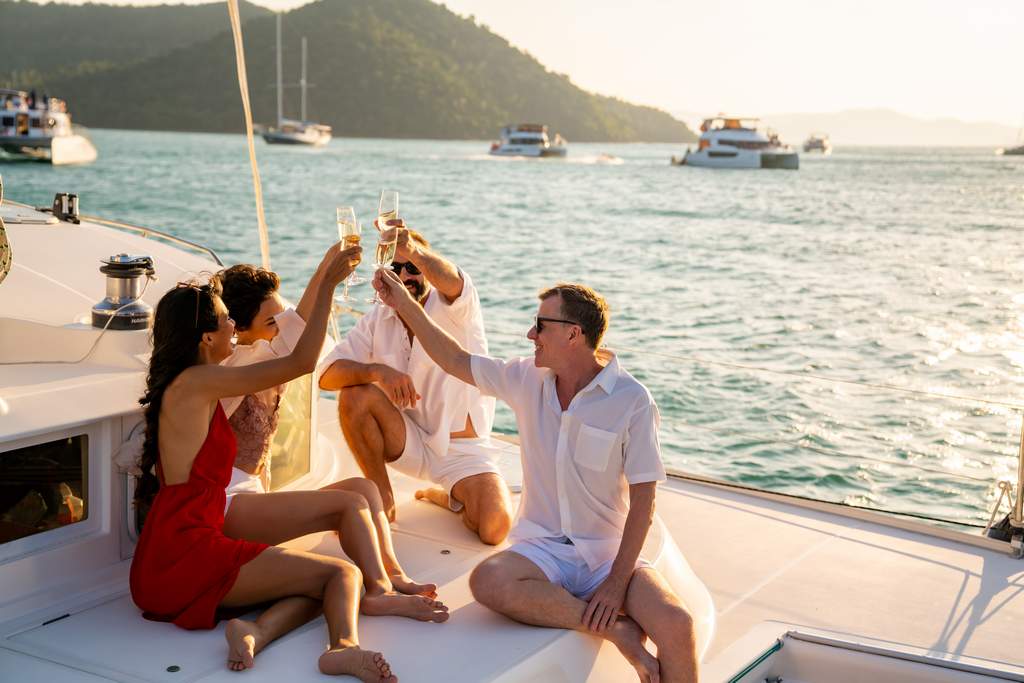 1. Yacht charters are more exclusive
When you book a cruise trip, the vacation is not tailored to you specifically. It's a general product offered to millions of people. Of course, it needs to be universal and ubiquitous to satisfy the masses.
A yacht charter is a much more exclusive travel product. Imagine spending time on a luxury boat with only your loved ones and a captain who is hired to serve only you. Besides a captain, we also offer the option to hire a private chef to improve your charter experience even further. Our award-winning crew are all very committed to providing the best service they can, tailored to fit their guest's specific needs and preferences, which makes for a highly personalized experience.
Don't take our word for it, though! Our crew members' commitment to providing exceptional service and making your charter even more exclusive is reflected in our reviews and our two 2023 TripAdvisor's Travelers Choice Award wins at both of our Caribbean destinations (BVI and Bahamas).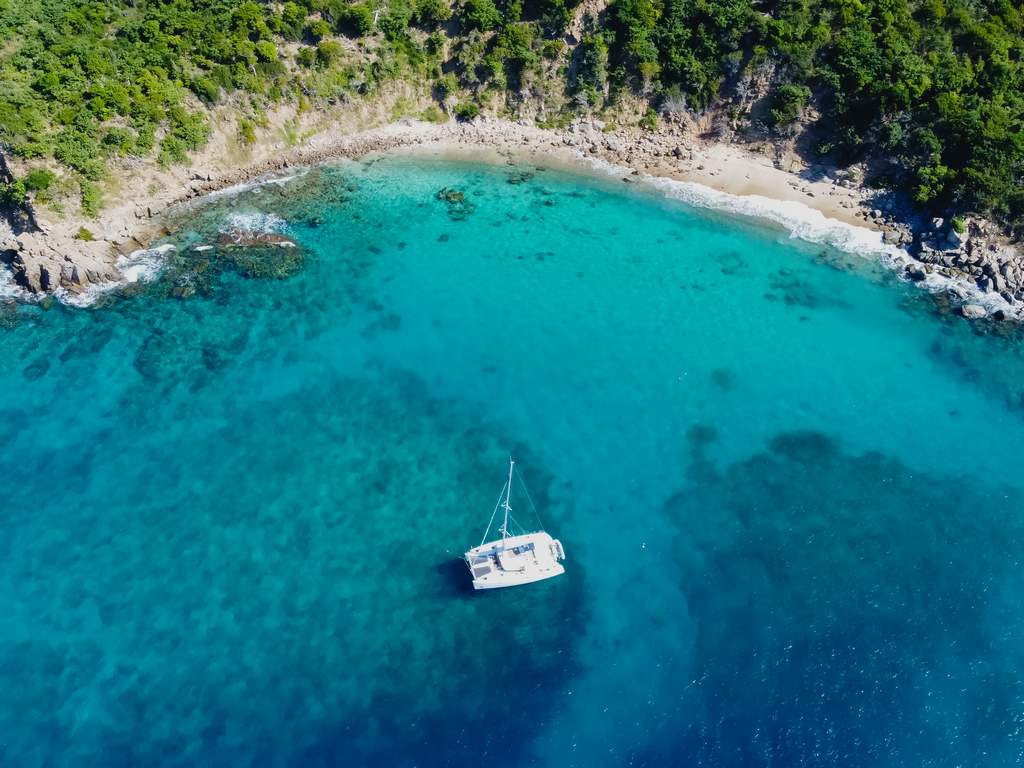 2. Explore the hidden gems
We already mentioned that, with your local captain onboard, you get a much more personalized experience on a charter yacht compared to a cruise ship. That personalization extends way beyond your boat.
On a skippered Navigare yacht, you essentially have your private tour guide onboard. Our captains are locals and they know the area well. Apart from recommending restaurants, things to do, and places to visit, they will also guide you to the most beautiful spots that you would never get the chance to see during a cruise.
On a regular cruise ship, you may only get the chance to step ashore for a few hours in places packed with tourists. During a boat charter, you have the opportunity to explore hidden gems and deserted beaches and go "the less traveled path" if that's what you desire.
Needless to say, our Caribbean destinations are visually stunning and there are so many places to see and experience beyond the mainstream tourist spots. When chartering with Navigare, you will get the chance to explore the authentic natural beauty of the Caribbean, without limitations.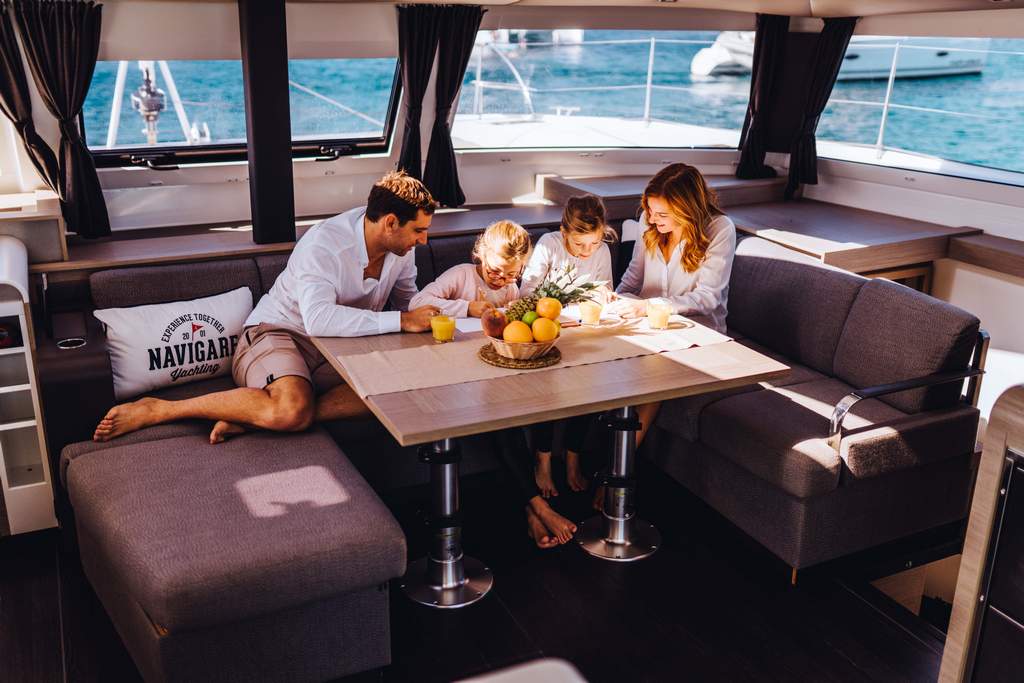 3. Less distractions → Meaningful experiences
In addition to crowds of people, cruise ships feature a lot of things that could distract from your overall travel experience. While perhaps enjoyable, many of the activities on the cruise ship are things you could probably do at home. Just think about all the time you will spend occupied by these activities rather than experiencing your chosen destination and creating lasting memories with loved ones.
With fewer things to distract you, a yacht charter offers the chance to spend valuable time together with friends and family on the boat, doing things like chatting, playing games, or simply admiring the breathtaking scenery.
While you might get a beautiful view on a cruise ship, it will be a lot more distant than the view you get on a charter yacht. On a sailing catamaran in the BVI, you will relish in the most beautiful panoramic ocean views you could possibly imagine, whether enjoying a dinner in the salon, sipping a refreshing drink on the flybridge, or lounging in the cockpit.
With the waves only a few feet below, you can, in addition to the scenic environment, enjoy a fresh spray of water while underway, feel the wind in the sails, and simply breathe in the ocean air. Perhaps you decide to start your day with a morning dip in the ocean, or engage in water sports activities in the afternoon? It's all within reach on a charter with Navigare. Compare that to being cooped up on a cruise ship. On a ship that size, you may not even know you are on the water.

4. Yacht charters offer more itinerary flexibility
The stops that you have the opportunity to make during a cruise will vary, but they usually only last for a few hours and take place on a private island or in a crowded port. As you probably know, you are likely to spend most of your time onboard the ship, instead of exploring the actual destination.
When you are on a charter yacht, not only are you closer to nature, it's a trip that will bring you the most authentic, close-up experiences of your chosen Caribbean destination while lending you incredible flexibility at the same time.
You don't have to adapt your plans to fit anyone else's schedule. You and your group decide when and where you wish to explore on land, try watersports, or go snorkeling. It's easy to go ashore anytime you like, whether you stop in a marina or spontaneously take the dinghy to the nearest beach. Dive into a private lagoon just for you! A hired skipper will also give you plenty of personal recommendations for things to do on land, and you will have plenty of opportunities to explore the islands at your own pace.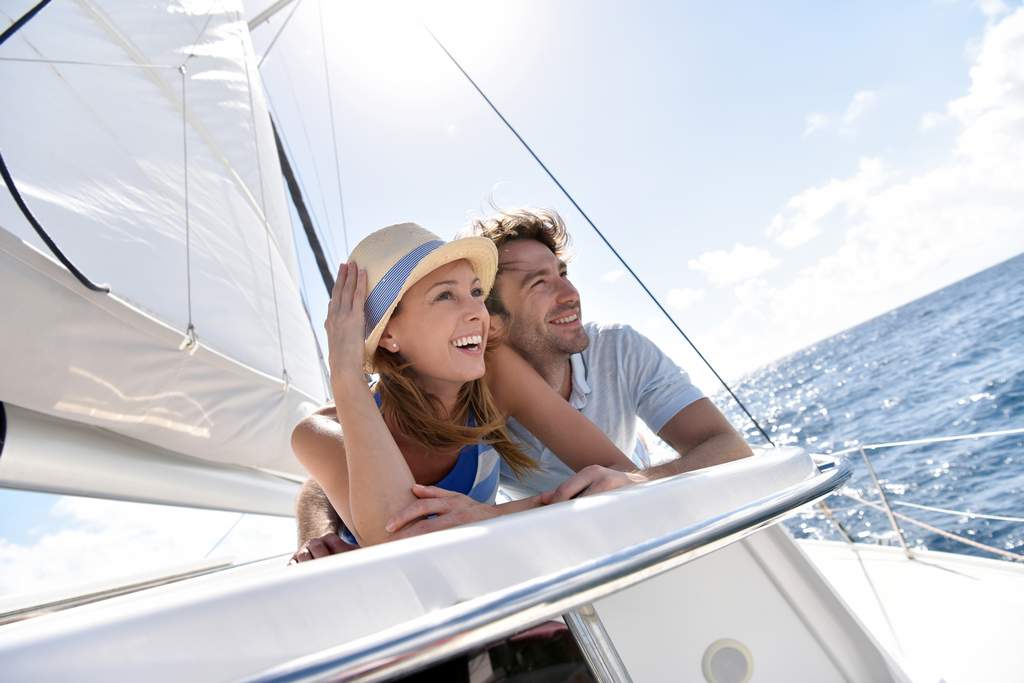 5. Avoid the tourist crowds
During the Covid-19 pandemic, the health risk with cruises was brought to traveler's attention like never before. That risk expands beyond the coronavirus, to regular colds, other viruses, and seasonal flu, and is something to still take into consideration while planning your vacation. With that many people sharing an enclosed space, it makes sense that germs will spread more easily. Who wants to spend their vacation in their cabin recovering from a flu or a cold?
The private charter yacht is a space you share with only a few people, most of whom might already be part of your household, so the spread of germs and viruses is far less likely. From a health perspective, it is therefore a safer option.
Perhaps it goes without saying, but the boat charter is also a much more private vacation. On a cruise ship, you will be surrounded by crowds of people everywhere you go. If you value a more private, personal experience, the yacht charter is the way to go.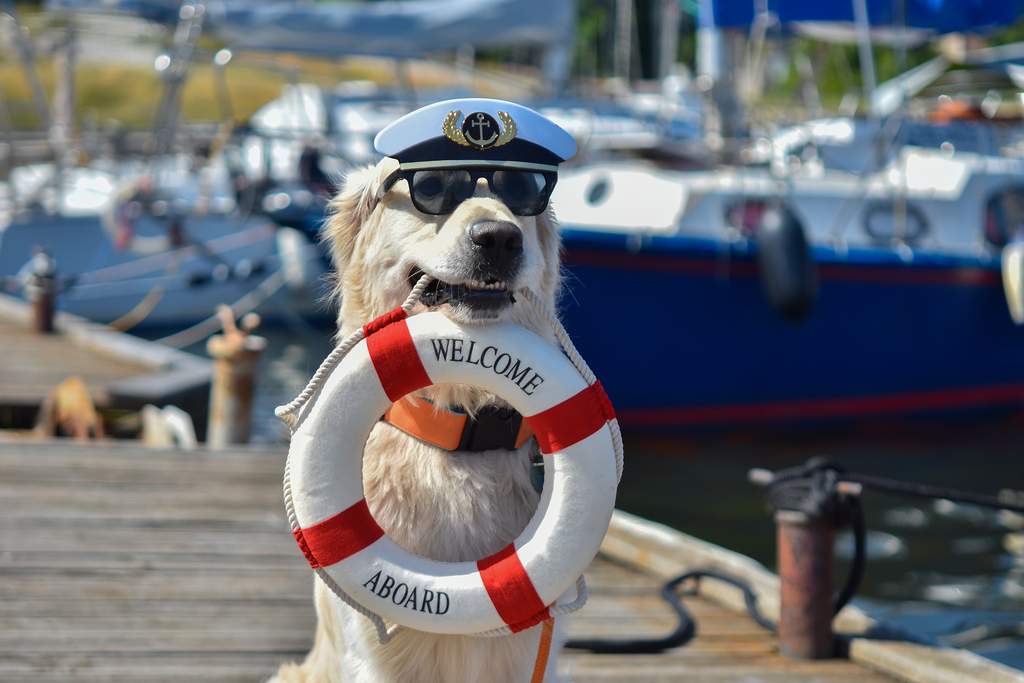 6. All family members are welcome aboard
Less people onboard also means that you don't need to adhere to the same strict rules that they have on cruise ships; we are referring specifically to the regulations regarding pets.
Did you know that we allow dogs on our Caribbean yacht charters? Well, we are excited to share that we do! So if you have a furry family friend you would like to bring on your next vacation, a yacht charter is the perfect choice! Cruise ships usually require pets to be on a leash or put in a carrier while not in your cabin. On the charter boat, your dog can roam freely and enjoy the vacation just as much as you!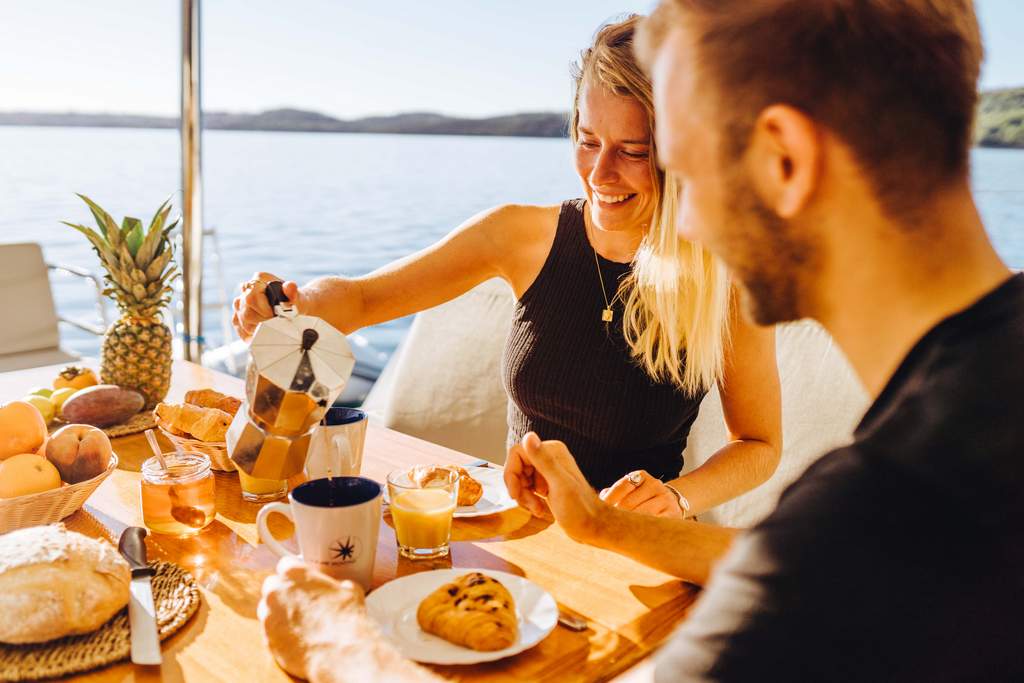 7. Enjoy better food
Usually, the only food included in the cruise fee is fast food restaurants. While it is not impossible to find good food on a cruise ship, you will likely have to pay extra for it, and whatever is not included in the ticket fee often has inflated prices.
At our charter bases in the Caribbean, we are proud to offer private local chefs for hire on your yacht charter. Just add this extra service to your booking and we will handle the rest. With a private chef onboard, your charter vacation will be transformed into an international culinary experience. Your cook will take care of you at all times, preparing two or three meals per day, including snacks and drinks in between. This added service can really lift your Caribbean trip to new heights of luxury, comfort, and flavors, but even if you don't opt for this extra service, we would still argue that the food you are likely to enjoy on your boat charter will be far better than the one you would have on a cruise ship.
With the flexibility to step ashore at any time, a yacht charter is the perfect time to explore the local Caribbean restaurants and try authentic Caribbean cuisine. Check out this blog article for the top 10 beach bars and restaurants in the British Virgin Islands that are all easy to reach on your boat charter. The Caribbean, featuring a subtropical climate, is also home to plenty of locally produced exotic fruits and vegetables as well as locally sourced seafood such as the famous Bahamian conch and the BVI lobster.
A yacht charter in the Caribbean is an excellent opportunity for all "foodies" to go on a culinary journey and explore the local flavors, whether with a private, regional chef onboard, through local provisioning options, or by visiting authentic Caribbean restaurants.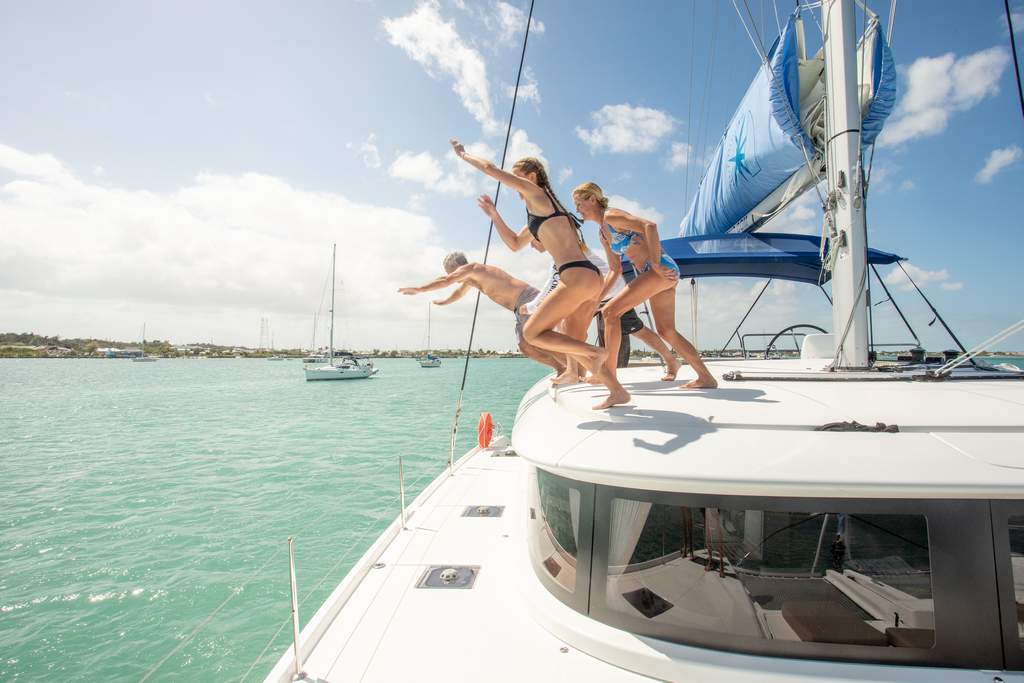 8. It's not more expensive
At this point, you are probably wondering if the yacht charter is more expensive than the cruise considering all the benefits. The price of the charter will depend on the size and the production year of the yacht, if you sail in the high season or shoulder season, and how many people are going to split the cost, but in general a 7-day cruise is not more expensive than a 7-day yacht charter. It may even be cheaper!
Let's break it down. A 7-day Caribbean cruise ticket with a reputable cruise company is about $1,050 - $2,650 per person. A 40 ft sailing catamaran from 2020 in the BVI is $4,680 to charter for a week in late October without any discounts added. With four sleep cabins that accommodate 2 guests each, you can split that cost into 8 people and land at just about $585 per person. If you wish to book a captain (which you are required to do unless one of your guests has sufficient sailing experience) that would be an additional cost of approximately $2,000 a week. With the added cost of the captain, you can charter this boat for about $835 per person.
We usually have promotional campaigns though (if you book now through Nov 30th, we offer an incredible 30% off on our 2023 Caribbean charters) so now you can charter the same boat for only $409 per person (or $660 per person for one week with a captain)!
As you can see, a yacht charter is not necessarily more expensive than a cruise ticket, and may even be cheaper! For more information about the high-, shoulder-, and low seasons in our destinations, check out this blog post. Remember, the charter price of the boat will vary with the seasons, sometimes changing from one week to the next.


When you break it down, it is easier to compare these two types of vacations and get a better sense of what you get when you pay for either.
Let's be honest, a boat charter vacation is a lot more exclusive, whether you sail with a private crew or not. You will be guided to all the hidden spots and pristine beaches by your captain or be free to explore them on your own. On a cruise ship, you will spend most of your time on the ship, doing things that you might do at home.
With an award-winning Navigare Yachting charter, on the other hand, you will enjoy a truly authentic travel experience and an opportunity to immerse yourself in the culture while living close to nature. You are flexible to step ashore at any time you want, explore the islands, and try the local cuisine and you will certainly create many lasting memories with loved ones without all of the distractions that the cruise ships feature. To drive the point home even more, a sailing charter with Navigare is not even more expensive than the cruise; it may even be less costly.
If you are just as convinced as we are that an award-winning private yacht charter with Navigare will give you significantly more value for your money, and an exclusive experience you can't get on a mainstream cruise, we encourage you to take a look at the available yachts on our website, and take advantage of our current incredible deals. The Caribbean is a truly amazing destination to charter a sailing yacht and one that seems like it was made to be explored closer to the water.
Since 2001, over 300,000+ charter guests have set sail with Navigare - it's safe to say that your yachting adventure will be in capable hands. With 11 exotic locations worldwide, the possibilities are endless! Whether you're an experienced sailor or a first-time adventurer, Navigare Yachting opens up a world of exploration, discovery, and sailing that comes with complete peace of mind.