The Best Time to Sail in Top Yacht Charter Destinations

If you are planning a charter vacation right now, perhaps for 2024, you might be wondering when the best time is to sail in our different destinations. No matter which month you are looking to charter or what your preferences are for a sailing trip, we've got you covered.
The list below outlines eight of our most popular destinations right now (in no particular order), their respective weather conditions, and optimal sailing seasons. (Tip: Scroll down to find the destination you are interested in). Most destinations are suitable for sailing during a significant portion of the year. Which season to choose mainly depends on your personal preferences and priorities.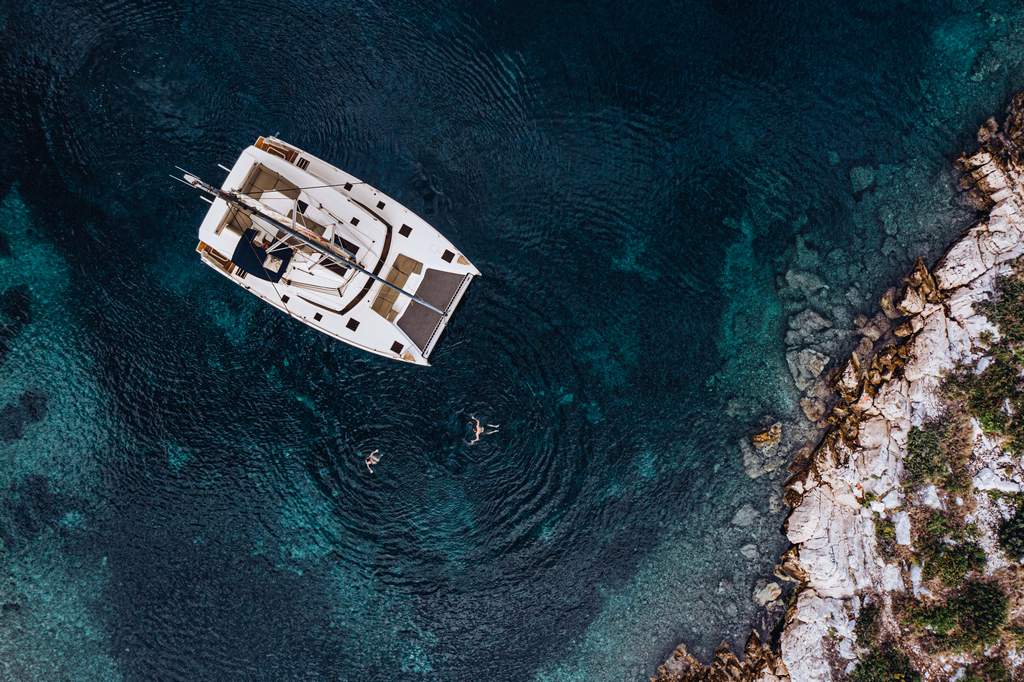 Sailing in the Bahamas:
The Bahamas, a group of subtropical islands about 60 miles (100 km) southeast of Florida, features a monsoon climate and has warm temperatures all year. Winds are typically between 5 to 20 knots except during the hurricane season, when there is potential for stronger winds.
The high season for sailing in the Bahamas is late November to early April, with peak season taking place during the weeks of Christmas and New Year's Eve. Temperatures range from 75° to 80°F at this time. Even the sea temperatures are warm in the winter (about 74°- 77°F) so it's a perfect time for swimming and snorkeling. December through March is when most tourists visit the Bahamas, so prices tend to be higher.
For lower yacht charter prices, you may consider going between April and July or even early November as the high season has not yet kicked in at that time, and the sailing conditions are great.
Late spring and summer offer higher temperatures, normally ranging from 80 to 90°F. The summer months are also a lot rainier while the winter months are more dry.
Late-August to mid-October is the hurricane season, so our base is closed at this time, and the boats are taken out of the fleet as a precaution.
Overview:
The Bahamas offers sustained trade winds and a steadily warm and sunny climate year-round, with slightly hotter and rainier summers.
Temperatures:
Nov-Mar = 76°-81°F (24°-27°C)
April-Oct = 81°-90°F (27°-32°C)
Precipitation:
Moderate
Most rain falls from August to September.
Tides & Waves:
The tidal range is up to 4 feet.
Waves about 2-4 feet
Wind Speeds:
5 to 20 knots



Sailing in the British Virgin Islands (BVI):
The British Virgin Islands, located in the Caribbean Sea about 1,000 miles north of the equator, feature a tropical climate moderated by trade winds, keeping the humidity level relatively low.
The high season for sailing the BVI is the same as the Bahamas, in other words, late November through early April. With day temperatures consistently reaching 80°F and steady trade winds, you are guaranteed amazing sailing in the BVI between these months.
Most tourists visit the BVI between December and March, so that's when you will see the beaches and restaurants the most crowded and prices the most expensive. Just like in the Bahamas, the last week of December and the first week of January make up the peak season, which is not hard to imagine. Doesn't spending the holidays on a luxury yacht cruising around this tropical paradise sound like a dream?
The high season features steady wind speeds and predictable weather suitable for sailing, but so do the shoulder seasons, which are April to July and late October to mid-November. If you want to avoid the crowds, opting for one of the shoulder seasons may be a better idea.
The summer is hot with temperatures that reach up to 90°F, and the risk for rain is higher, but if you don't mind the weather, you get to enjoy the benefits of inexpensive flight tickets, pristine beaches without crowds, and always finding available mooring balls.
Late-August through mid-October is the hurricane season. Our base is closed at this time and the boats are out of the fleet.
Overview:
Overall the British Virgin Islands offer excellent sailing year-round (with the exception of the hurricane season) and feature small tidal ranges, low waves, and a steady sea state. It's a forgiving sailing region all year and it's no wonder that the BVI stands out as one of the world's best sailing destinations.
Temperatures:
Nov-Mar = 82°- 85°F (28°- 29°C)
April-Oct = 87°- 90°F (30°- 32°C)
Precipitation:
Moderate/Variable
Most rain falls between August and November.
Tides & Waves:
1-1.5 feet tidal range
3-5 feet waves
Wind Speeds:
Trade winds typically between 7-15 knots, but can on windier days reach up to 20 knots



Sailing in Croatia:
Speaking of the world's best sailing destinations, Croatia also ranks pretty high on that list, and it's no surprise. The Mediterranean, with its clear water, breathtaking nature, and ideal weather conditions attracts sailors from all over the world every year.
The weather is great for sailing anytime between April and October. Which month to choose simply depends on what you are looking for in a trip.
In contrast to the Caribbean, the Mediterranean offers chilly and rainy winters and warm and dry summers. The summer months of June, July and August are considered peak season in Croatia and is when most tourists come here.
There is a reason why the summer is so popular and it's thanks to the warm weather and sunny skies. The water has warmed up after the chilly winter months, and is perfect if you want to go for a swim or enjoy water sports, but don't expect to be alone. Without a doubt, you will share the beaches, bays, islands and tourist attractions with many others. If you do enjoy the nightlife and walking through the sun-soaked streets buzzing with life, then the summer is certainly a great time to sail in Croatia.
However, if you don't appreciate the stress of not finding a docking spot and having to make restaurant reservations in advance, you may want to choose a different time of the year. For example, if your goal is to explore more on land as opposed to swimming, then the shoulder season is probably a more suitable time. The shoulder season also offers stronger winds, which is something you might prefer as a sailor. If you go earlier or later in the season you can also save money as prices on boats and flights will be lower. Here is a blog post that goes more in-depth on the pros of sailing in the shoulder season in the Mediterranean.
Our boats are not available for charter from November to mid-March in any of our Mediterranean bases, as the weather is less suitable for sailing at that time.
Overview:
Whether you choose the high season or the shoulder season, you will not be disappointed by the sailing in Croatia. It's such a popular destination for sailing that we are operating two bases in Croatia, one in Trogir and one in Dubrovnik.
Temperatures:
Nov-April = 52°-65°F (11°-18°C)
May-Oct = 70°-87°F (21°-31°C)
Precipitation:
Low
Most of the rain falls between October and February
Tides & Waves:
Small tidal range of 1-2 feet depending on location
The waves in the Adriatic Sea are between 1.5 - 5 feet
Wind Speeds:
Wind speeds are about 7-11 knots, where the winter is the windiest time and the summer is the calmest.


Sailing in Greece:
The sailing season in Greece is very similar to the one in Croatia with a chilly and rainy winter and a warm and dry summer. It's also easily one of the world's best sailing destinations and offers extraordinary experiences on the water and breathtaking natural beauty.
The peak season in Greece is from July to September where August is the busiest and most expensive time to visit Greece. While it can get a bit crowded at this time, everything will be open, such as museums, restaurants, bars and other tourist attractions, and you can enjoy a pleasant dip in the ocean anytime you want.
Our base is open from mid-March through October so anytime during these months could be great for a trip to Greece, depending on your wishes and preferences.
Again, if your goal is to do water sports and swim, then sometime between June and September is the most suitable time. If you prefer to avoid the crowds and save some money, then sailing either earlier or later in the season is a better option.
The shoulder season offers more of a relaxed vacation filled with authentic experiences and land exploration. In the height of the summer, on the other hand, the atmosphere will be buzzing with life and you get to enjoy the liveliness of the streets and a vibrant nightlife that you may not experience during the shoulder season.
Overview:
In Greece, you are almost guaranteed sunshine on your trip as the precipitation level is low and Athens, where our base is located, boasts an average of over 300 sunny days per year. Expect lighter winds in the shoulder season and stronger winds in the summer.
Temperatures:
Nov-April = 56°-68°F (13°-20°C)
May-Oct = 75°-92°F (24°-33°C)
Precipitation:
Low
Most of the rain falls between October and March
Tides & Waves:
Small tidal range of 1-2 feet
Waves range in height from 1 - 7 feet in the Aegean Sea
Wind Speeds:
Wind speeds are typically between 5 - 12 knots. The so-called Meltemi winds are strong winds that mainly blow in the summer and help keep the heat waves at bay.


Sailing in Spain:
As you may have guessed, the high sailing season in Spain is between May and September, with temperatures in the summer around 85°F (30°C) and wind speeds of about 5-15 knots. Our base is on Palma de Mallorca, where the climate is typical of a Mediterranean island.
The water temperatures are ideal at about 77°F (25°C) all through summer and stay warm all the way until October, which makes Mallorca a great sailing destination if you want to sail later in the season.
Palma, being a popular tourist destination, can get uncomfortably crowded in July and August (just like Greece and Croatia), so you may want to pick a different time if you have the option. Of course, the peak season offers great weather, warm water, and fantastic sailing, so if that's what you are looking for, then by all means, the height of the summer is not a bad time to visit.
Overview:
Expect excellent weather and fantastic sailing in the Islas Baleares in Spain. The shoulder season (spring and fall) usually has more wind, whereas the summer is a bit calmer.
Temperatures:
Oct-April = 59°-66°F (15°-19°C)
May-Sept = 72°-85°F (22°-29°C)
Precipitation:
Low
Most rain falls between September and January
Tides & Waves:
Small tidal range of 1-2 feet
Wind Speeds:
Winds are approximately 5-15 knots


Sailing in Türkiye:
Similar to other Mediterranean destinations, the sailing season in Türkiye lasts from late spring through fall (April through October).
Türkiye has in recent years been growing in popularity tremendously as a tourist destination, so during the summer, the ports will definitely be more crowded. With daytime temperatures at around 82°-95°F (28°-35°C), that cool off at night to just over 70°F (20°C), Türkiye is an ideal summer vacation destination where you can really enjoy the luxury of the yachting lifestyle both during the day and night. Towns and ports, restaurants and bars will be more lively and if you are looking to feel the buzz of nightlife, then summer is the time to go.
On the other hand, if your goal is to enjoy town exploration and less crowded ports, you are better off visiting outside of the high season in April to May or September to October. The temperatures tend to hover around 70°-77°F (21°-25°C) at this time, so the weather will be comfortable and you will likely get a lot of sun, although the sea may be too cool for swimming. The shoulder season is perfect if you want to experience ultimate relaxation, visit places without having to share them with hundreds of people and enjoy cheaper flight tickets as an added bonus.
Overview:
Türkiye offers great sailing between April and October with overall sunny weather, warm temperatures, and friendly sailing conditions.
Temperatures:
Nov-April= 59°-71°F (15°-22°C)
May-Oct = 80°-95°F (27°-35°C)
Precipitation:
Low
Most rain falls between November and March.
Tides & Waves:
Small tidal range of 1-2 feet
Wind Speeds:
The windiest month is January with an average windspeed of 11 knots and the calmest month is May with a typical wind speed of about 7-8 knots.


Sailing in Seychelles:
Seychelles, a group of islands outside the west coast of Africa, is an extraordinary sailing destination that is located just south of the equator.
From May to October, you will see clear skies and southeasterly winds. November marks the start of a rainy season with northeasterly winds and cloudy skies. Most of the rain will fall in January.
The two sunniest months are April and May, but October and November are also great months to sail with a lot of sun. The summer can see some occasional tropical rain showers. Temperatures stay almost the same all year, between 82°-86°F (28°-30°C), accompanied by high humidity. Seychelles has a tidal range which gives rise to some local seasonal currents.
Our Seychelles base is actually open all year, with the most popular time to visit being December through March. Wind conditions vary.
Overview:
There is high humidity year-round in the Seychelles, and you can count on at least some rain no matter which time of the year you visit due to the climate being tropical. That being said, the sun shines almost every day, so sunshine is also something to count on. Currents vary with the monsoon season and there is a tidal range of up to 6 feet.
Temperatures:
Nov-May = 85°-88° F (29°-31° C)
July-Oct = 83°-85° F (28°-29° C)
Precipitation:
Moderate-High
Rain falls all year with November through February being the wettest time of the year and June through August being the driest.
Tides & Waves:
Tidal range of up to 6 feet
Waves are about 3-5 feet with occasional higher waves in the summer
Wind Speeds:
The summer is the most windy time of the year in the Seychelles with typical wind speeds around 12-17 knots. The spring and winter months are calmer, April being the calmest month with an average wind speed of 6.5 knots.


Sailing in Sweden:
In Sweden, the sailing season stretches from June to September. Scandinavia offers a unique summer sailing vacation like nothing you have experienced before. Here you get to experience the magical wonders of a northern summer including natural untouched beauty, historical towns, and almost constant daylight. The short nights offer only about three hours of darkness.
Perhaps you imagine cold weather year-round in Sweden due to its northern location, but the summers are pleasant thanks to the Gulf Stream, with temperatures typically between 60°-75°F (15°-25°C) with occasional warmer days as well.
Winter is not a good time to sail in Sweden as it gets very cold. As such, the base in Sweden is closed at this time.
Overview:
With its temperate climate, Sweden offers mild weather and low humidity throughout the year. The summers are comfortably warm and light as the nights only last for a few hours.
Temperatures:
Oct-April = 34°-52°F (1°- 11°C)
May-Sept = 61°-75° F (16°- 25°C)
Precipitation:
Low-Moderate
The amount of precipitation by month is more or less the same throughout the year
Tides & Waves:
The tide is insignificant
The waves are typically small in the Stockholm archipelago, where our base is located, especially in the summer.
Wind Speeds:
Sweden has wind speeds of about 5-7 knots, where the winter is the windiest and the summer is the calmest time of the year.

Since 2001, over 300,000+ charter guests have set sail with Navigare - it's safe to say that your yachting adventure will be in capable hands. With 11 exotic locations worldwide, the possibilities are endless! Whether you're an experienced sailor or a first-time adventurer, Navigare Yachting opens up a world of exploration, discovery, and sailing that comes with complete peace of mind.