Experience the Luxury of a Greece Cabin Charter Holiday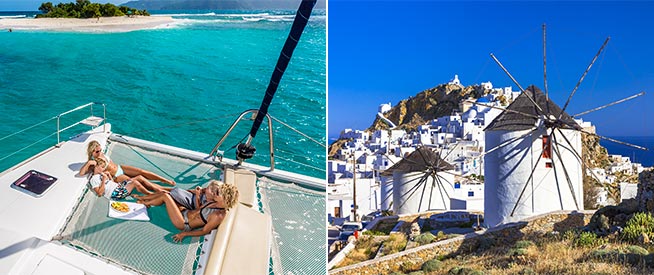 Cabin Charter Greece - Windmills on Serafos island

The Greek Islands are a premium vacation destination: warm weather, azure Mediterranean waters, and friendly people on 6000+ islands seemingly scattered by the Gods themselves! The lush waters of the Aegean and the Cyclades bring you exciting new experiences with each passing day.
Discover picturesque villages with wonderful local hospitality and experience the friendly atmosphere of everyday Greek island life
Listen to the echoes of Gods, Goddesses, and ancient heroes, in a place where history stretches back thousands of years.
Dance the "Sirtaki" and indulge in famous Greek cuisine, with specialties like souvlaki, mousakka, and kleftiko.
The Lagoon 400 is an advanced, very modern yacht, filled with all the amenities you expect from a boat built for comfort and luxury pleasure cruising:
Four separate guest cabins (two fore, two aft) are spaced to allow both total comfort and optimal privacy, for a premier level of enjoyment during your holiday.
Single large roof creates a shaded and comfortable exterior saloon, with ample space to lounge and enjoy the outdoors at sea.
Large aft transoms feature a spacious swim platform, access to water toys, and easy boarding, while the forward sunbathing area allows full access to sun & fun recreation.
Teak woodwork, whitewashed surfaces, and brass embellishments add an element of luxury to the interior.
Modern fittings and luxury upgrades provide a very high level of comfort, performance, and enjoyment. Hull windows provide excellent natural light and wide views. Enjoy the creature comforts of modern sailing elegance, courtesy of Navigare Yachting.
Navigare Yachting Cabin Charter Route
Navigare Yachting prepared available sailing route for your holiday adventure in Greece!
Greece Cabin Charter "Nostos" Route Details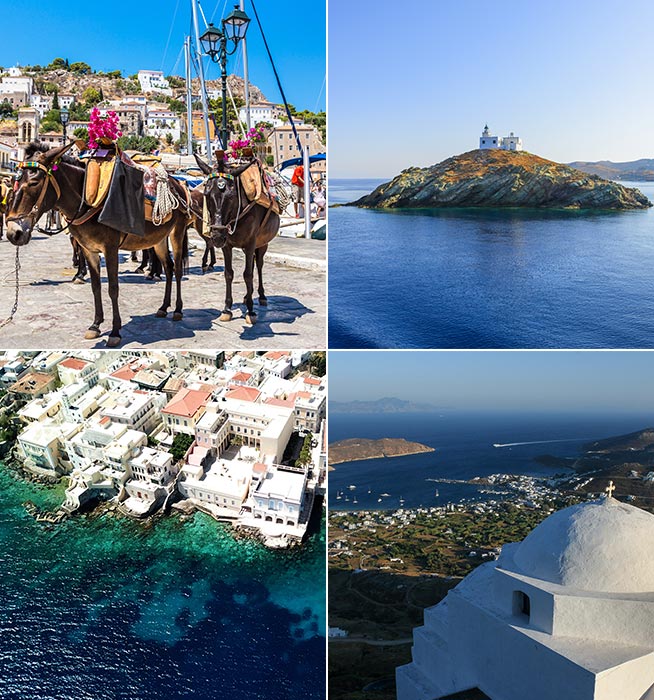 Donkeys at Hydra island - Shops on Kea island - Vaporia on Syros island - Serifos island

Nostos (Ancient Greek: νόστος) is a theme used in Ancient Greek literature, which includes an epic hero returning home by sea. In Ancient Greek society, it was deemed a high level of heroism or greatness for those who managed to return.
DAY 1: Saronic Gulf to Kea: Depart and sail to Aegina. Night spent at Perdika Fishing Village. Dinner ashore at a local fish restaurant.
Aegina is one of the Saronic Islands of Greece in the Saronic Gulf. Tradition derives the name from Aegina, the mother of the hero Aeacus, who was born on the island and became its king. Famous for its neoclassical architecture and the world-famous pistachios, Aegina triggers the beginning of an epic journey to remember.
DAY 2: Sail to Hydra. A visit to the main port and then departure around 12:30 to sail to "Saint Nicolas" bay on the southwest side of Hydra. Enjoy the nature and the crystal clear waters, while your Host/ess prepares your lunch. Departure around 16:30 and sail to Leonidio. Dinner ashore at a local taverna.
Hydra holds a privileged place in Greek history. The fate of Hydriots has always been tied to the sea, which locals have harnessed to their advantage time after time. Many Hydriot merchants became wealthy running the British blockade of French ports during the Napoleonic Wars. Hydra enjoyed its glory days in the late 18th and early 19th centuries, when the island was famous for its shipbuilders. Hydra's prosperity earned it the nickname "Little England." As rebellion swept Greece, the island flourished as a safe haven for those fleeing Ottoman oppression. Hydra had become a favorite retreat for celebrities, well-heeled tourists, and artists and writers, who still draw inspiration from the idyllic surroundings. Canadian songwriter Leonard Cohen lived here for a time—and was inspired to compose his beloved song "Bird on the Wire" after observing just that here on Hydra. Today visitors only have to count the yachts to figure out that Hydra's economy is still based on the sea. An UNESCO-protected island. A historical island. An unusual aspect of Hydra is that no automobiles are allowed within the island.
Don't miss the chance to walk around its wonderful local market alleys.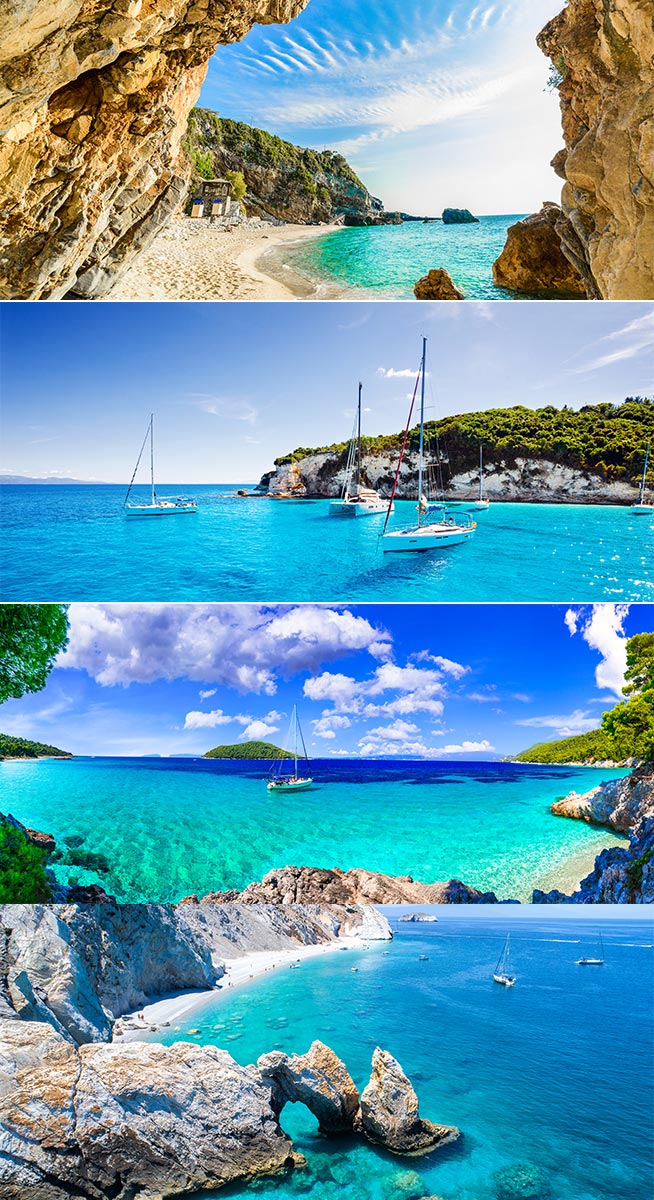 Greek Cabin Charter "Nostos" Route - Beautiful coast in Greece

DAY 3: Sail to Monemvasia. Discover one of the best maintained fortresses in Europe. The 'Gibraltar of the East". Dinner ashore at a local taverna. On the way to Monemvasia enjoy this unique landscape of the East Peloponnese and your lunch in "Saint George" bay in Kyparissi.
Monemvasia. The town's name derives from two Greek words, mone and emvasia, meaning "single entrance". This former fortress town comes with a rich history. Monemvasia sits on an island off the Peloponnese in southern Greece, where it is among the most beautiful undiscovered places to travel. As a natural fortress, it was inhabited and soon became a strategic fortress claimed by the Byzantines, Franks, Venetians and Ottomans. Neither museum-like nor artificially fabricated, Monemvasia is Europe's only castle that has never ceased being inhabited. Don't miss to taste its nightlife!
DAY 4: Sail to Spetses Island. One of the most beautiful and historical Islands of Greece. Dinner ashore at a local restaurant.
Spetses, an island boasting a long naval tradition, is famous for its significant contribution to the 1821 War of Independence. It was here that the revolution flag was raised on 3rd April 1821. Beautiful nature, perfect beaches and a complex history ‒ Spetses is an island that has all three. An unusual aspect of Spetses is that no private automobiles are allowed within the town limits. Don't miss a visit to the island's traditional shipyards (tarsanades) in the old port, where craftsmen, having kept alive a centuries-old skill, build and repair wooden vessels. Carry on towards the Navy Park, where pine trees meet the sea and wooden sculptures, including an owl and a mermaid by renowned Greek sculptor Natalia Mela, are on display. Numerous bars as well as exceptional fish tavernas are clustered at the old port. Irresistible sweets, including the island's famous "amygdalota" almond sweets, can be found at the confectionery shops in the new port (Dapia) area. And to finish, take a romantic trip around the island in horse-drawn carriages and admire the grand mansions adorning the narrow cobbled streets of the island.
DAY 5: Sail to Dokos Island. In a breathless bay enjoy the harmony. Play with the sun and the sea. Let loose. Listen to mother Nature. A lunch and an unexpected dinner-to-remember on board. The Music Starts!
Dokos, with its many archaeological excavations, as the island was an important port in the ancient times. According to findings, Dokos was first inhabited in the 5th millennium B.C., while it flourished in the 3rd millennium B.C. In antiquity, it was called Aperopia. As the remains of a castle show, this island had a strategic position in the Byzantine times and was used to observe the ships in the Saronic Gulf. In 1975, Peter Throckmorton discovered a wreck near Dokos that has been dated to about 2150 BC, and may be the oldest shipwreck known in human history!
DAY 6: Sail to Poros Island. Discover this beautiful Island with the colorful houses. Bay a souvenir from Greece. Enjoy your dinner in a local restaurant.
Poros, in ancient times, was considered the island of Poseidon, God of the Sea. This is evident from various literary references and from the traces of the temple of Poseidon, which are to be found in the middle of the island. Poros was the site of the first naval base in modern Greece, established in 1827 during the Greek War of Independence. Lush vegetation, beautiful little beaches, picturesque villages, and a vintage aura make Poros a unique island to visit during your holidays in Greece. Built on a hillside, Poros Town is one of the most picturesque capitals of the Aegean sea islands. Poros town is the center of the island's activity, as the array of traditional taverns and Poros restaurants located along its seafront promenade come alive when the sun goes down, attracting vacationers from all over the world! Peer into the history and tradition of the island through a visit to its Archaeological and its Folklore Museums.
DAY 7: A final day of sailing and swimming, with arrival back to our base of Agios Kosmas.
NOTE: Planned routes may be changed according to weather or other circumstances.
Gourmet Dining on the High Sea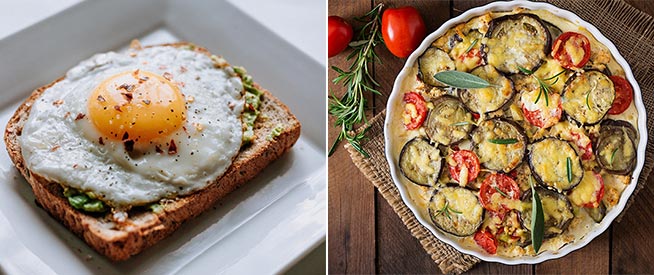 Moussaka
Many agree that it is the most important meal of the day. You will soon find out that the sea requires a lot of calories. So, please choose from the below.
"Guileless Earth" Greek Salad (tomato, cucumber, pepper, onion, cheese¹, olives, oregano VG); Ntakos (rusks, tomato, myzithra cheese, caper, caper leaves, oregano VG); Octopus Salad (octopus, carrot, pepper, garlic, oregano); Boiled Seasonal Vegetables (broccoli, cauliflower, zucchini, potato, carrot, lemon VE); Pasta Salad (smoked salmon, lime, avocado.); Tuna Salad (cucumber, lettuce, caper, corn, mayonnaise); Beetroot Salad (goat cheese, balsamic, dijon mustard VG); Rocket Salad (parmesan, cherry, tomatoes, prosciutto, balsamic, honey, vinaigrette), Octopus Meze (carrots, peppers, oregano, parsley, garlic); Greens Cold Salad (lettuce, cabbage, carrots, apple, nuts, balsamic cream, dressing VE); Lentil's Salad (smoked salmon, parsley, lime)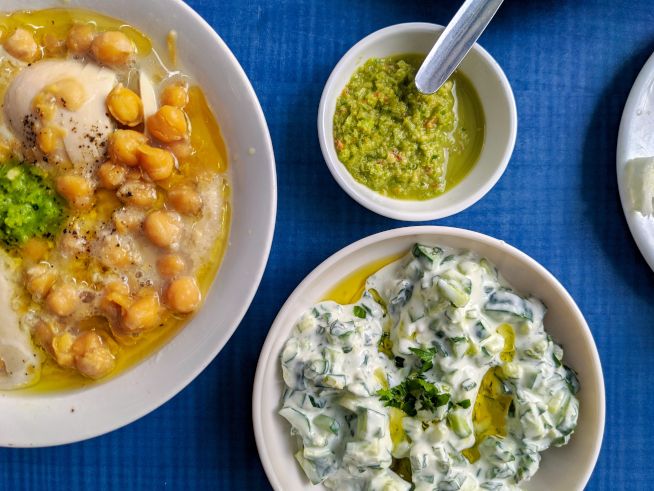 Tzatziki Greek
"Cretan Fingers" Tzatziki Greek (yogurt, cucumber, garlic, carrot, vinegar, anise VG); Smoked Aubergine (garlic, parsley, VE); Taramosalata (fish roe dip); Mushrooms in the mist (pleurotus, garlic, balsamic-mustard sauce, herbs VE); Saganaki (gruyere, honey, sesame VG); Mussels Saganaki (mussels, tomato, onion, garlic, herbs, feta cheese); Wrapped Feta (pastry sheet, Greek honey, sesame VG); Tuna Tartare (sesame, ginger sauce Zucchini Balls zucchini, carrots, fresh onion, peppermint, anise, egg, flour, lemon, spices VG); Shrimps Saganaki (tomato sauce, garlic, melted gruyere); Stuffed Peppers (pine, gruyere, parsley, feta, zucchini VG); Fava-yellow split peas puree (capers, sun-dried tomatoes VE); Stewed Spaghetti - Like Rolled Zucchinis (walnuts, halloumi cheese VG); Spetzofai( tomato, paper, onion, parsley, local sausage)
"Aegean Nets" Bouillabaisse - fish soup (fish, carrot, celery, potato, onion); Milanese shrimp risotto (shrimp, onion, garlic, safran, wine, butter, parmesan, herbs); Seafood Orzo (star anise, shrimps, mussels, parmesan, cherry tomato(; Saganaki (gruyere, honey, sesame VG); El Dorado (dorado, celery, fresh onions, eggs, lemon); Grilled Sea Bass & Fish Broth Soup (carots, celery, potatos, and lemon); Stuffed Squids (rice, raisins, feta, peppers, onions, mountain tea leaves); Octopus Stifado (tomato, wine, vinegar, baby onions); Seafood Risotto (arborio rice, shrimps, mussels, star anise, cherry tomato); Sea Bream (celery, lemon, onions, mayonnaise); Golden Fried Fish (red mullet, calamari, shrimps, anchovies); Grilled Fish Fillet (fish, lemon, oregano); Fisherman's Pasta (tomato, shrimps, mussels, oysters, parsley, caper, olives)
Shrimp dish
"Shepherd's Dream" Beef Tenderloin (garlic, crème fraîche, wholegrain, mayonnaise); Chicken Curry (basmati rice, Greek yogurt); King's Choice ( lamb, potato, garlic, lemon, oregano); Giouvetsi (beef, tomato sauce, pasta, ground cheese); Leek Lemon Pork (lemon, jasmine rice, raisins, mustard); Barbeque on the Rocks (meat trilogy, oregano, lemon, oil); Texas Beans 'n Burgers (garlic, herbs); Kleftiko - lamp wrapped in baking paper ( vegetables potatoes, mixture of cheeses); Souvlaki - Pork or Chicken (Greek salad, mint, feta, pita, yogurt, anise); Oven Roasted Chicken (green apples, plums, orange juice); Chicken Lemon velouté soup (mayonnaise, vegetables, eggs)
"Grandma's Fairy Tales" Moussaka - the classical Greek hit (aubergines, potatoes, ground beef & pork, tomato, Béchamel sauce, nutmeg, cream cheese); Gemista (tomato, aubergine, pepper, potato, zucchini, rice, garlic, onion, anise, parsley VE); Ratatouille Niçoise (potato, zucchini, aubergine, pepper, onion, garlic, parsley, herbs VE); Cabbaged-Rolled Rice (leek, lemon VE); Kagianas (eggs, tomato, garlic, cheese, butter); Green Beans (potato, zucchini, tomato, onion, parsley VE); Spinach Cannelloni (bacon, milk cream, onion, metsovone cheese, thyme); Pesto Basil Pasta (garlic, parmesan cheese, pinoli VG); Risotto with Mushrooms (onion, garlic, safran, wine, butter, parmesan cheese, herbs VG)
"Sweet Memories" Spoon Dessert VE; Cheese Cake; Salami Mosaic; Greek yogurt with honey, fruits and walnuts; Apple Pudding; Milk pie with orange juice, ice cream and roasted almonds; Panna Cotta; Almond Pistachio Baklava; Fruit Salad VE
Navigare Carefree Cabin Charter – What is included?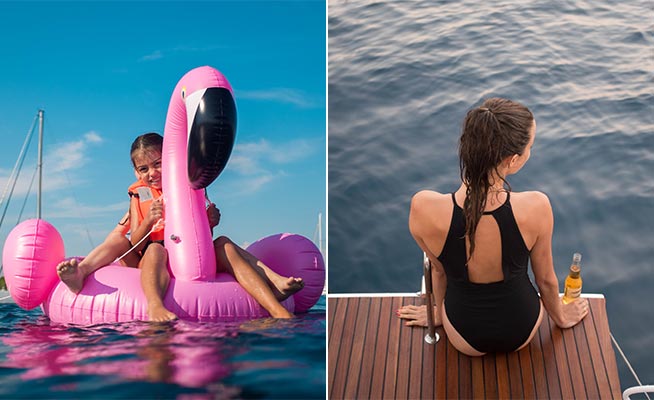 Enjoy the Greek Islands of the Aegean in total comfort and luxury, with everything included that you need to make your vacation truly memorable. Our Navigare Carefree Package includes:
Bed sheets & towels
Full water tanks
Gas
Outboard engine & fuel
Coffee supplies
Half-board meal service
Free Wi-Fi (10 GB/day)
Dinghy
Snorkeling equipment
Flotation ring w/ rope
Stand up paddle board
Kayak
Final cleaning
It's not a dream – you can enjoy the epic vacation sights and adventures of the Aegean, in ultimate style and privilege. Your own private cabin on a Greek islands yacht charter allows you to create memories that will last a lifetime.
For any questions and for bookings, please contact us at booking@navigare-yachting.com (for agents, please use reservations@navigare-yachting.com).
Learn more about other options for sailing with Navigare Yachting in Greece:
We look forward to hearing from you!