Experience the Luxury of a Greece Cabin Charter Holiday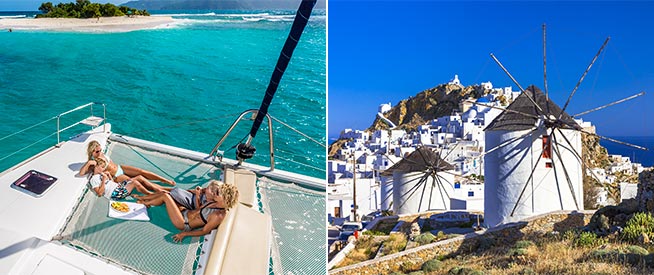 Cabin Charter Greece - Windmills on Serafos island

The Greek Islands are a premium vacation destination: warm weather, azure Mediterranean waters, and friendly people on 6000+ islands seemingly scattered by the Gods themselves! The lush waters of the Aegean and the Cyclades bring you exciting new experiences with each passing day.
Discover picturesque villages with wonderful local hospitality and experience the friendly atmosphere of everyday Greek island life
Listen to the echoes of Gods, Goddesses, and ancient heroes, in a place where history stretches back thousands of years.
Dance the "Sirtaki" and indulge in famous Greek cuisine, with specialties like souvlaki, mousakka, and kleftiko.
The Lagoon 400 is an advanced, very modern yacht, filled with all the amenities you expect from a boat built for comfort and luxury pleasure cruising:
Four separate guest cabins (two fore, two aft) are spaced to allow both total comfort and optimal privacy, for a premier level of enjoyment during your holiday.
Single large roof creates a shaded and comfortable exterior saloon, with ample space to lounge and enjoy the outdoors at sea.
Large aft transoms feature a spacious swim platform, access to water toys, and easy boarding, while the forward sunbathing area allows full access to sun & fun recreation.
Teak woodwork, whitewashed surfaces, and brass embellishments add an element of luxury to the interior.
Modern fittings and luxury upgrades provide a very high level of comfort, performance, and enjoyment. Hull windows provide excellent natural light and wide views. Enjoy the creature comforts of modern sailing elegance, courtesy of Navigare Yachting.
Navigare Yachting Cabin Charter Route
Navigare Yachting prepared available sailing route for your holiday adventure in Greece!
Greece Cabin Charter Route Details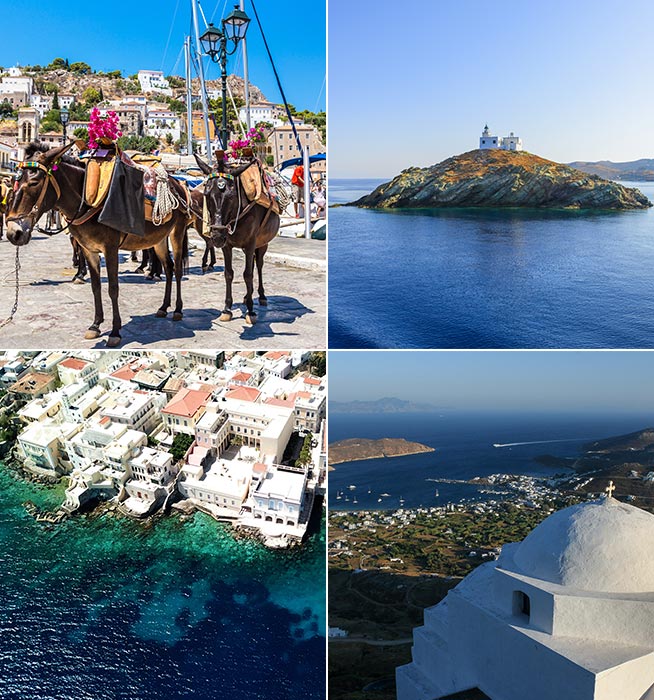 Donkeys at Hydra island - Shops on Kea island - Vaporia on Syros island - Serifos island

DAY 1: Saronic Gulf to Kea: Kea is a a major sailing Greece destination on the western fringe of the Cyclades, with abundant options for entertainment on land or in the warm sea waters. There are numerous shipwrecks to explore and wonderfully beautiful coves and beaches.
DAY 2: Kea to Kithnos: Kithnos is home to dozens of picturesque anchorages and ports. This is a traditional island with a leisurely pace of life. Frolic along the idyllic coastline in the warm waters of the Aegean Sea and venture ashore to experience authentic Greek cuisine at a variety of restaurants and beach side cafes.
DAY 3: Kithnos to Serifos: The towns of Chora and Livadi are the gateway to other destinations in the Cyclades and the harbor approach beneath towering cliffs is one of the scenic wonders of the region. The island is small, unspoiled, and genuine, with rugged terrain and gorgeous Aegean views.
DAY 4: Serifos to Siros: By day, explore the peaceful local waters for swimming and water play. Then come ashore, the beautiful ports of Siros are home to exquisite restaurants, entertaining bars, and welcoming hospitality, amid dramatic Aegean scenery that beckons you to indulge and relax.
DAY 5: Siros to Spetses: This glamorous island caters to a fun-loving luxury crowd, with irresistible options for dining and entertainment. Hike inland to see one of Greece's green paradises, with craggy hills and lovely terrain that demands to be experienced first-hand.
DAY 6: Spetses to Dhokos and Hydra: Dhokos is a popular day stop to enjoy the abundant coves and ancient shipwrecks. Continue on to the island of Hydra, an incredibly beautiful and peaceful island that is little changed from the 19th century – no motorized vehicles are allowed! The harbor town is filled with boutiques, fine dining restaurants, and entertainment options, and the island is filled with trails, beaches, and natural areas to explore.
DAY 7: Hydra to Athens: One final day, with a last chance to sail and play by day, then come ashore and experience the ample pleasures of Athens by night. This is an unforgettable cultural and entertainment destination.
NOTE: Planned routes may be changed according to weather or other circumstances.
Gourmet Dining on the High Sea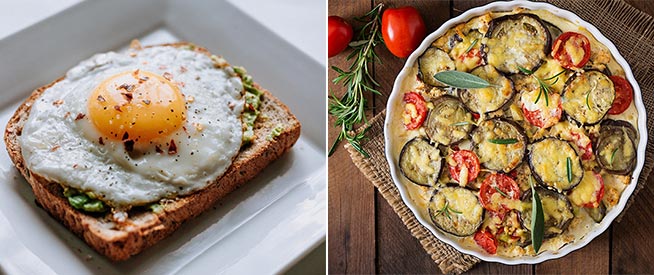 Breakfast - Moussaka
Our Cabin Charter Greece Package includes half-board meal service (breakfast and lunch). Waking up every morning to a gourmet breakfast and refueling with an amazing lunch and snacks is the ultimate treat on the open sea. Your hostess will prepare for you a variety of tasty meals, including authentic Greek cuisine:
BREAKFASTS including fresh fruit salad, egg dishes cooked to order, omelets, smoked salmon on bagel or toast w/ cream cheese, fresh olives and cheeses, and fruit juices, coffee, tea, and milk.
LUNCHES AND SNACKS including calamari salad, spicy roasted shrimp sandwich, citrus-infused shrimp noodle salad, swordfish sandwiches and tacos, lobster salad wraps, smoked oysters wrapped in bacon, veggie crisps w/ coriander hummus, squash & goat cheese bruschetta, and shrimp spring rolls.
Navigare Carefree Cabin Charter – What is included?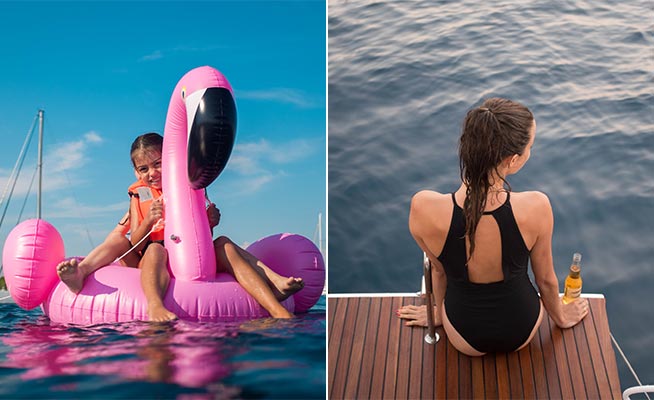 Enjoy the Greek Islands of the Aegean in total comfort and luxury, with everything included that you need to make your vacation truly memorable. Our Navigare Carefree Package includes:
Bed sheets & towels
Full water tanks
Gas
Outboard engine & fuel
Coffee supplies
Half-board meal service
Free Wi-Fi (10 GB/day)
Dinghy
Snorkeling equipment
Flotation ring w/ rope
Stand up paddle board
Kayak
Final cleaning
It's not a dream – you can enjoy the epic vacation sights and adventures of the Aegean, in ultimate style and privilege. Your own private cabin on a Greek islands yacht charter allows you to create memories that will last a lifetime.
For any questions and for bookings, please contact us at booking@navigare-yachting.com (for agents, please use reservations@navigare-yachting.com).
Learn more about other options for sailing with Navigare Yachting in Greece:
We look forward to hearing from you!