Cabin Charter Sailing Balearic Islands: Exotic Destinations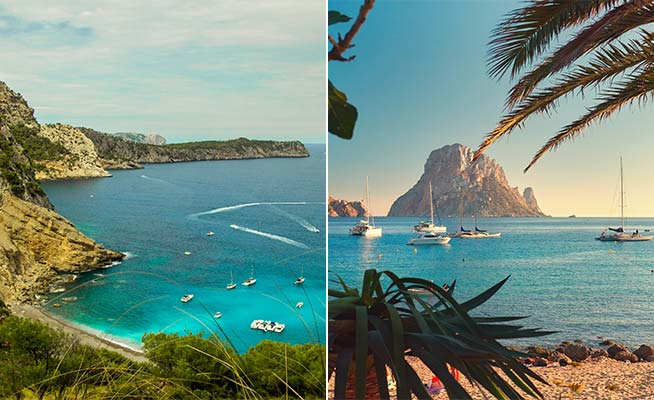 Paradise beach in Mallorca - Ibiza Island

The Balearic Islands are world famous as a premier sailing destination, with the perfect combination of warm weather, beautiful ocean sights, abundant sea life, and fun and exotic ports of call within an easy day's sailing. The three primary island destinations are:
Mallorca, is the largest island and offers a little something for everyone. It has warm white sand beaches for relaxation, snorkeling and scuba adventures beneath the sea, hiking & biking in the island's rugged interior, and wonderful small towns and fishing villages to explore. Everything in Mallorca is within easy reach.
Ibiza is the famed party destination of the Balearic Islands. Celebrities and the fabulously wealthy gather on the island, where discotheques, bars, and nightclubs offer entertainment into the wee hours of the morning (and beyond).
Menorca is the more laid back of the three islands, dotted with picture-postcard fishing villages and sun-splashed white sand beaches, and a rugged coastline with dramatic cliffs and cozy, hidden coves. It's tranquil and secluded, with boutique hotels and small restaurants and markets that somehow avoid being overrun by tourists.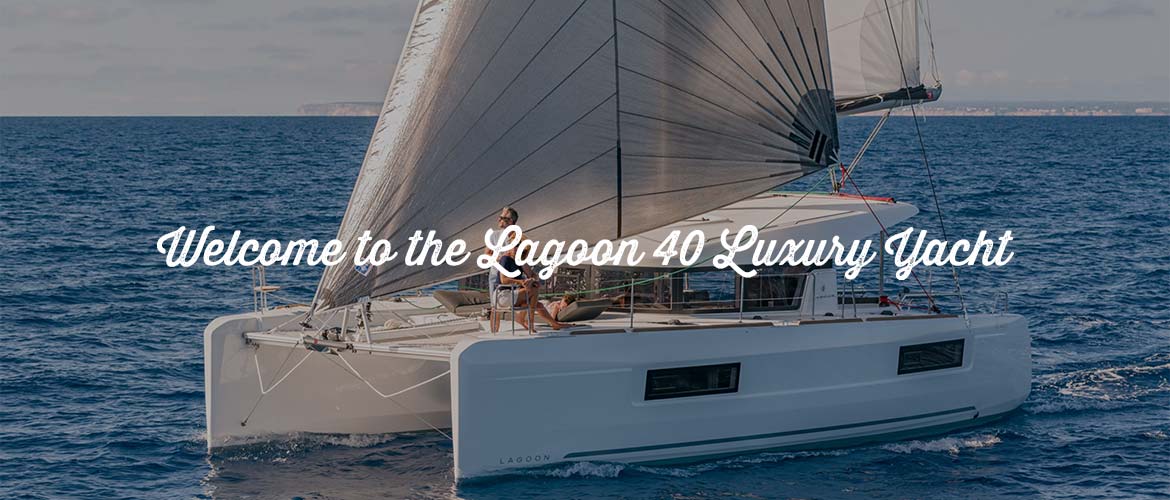 The Lagoon 40 is a sleek and modern yacht, loaded with innovative features that make it stand out for comfort, luxury, and performance:
Four separate guest cabins provide enough room for everyone to enjoy total comfort, as well as complete privacy when desired.
Starboard dining table and recreation area are spacious and sunny, with easy access to the seating area at the rear beam.
Large aft transoms feature a spacious swim platform, access to water toys, and easy boarding.
The interior of the Lagoon 40 is elegant and luminous, with modern fittings and luxury upgrades. Hull windows provide excellent natural light and wide views. This is how modern sailing holidays should be – the epitome of style, luxury, and comfort!
Navigare Yachting Cabin Charter Route
Navigare Yachting prepared a route for your unique sailing adventure in Spain!
Spain Cabin Charter Route Details
The cabin charter 7- day route starts on Sunday and finishes on Sunday!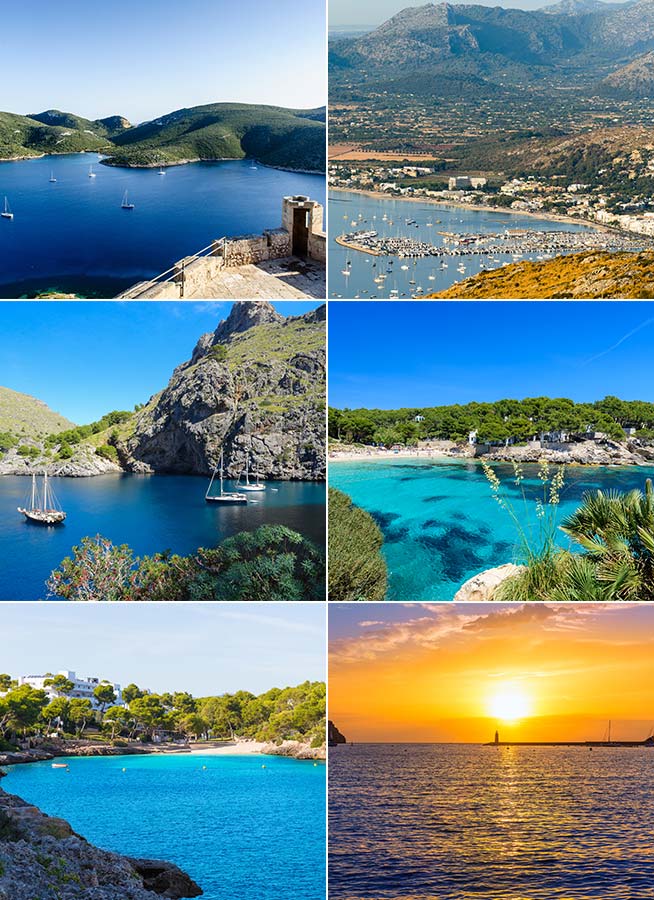 Cabrera island - Port de Pollenca - Bay of Mallorca - Cala Gat at Ratjada - Cala d'Or - Andratx

DAY 1: Palma de Mallorca to Puerto Andratx (17 nautical miles): From the marina in Palma, it's a relatively brief journey to Puerto Andratx, located on the southwestern tip of Mallorca. The harbor sits at the base of steep and scenic hills, sprinkled with enchanting villas. Revel in the bars and restaurants along the harbor, or explore deeper inland to the quaint little town of Andratx.
DAY 2: Puerto Andratx to Puerto Soller (25 nautical miles):Puerto Soller sits in the arms of a gorgeous, natural horseshoe bay and is the jewel of the island's west coast. This town is more rustic and artsy than other Mallorca destinations, with delightful cobbled streets and small restaurants and bars. If you're in the mood to explore, an old-fashioned tram climbs the hills from the port to the historic town of Soller, offering amazing panoramic views of island and sea.
DAY 3: Puerto Soller to Puerto Pollensa (35 nautical miles): Perched on the rugged north coast of the island, Puerto Pollensa is surrounded by dozens of picturesque, sheltered anchorages that are perfect for swimming, diving, snorkeling, and relaxing. This area is one of the most naturally beautiful on the island and filled with opportunities to enjoy fun & sun activities.
DAY 4: Puerto Pollensa to Cala Rajada (25 nautical miles): Curving around now to the northeastern tip of the island, Cala Rajada is a small, traditional fishing village that is home to gorgeous white sand beaches and amazing turquoise seas that are perfect for snorkeling and swimming. The local lighthouse is an attraction all its own and offers dramatic views in all directions. Play and relax in ultimate style!
DAY 5: Cala Rajada to Cala d'Or (18 nautical miles): Swinging gradually to the southeast side of the island, Cala d'Or is famous for having the best weather in all of Mallorca. Warm breezes and white sand beaches beckon you to relax, and the numerous five-star resorts, restaurants, and entertainment options provide endless opportunities to sample the delights of the island. You can also explore inland, to hike among wooded hills and dramatic sea cliffs.
DAY 6: Cala d'Or to Cabrera Island (30 nautical miles): Cabrera Island is a short sail south of Mallorca and is a protected nature reserve. The natural bay is one of the Mediterranean's most beautiful snorkeling destinations, with plentiful turtles, fish, dolphins, marine life, and birds to amaze you. The island also has several historic attractions, including a Napoleonic-era military base and 19th century lighthouse.
DAY 7: Cabrera Island to Palma (35 nautical miles): Back to luxurious Palma de Mallorca, the crown jewel of the island and one of the world's premier luxury resort destinations. Bars, clubs, fine dining, and more – Palma has something for everyone and is a wonderful way to tie a ribbon on your glorious yacht charter Mallorca holiday!
NOTE: Planned routes may be changed according to weather or other circumstances.
Gourmet Dining Daily at Sea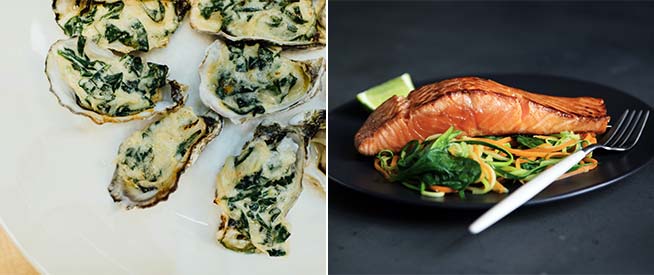 Egg omlete - Salmon

Our Cabin Charter Spain Package includes half-board meal service (breakfast and lunch). All guests on our Spain cabin charter cruises enjoy meals cooked to gourmet standards, including local-inspired dishes that allow you to experience authentic Spanish cuisine:
BREAKFASTS including assorted cereals, fruit salad served with yogurt, egg dishes and omelets cooked to order, bacon and ham, cheese plates, toast w/ butter, jam, and honey, crepes and wraps, French toast, fruit juices, coffee (Nescafe, Turkish coffee, Italian coffee), tea (black, fruit, green, mint), and milk.
LUNCHES AND SNACKS including cheese and olives, various dipping sauces w/ bread and/or nachos, fresh vegetable sticks, bruschetta w/ tomato, basil, feta, and parmesan cheeses, pancakes w/ spinach, cheese & sesame, and puff pastries w/ salmon, cheese & dill.
Navigare Carefree Cabin Charter – What is included?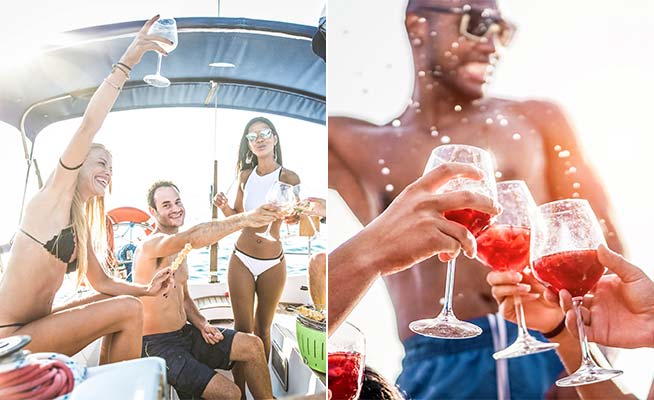 Everything you need to enjoy the most extravagant, fun-filled sailing adventure is included in your Cabin Charter Spain holiday package, including:
Pre-planned route
Skipper and Hostess
7-night cruise with half board service (breakfast + lunch)
Drinks on board (half-liter wine or 1 liter beer per passenger/day)
1 liter water per passenger/day
Fuel
Moorings
Tourist tax
Organization costs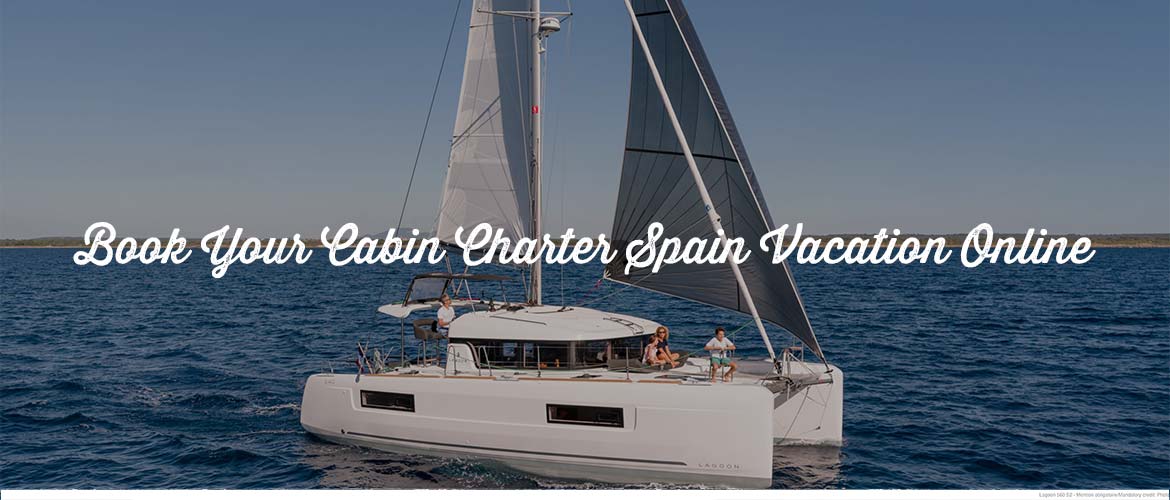 The elegance, fun, and adventure of Spain's Balearic Islands are calling you! Meet fun new couples and friends, while you indulge in a premium sailing holiday that few people have the opportunity to enjoy.
For any questions and for bookings, please contact us at booking@navigare-yachting.com (for agents, please use reservations@navigare-yachting.com).
Learn more about other options for sailing with Navigare Yachting in Spain:
We look forward to hearing from you!