Flotilla Sailing Holidays in Croatia – One of Our Most Popular Programs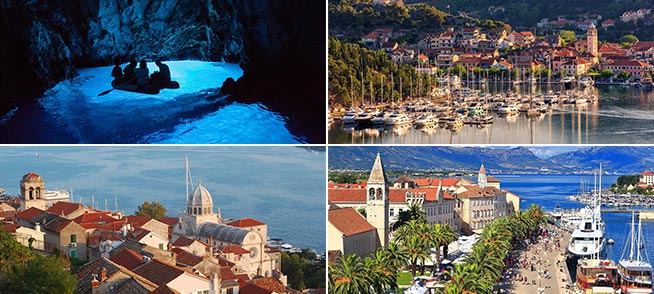 Navigare Yachting - Flotilla Yacht Charter Croatia
If you're ready to embark on the sailing holiday of a lifetime, but want a vacation that focuses on meeting new people and enjoying amazing sights, Navigare Yachting has the perfect getaway for you:
Choose our Flotilla Sailing Croatia North Route if you want to see Krka Falls, the "Golden Island," and other amazing nature destinations along the northern Dalmatian Coast.
Choose our Flotilla Sailing Croatia South Route if you want to explore the Blue Cave, "Hell's Islands," and the historic attractions of the southern Dalmatian Coast.
Sail in the company of other fellow explorers and holiday enthusiasts, and follow along our flotilla route that's easy and fun! This program is designed especially for beginning skippers who want additional structure and support for a yacht charter vacation.
Enjoy Croatia and a Thrilling Sailing Holiday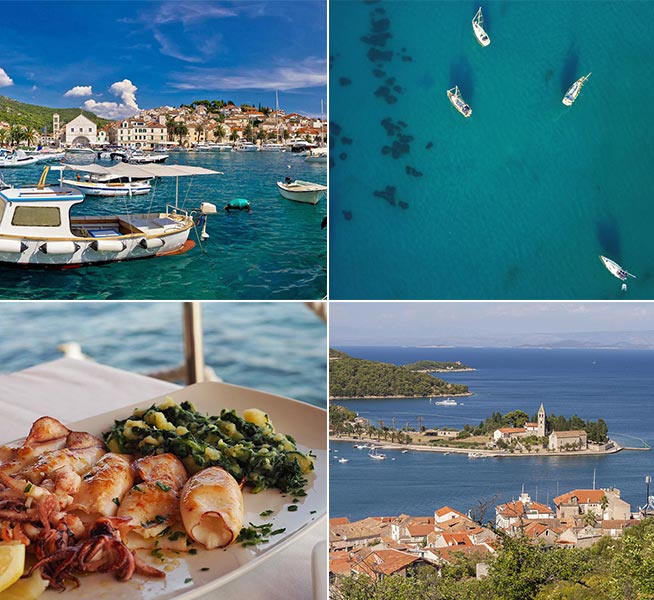 Navigare Yachting - Flotilla Yacht Charter Croatia
Summer sailing in the Adriatic Sea is an experience filled with gorgeous weather, warm breezes, incredible sights, and friendly local people. If you're looking for a postcard holiday, including crystalline blue waters, warm pristine beaches, exciting outdoor adventures, and historic sites, you've found the ideal sailing vacation!
Frolic at the island of Drvenik, with a coastline that's famous for delightful sand and pebble beaches, scenic coves, and peaceful bays. Enjoy traditional Dalmatian cuisine at one of the island's many small family restaurants and cafes. Drvenik is one of Croatia's great unspoiled treasures.
Visit Vis Island and Vis Town, destinations for lovers of great wine and food. The island is also home to notable ruins from ancient Greek and Roman times, as well as impressive Roman Catholic churches and more recent medieval ruins. Outdoors enthusiasts can explore the island's natural caverns and rugged trails.
The island of Hvar is a wonderful destination to enjoy fun in the sea or the sun. Its pristine beaches receive more sun than any others in the region, making for a summer wonderland filled with swimming, snorkeling, sunbathing, and just relaxing. Local wines are regionally famous, perfect for sipping as you watch the sunset. The ancient fortress of Fortica has exquisite views of the harbor, town, and sea.
The Pakleni Islands, known regionally as "Hell's Islands" because of the local shipbuilding industry, are each unique and appealing. Some are havens for nature, with amazingly clear and warm waters teeming with aquatic creatures – prepare yourself for some of the best swimming of your life! Other islands are home to outstanding dining, drinking & entertainment options, with a local atmosphere that blends easy-going fun with jet-setting thrills.
The Krka Falls are one of Europe's most scenic destinations, a natural jewel that is both thrilling and romantic. You'll have time to explore, play, and fall in love with this picture-postcard destination.
Enjoy these sights and adventures with a group of fellow sailing adventure seekers – you'll share with friends and family an unforgettable Croatia flotilla sailing holiday!
Our Croatia flotilla sailing holiday is available for booking now on the yacht booking page as an option (additional extra). The price of the flotilla fee depends on yacht size and is added to the charter price.
The Flotilla fee
The rates include security deposit, service of flotilla staff, welcome package, final cleaning, bed sheets & towels, dinghy, outboard engine & outboard fuel, cooking gas, full water tanks, snorkeling equipment, free Wi-Fi Internet on board, and Croatian tourist tax.
For any questions and for bookings, please contact us at booking@navigare-yachting.com (for agents, please use reservations@navigare-yachting.com). You can also call us at +385 1 2331 661.
We look forward to hearing from you!