International Women's Day is celebrated annually on March 8th to honor the achievements of women and promote gender equality. This day is an opportunity to recognize the significant contributions that women have made in various fields, including sports.
Sailing is a sport that has traditionally been dominated by men, but women have been breaking down barriers and making a name for themselves in the sailing world. Many talented female sailors have achieved success in competitions and races around the world, and their achievements are a testament to their hard work, skill, and determination.
In recent years, there has been a growing movement to encourage and support women in sailing. Organizations such as Women Who Sail and The Magenta Project are dedicated to promoting women's participation in the sport, providing opportunities for networking, training, and mentorship.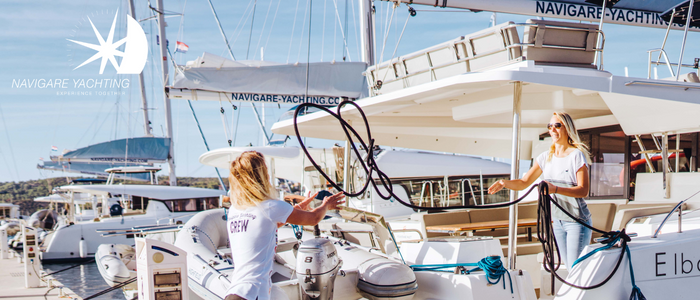 One of the most significant events for women's sailing is the Volvo Ocean Race, now known as The Ocean Race. In the 2017-18 edition, an all-female team, "Team SCA," competed for the first time in more than a decade. The team's success inspired a new generation of female sailors and demonstrated that women are just as capable of competing at the highest level in the sport.
International Women's Day is an opportunity to celebrate the accomplishments of women in sailing and encourage more women to get involved in the sport. Whether it's through supporting female sailors, volunteering at sailing events, or simply getting out on the water, there are many ways to show your support for gender equality in sailing and beyond.
We, the women working at Navigare Yachting, are proud to say that combined we have a significant amount of nautical miles logged, and would love to empower more women to feel confident sailing. In order to get more people out on the water, we are offering a Sailing School in Croatia!
Navigare Yachting Sailing School in Croatia offers structured sailing courses developed by the International Yacht Training Organization (IYT). IYT certificates are accepted worldwide and allow you to rent a boat on your own. Our two-week sailing course is held in the Adriatic Sea, along Croatia's gorgeous Dalmatian Coast.