The Abaco Islands are a string of islands and cays that span over 120 miles in the northern Bahamas, creating a pristine tropical paradise. Our Navigare Bahamas base is in Marsh Harbor, the largest town in the Abacos. It's one of our most highly-rated yacht charter destinations, gaining tremendous popularity over the years!
Why is the Abacos, Bahamas a great charter destination?
To say that the Abacos is a sailor's dream destination is a bit of an understatement. With over 120 miles of pristine coastline and hundreds of islands and cays, there is no shortage of places to explore. Sailing around this region allows you to visit secluded beaches, hidden coves, and charming towns that are only accessible by boat. The beautiful nature also makes for a stunning backdrop to your vacation on the water. Luckily, all of the yachts in our fleet have plenty of spacious outdoor areas where you can enjoy the gorgeous views.
With crystal clear waters, great visibility, and overall calm weather conditions, the Abacos is a great sailing destination regardless of skill level. Located literally in the Caribbean Sea, the Abacos Islands are tailored to meet the needs of sailors and boating people. The cays and shorelines offer countless protected anchorages for when the weather is bad, and marina amenities are modern and well-maintained. To make sailing even easier, waterways are well-marked with buoys and navigation aids, and there are plenty of charts and guidebooks available to help sailors plan their routes.
To fully enjoy the beauty of the Abacos Islands, a yacht charter from Navigare Yachting is the way to go. Navigare Yachting offers a wide selection of sailboats and catamarans to suit every group size and budget. Our boats are fully equipped with all the amenities you need for a comfortable and luxurious sailing experience. Did you know that snorkeling equipment is also included on every yacht? (Hint: It may come in handy in the Bahamas.)
With all of its beautiful beaches, charming towns, and unique attractions, this group of islands has something for everyone. In this article, we'll take a closer look at the top six places to visit in the Abacos, in no particular order.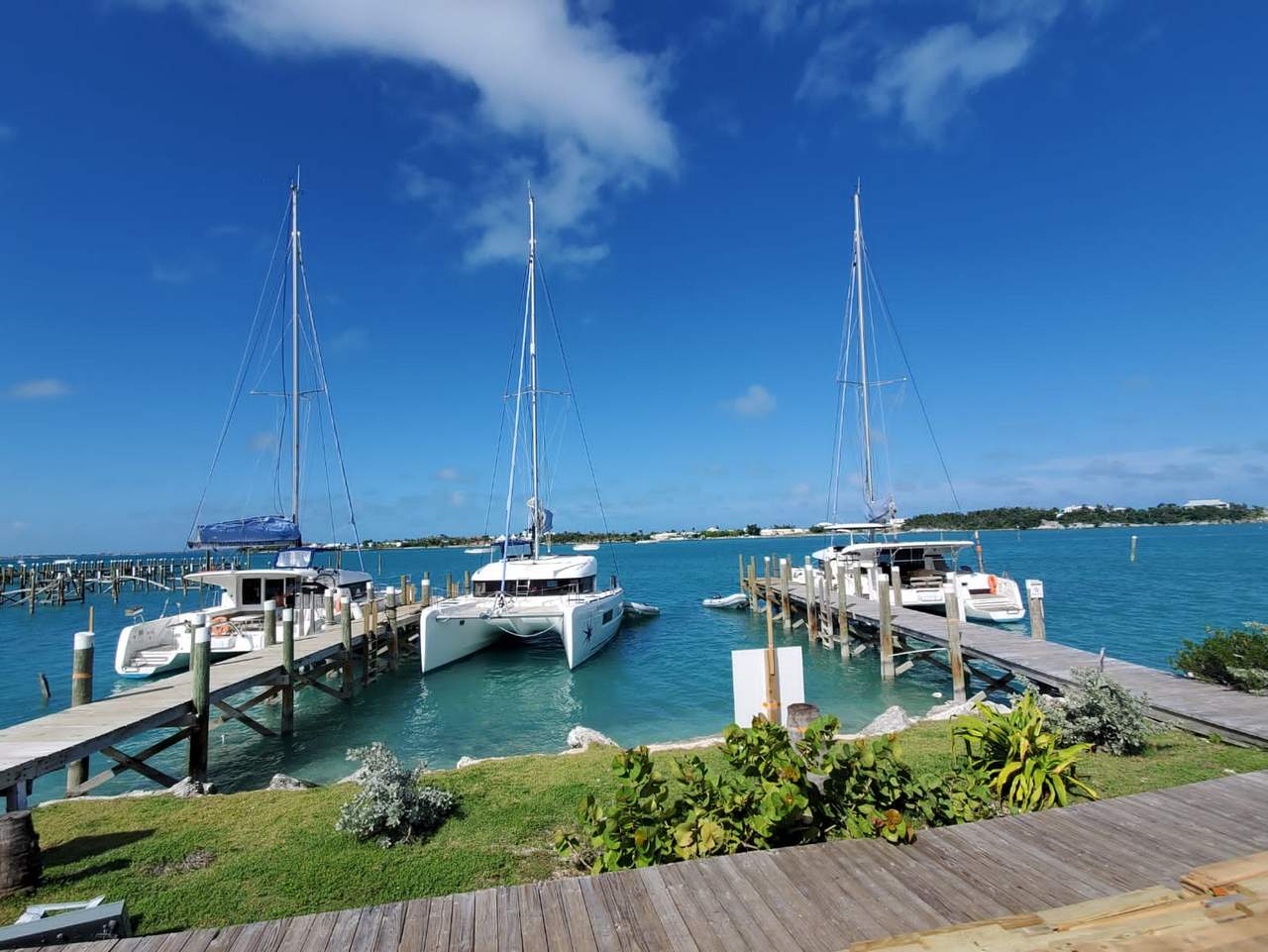 Marsh Harbour
Marsh Harbour is the largest town in the Abacos and is a hub for shopping, dining, and nightlife. This is where you will start your vacation when you charter with Navigare Yachting, as our base is located here, and it's a great first stop. In Marsh Harbour, you'll find a variety of shops and boutiques selling everything from souvenirs to luxury goods. Make sure to try some delicious Bahamian food at one of the many restaurants and cafes in town.
Some of the most popular attractions in Marsh Harbour are the Abaco Beach Resort and marinas. The resort offers a range of amenities and activities, including a pool, spa, tennis courts, and water sports rentals. The marinas are also popular places to visit. Our base is located in Conch Inn Marina, a top-rated full-service marina featuring a restaurant and bar, water toy rentals, high-speed internet access, and more.
Beyond Marsh Harbour, the surrounding area offers a variety of attractions and activities. You can explore nearby beaches like Casuarina Point or go snorkeling in the Mermaid Reef. You can also take a highly recommended day trip to nearby islands like Green Turtle Cay or Great Guana Cay.
Treasure Cay Beach
Treasure Cay Beach is one of the most popular destinations in the Abacos, and it's easy to see why. This stunning beach stretches over three miles of soft white sand framed with crystal-clear turquoise water. Treasure Cay Beach is perfect for swimming, sunbathing, and water sports and provides the perfect combination of relaxation and beach fun. It's popular enough to offer plenty of exciting activities, like scuba diving, parasailing, kayaking, and jet skiing, but not so busy that it gets crowded or interferes with your peaceful beach day.
One of the most popular activities at Treasure Cay is snorkeling. The water here is home to a diverse array of marine life, including colorful fish, sea turtles, and even the occasional shark. When you charter with Navigare, you don't need to rent snorkeling gear but can dive straight in with the equipment provided on our boats.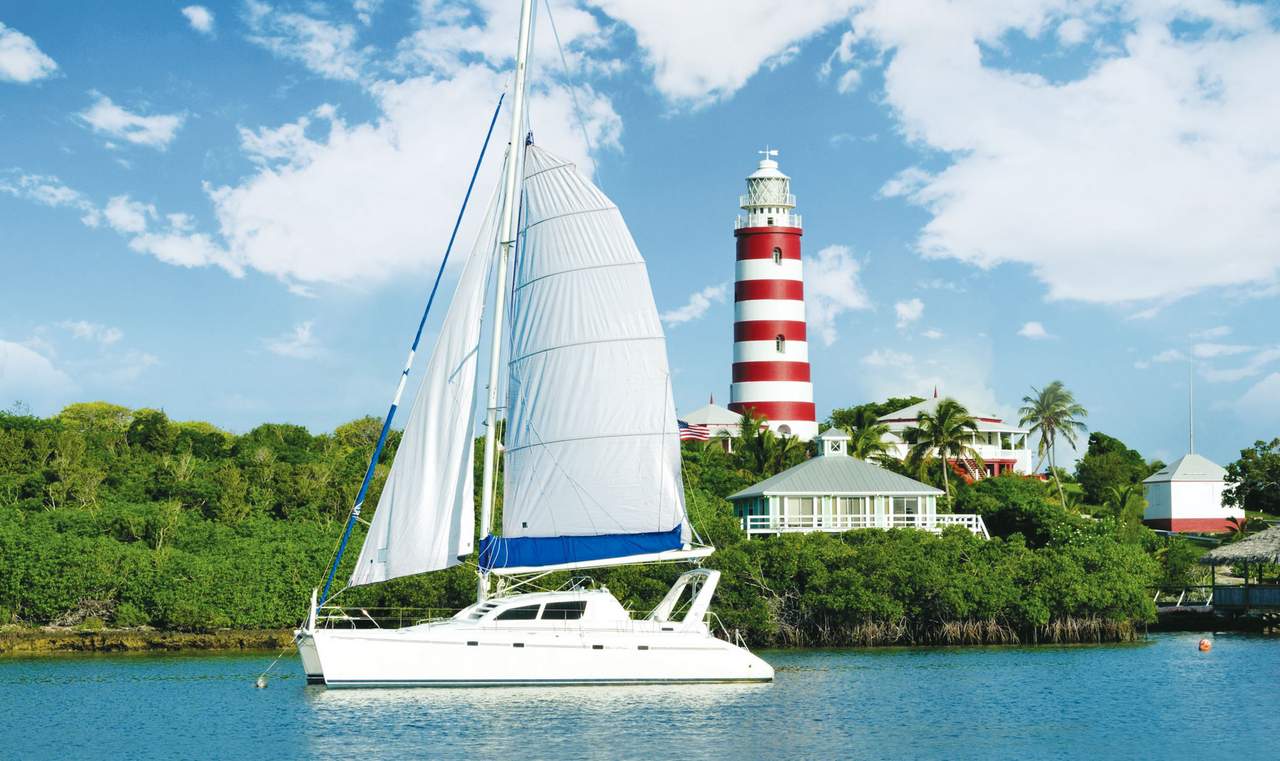 Elbow Cay
Elbow Cay is a picturesque island that's home to the charming Hope Town. The town is famous for its candy-striped Elbow Reef Lighthouse, which has become an iconic symbol of the Abacos Islands. Built in the early 1860s, Elbow Reef Lighthouse is the last standing lighthouse in the world that relies on a Kerosene light and is manned by a person. At 89 feet (27 meters), the lighthouse will give you a truly stunning view of the island and the surrounding sea if you climb to the top. It's open to the public every day except for Sundays and you can buy a souvenir in the gift shop to support the local preservation efforts.
In addition to the lighthouse, Hope Town also offers a variety of shops, restaurants, and bars. With its colorful houses and narrow streets, Hope Town is a charming place to go for a walk. You can sample traditional Bahamian cuisine, shop for souvenirs and gifts, or simply relax with a cocktail and watch the boats go by.
Beyond Hope Town, Elbow Cay offers a range of activities for visitors. You can explore beautiful beaches like Tahiti Beach, which is known for its soft sand and calm waters. Or you can sail around the island and explore its many hidden coves and bays.
Man-O-War Cay
Man-O-War Cay is a small island that's known for its boat-building heritage and traditional Bahamian architecture. The island has a population of just a few hundred people and its small size makes it easy to explore on foot or by bicycle. This is one of the few "dry" islands in the Bahamas meaning that alcohol is not permitted here. In other words, visitors don't generally come here to party but more so to intimately experience Bahamian history and culture and truly take in wonderful nature.
One of the most popular attractions on Man-O-War Cay is Albury's Sail Shop, which has been in operation for over a century. The shop first became known for its handmade sails, but today it is most famous for its high-quality bags made in a sturdy canvas material that was originally made from scraps of sail canvas. Visitors can even watch as the beautiful bags are sewn together in the back of the shop.
Abaco National Park
Abaco National Park is a vast protected area covering over 20,000 acres of pristine wilderness on the island of South Abaco. The park is home to a diverse range of flora and fauna, including the endangered bird species, the Bahama parrot. With its bright green plumage, it is not difficult to recognize when you spot one. Some other native bird species that live here include Bahama Swallow, Bahama Yellowthroat, and Bahama Mockingbird.
Abaco National Park was recognized as a wilderness preserve to protect the Caribbean pine forest, serving as the Bahama parrot's major habitat. The park offers a range of hiking trails that wind through the forests and a chance to see a variety of wildlife, including birds, reptiles, and mammals. Ask our charter vacation specialist for more information about how to incorporate Abaco National Park into your Bahamas sailing itinerary.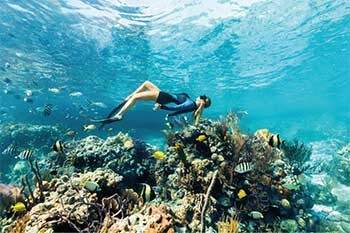 Pelican Cays Land and Sea Park
Just south of Marsh Harbour is the beautiful nature preserve, Pelican Cays Land and Sea Park. It covers an area of approximately 2,100 acres and is known for its rich ecosystems both in and out of the water and its stunning natural beauty. The park has over 170 documented species and serves as habitat protection for sea turtles. This uninhabited group of islands is only accessible by boat and is a true insight into the breathtaking wilderness of the Bahamas where nature has been left untouched.
While in Pelican Cays, you can relax on one of its secluded beaches with white powdery sand and go for a swim in the crystal clear water. The park is also known for being one of the best snorkeling and diving spots in the Bahamas. Sandy Cay Reef is the main attraction featuring underwater caves, diverse marine life, and a healthy coral reef. At only 30 feet depth, it's the perfect diving spot regardless of experience level. You will likely encounter plenty of colorful schools of fish and sea turtles. With some luck, you may also see spotted eagle rays, stingrays, Nassau grouper, queen conch, spiny lobster, and even dolphins. Some coral species you may see include finger sponges, sea fan corals, and elkhorn.
With a Navigare yacht charter, you can easily sail to this beautiful location or let our crew take you. Because of the rich coral reefs, there are mooring buoys to preserve the area from anchoring damage.
The Abacos Islands, Bahamas, offer a range of activities from secluded white beaches and world-class snorkeling to charming towns with bustling nightlife and seaports with a rich history. Whether the wildlife and stunning nature captivate you or you are more interested in a beach party and a good time, the Abacos have something for everyone and the best way to experience this group of islands is by chartering a yacht from Navigare Yachting. Frankly, it's quite difficult to travel around the Abacos without a boat. With a yacht charter from Navigare, you move from island to island conveniently and quickly, while seeing all of the best that the Bahamas has to offer. Head to our website to check out available catamarans and sailing yachts in our Bahamas fleet.