Throughout the world, these islands are known for their sensational beaches, various diving places, charter boat trips, yachting, and world-class sailing facilities. The main islands are Jost Van Dyke, Anegada, Virgin Gorda and Tortola. A pathway to the archipelago, the most populated island, and home to the capital city of Road Town is Tortola. Excluding Anegada from the list, the rest of the islands are filled with Volcanos, which have an amazing landscape, with a feast of neat and clean bays, to make your holidays memorable.
The Baths National Park, Virgin Gorda
If you are looking for the most famous and busy baths on the island, then without a shadow of a doubt, you can find them in the Virgin Gorda Baths. The monstrous yet scattered granite stones creating various sea pools on this bay make it an excellent spot for exploring and snorkeling. The most famous and photographed venue in the entire British Virgin Islands is the point, which is like a sand-bottomed cave in a boulder. To save the natural beauty of this island, in 1990, the Bath was announced as a national park.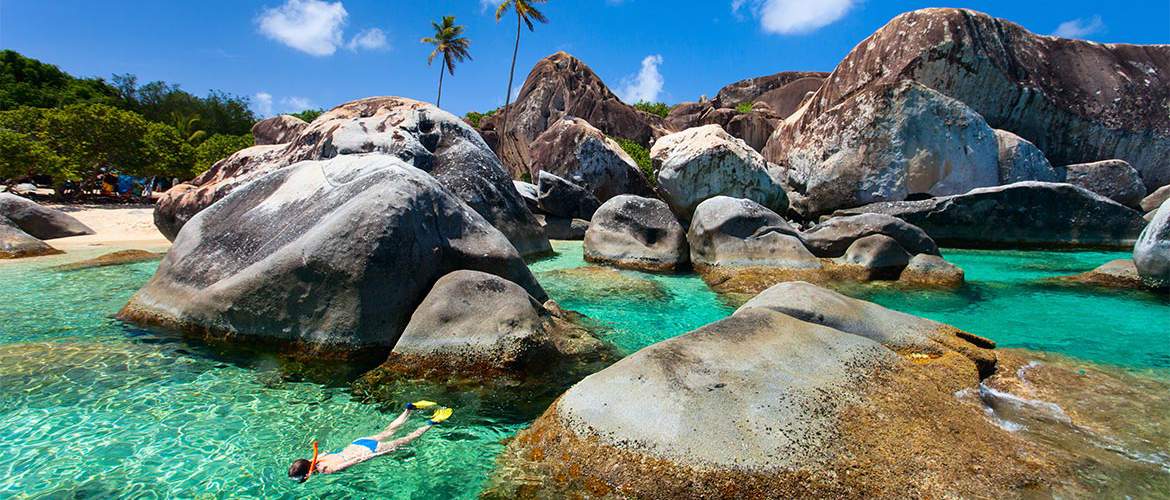 Gorda Peak National Park, Virgin Gorda
This island of over 107 hectares is mainly comprised of a semi-rainforest and also a dry forest, present on the upper side of the rain forest. This island is also rich in biodiversity. There are many subtle plants present in the park, counting six conventional orchids. With the presence of the forest, there is an enormous amount of wildlife such as the world's tiniest lizard, soldier crabs, bats, birds, tree frogs, and reptiles. You will also come across the Virgin Gorda gecko. You can also climb up to the highest point through the summit of Gorda Peak. And after climbing the top of the island, they can view the mesmerizing beauty of the island.
North Sound, Virgin Gorda
If you are an athletic person, then there is plenty for you to do. The North Sound is the main water sports attention present on the British Virgin Island. North Sound is filled with every kind of water-linked sports, with well-protected water. The water games present on the island are tips to a secluded beaker, glass-bottom boats, water skiing, jet skiing, parasailing, windsurfing, sailing, and diving. With North Sound, Hiking is another fun activity available in the Virgin Gorda.
Visit our SPECIAL OFFER page to browse the best deals for Yacht Charter in BVI.