[DAY 1]
The Caribbean. A place was taken from a fairy tale. After a morning flight from Puerto Rico flying over the clear blue water, it was time for us to check-in in our sailing catamaran that we had only seen on Navigare yacht photos before.
What a sailing yacht! The sunset was just about to take place when captain Lindberg eased the anchor and steered to the Spanish Town of Virgin Gorda. We anchored our catamaran up safely and went to check out the nightlife of Cocomayo.
Some of us went all in...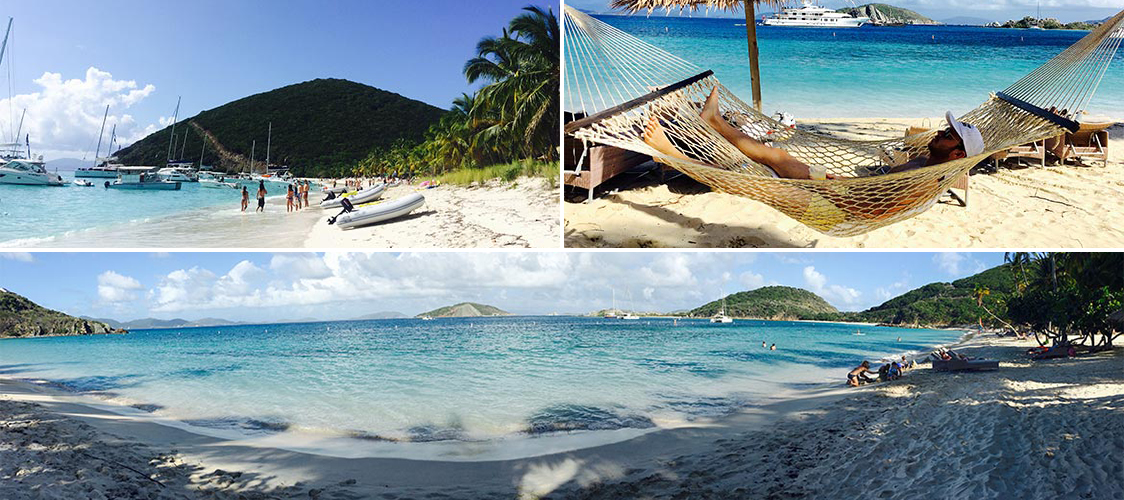 [DAY 2]
We started the next morning with some coffee, trying to get some energy back because of the late night before our adventure to Bitter End started. Everything was so peaceful and beautiful out on the water, but just like a flash of lightning from a clear blue sky everything around us turned into a thunderstorm.
It was such a heavy rain which made our sight limited and we could only see half a meter from the yacht. One of us, well the least rational one, even wanted to abandon the yacht, maybe not the cleverest solution. A few minutes later the thunderstorm turned back into the blue sky that we wished for, and Bitter End was right in front of us.
It was such a beautiful, but really small harbor, or should I say- pier. We watched the sunset and we were all speechless. We ate a wonderful fish dinner at one of the restaurants close to the harbor. Well the guy who I mentioned earlier, the least rational one, had pasta. When all of us were full, we decided to watch a game of American football and drink whisky - single malt of course.
[DAY 3]
Just when we thought an island couldn't get more beautiful, we stepped on the island Anegada, also famous as the crawfish paradise (if you're not a crawfish yourself). I mentioned that we were speechless the night before when we sat and watched the sunset, but, this was completely unreal.
We anchored up at the south side of the flat island Anegada and used the dingy to transport ourselves to get to the island. The day/night we spend in Anegada was one of the better ones in our lives. We rented four scooters and drove to Loblolly Bay´s intact beaches.
We got the opportunity to swim with turtles and lionfishes. Of course, we also found the Caribbean lager that we sipped on while watching the graceful sun going down on the Atlantic Ocean.
WOW!
[DAY 4]
When we reached day four it was time for us to go snorkeling. We sailed to Baths where our entire company dived into the crystal-clear blue water just when captain Lindberg anchored up. One of our friends, who is a former soldier and today working as a doctor, took it too seriously and did a professional backward dive.
Even though we only used a traditional snorkel as equipment. He is a real entertainer. Among all the rocks I got the opportunity to see a sea turtle, but since I was the only one seeing it I got mistrusted. I believe you also call it jealousy from the others.
After an entire day of snorkeling, it was time for us to continue to our destination of the night, Beef Island. When reaching our destination all of us felt tired so we decided to have dinner on the yacht and our hostess Greta cooked an amazing fish dish.
Speaking of fish, during dinner we saw 2-3 meters-long Tarpons swimming under our catamaran Maja. Our shipper Lindberg said that we should prioritize safety first, so we used his recommendation as an excuse for not swimming with the Tarpons.
We are a bunch of cowards we know…
[DAY 5]
Waking up on day five was amazing because we knew that we had more snorkeling on our daily agenda. Captain Lindberg sailed towards Norman Island Caves and the entire company sat in the cockpit and played poker, listened to music, and played quizzes. We swam in desolated caves and I think that all of us felt like true discoverers.
It was the perfect activity for us. The afternoon led us to beautiful Peter Island where Jesper and his family invited us for dinner. Everything felt, once again, so unreal while walking along the paradise beach with geckos in the vegetation.
The palms swung so peacefully and the tennis court looked very inviting. A legendary double took place and the energy level was definitely on top. The ladies went to the spa. In other words, everything was in order. Later that day we met Jesper and his family and had an extraordinary dinner.
We ended another night in great company in the arms of the British Virgin Islands.
[DAY 6]
The next day, our second last day offered us a perfect day for sailing with a downwind of 8-9 knots. We sailed towards the White Bay on Jost Van Dyke where Ivan´s Stress-Free bar waited on us. It wasn't very "stress-free" for Felix and Fredrik who had to take the dingy to make a reservation. It wasn't the easiest thing they've done, docking with a dingy after one drink too many.
Fredrik was soaking wet when they returned to the yacht, telling us about their adventure. We had dinner at a restaurant before meeting up with the Yacht Week at Foxys, and the party lasted all night long. I think it was the local drink "Painkillers" that made it possible for us to keep going. Nutmeg is something they appreciate here at the BVI… We had to climb over hills and mountains to get back to the yacht by the end of the night.
A decision I hardy stood by while watching the cabs drive past us.
[DAY 7]
Waking up on our last day was so sad because we knew we had to leave the yacht, Maja. I admit that I kind of feared this day just because I would have to say goodbye to the crew and all my friends. The only thing that kept me going, and I think I can speak for my friends as well, was Soggy Dollar.
A place in White Bay that I would describe as the heart of Caribbean joy. We had drinks and ate fish and chips so well that the British population could only dream about it. We also got pretty deep, forcing all of us to talk about our school years and it was a great way to get to know each other better.
I told them about the rebel I was when I was singing in a choir, ha-ha. We never wanted this day to end, but we had to face the truth that the trip had come to an end. Captain Lindberg eased the anchor and steered towards Norman Island and Bight Bay where we finally got the opportunity to eat tarpons from Anegada.
We ordered two bottles of wine and cheered for an amazing week.