Cabin Charter in the BVI: The Details You Want to Know
Are you new to yacht chartering or have never sailed before? Navigare Yachting invites you to start your sailing journey with us. With a cabin charter, you can indulge in an exotic yacht holiday in the breathtaking British Virgin Islands, completely worry-free and safe.
Don't worry if this is your first charter; we've got you covered! Our tailored services are designed to provide an exceptional experience for those new to sailing, ensuring your complete satisfaction is guaranteed from the moment you step onboard.
A cabin charter offers an accessible way to experience the luxury and adventure of a yacht charter without the cost and responsibilities associated with a full bareboat charter.
How Does It Work?
When you book a cabin charter, you'll get your own private cabin on one of our luxury sailing catamarans in the BVI. The rest of the yacht will be shared with other guests. Catamarans have two hulls and are known for their spaciousness and plenty of living spaces onboard. Usually, there are two sleeping cabins in each hull, offering enough privacy and space that the yacht will never feel crowded, even when sharing it with complete strangers.
Along with other guests, you will also be accompanied by crew members: a captain responsible for bringing you safely to each destination along your sailing route, and a cook who will prepare delicious meals throughout the day and keep the galley clean. All there is left for you to do is sit back and enjoy your vacation to the fullest.
From pre-planned routes to included amenities and crew services, every aspect of your cabin charter is expertly organized, leaving you free to relax, have fun, and make long-lasting friendships with your fellow travelers.
Where do you start? The booking process is just as seamless as the charter itself. When you book directly with an agent through our website, you are guaranteed to obtain all the information without delay. Our booking agents will take care of you from the day you first reach out to the day you step onboard the yacht, making your reservation as well as answering your questions. Just contact us and we will handle the rest.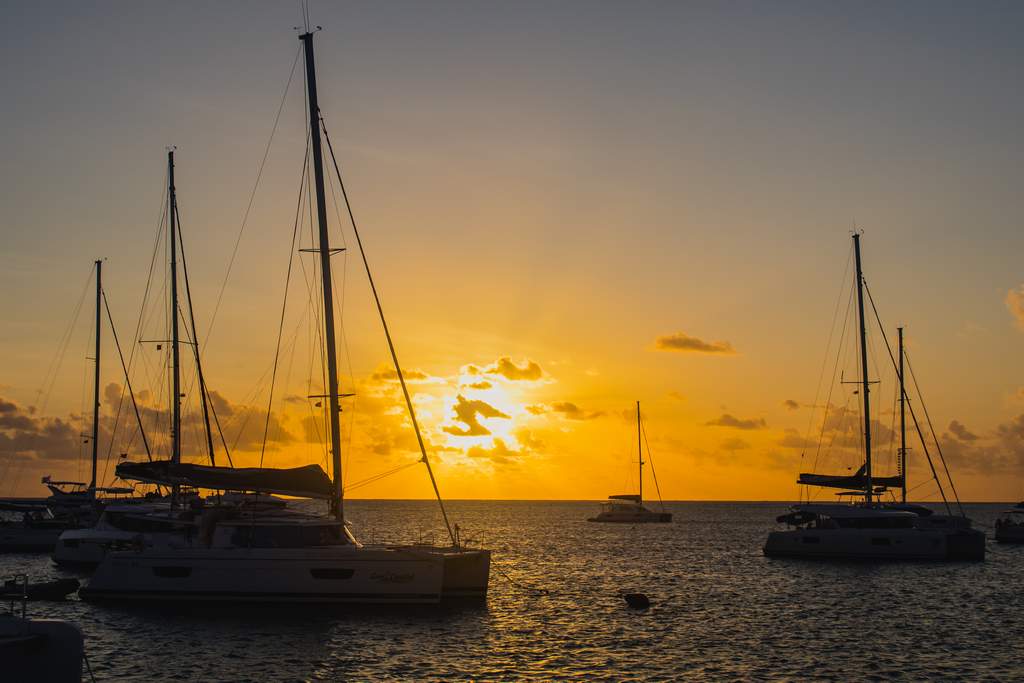 Why Choose a Cabin Charter Instead of a Bareboat?
Opting for a cabin charter instead of a bareboat charter offers a range of advantages, especially for those new to sailing or seeking a more social and convenient vacation experience.
Unlike a bareboat charter where you are responsible for all aspects of the yacht vacation, including navigation, sailing and docking, provisioning, cooking, cleaning, and potential maintenance, a cabin charter grants you the freedom to enjoy your vacation without any of the added responsibilities.
Similar to a bareboat with a crew or a luxury crewed charter, on our cabin charter, you'll have the expertise of a professional captain who will sail the yacht and serve as your guide on the trip. You'll also enjoy the luxury of a chef onboard, ensuring your utmost satisfaction at all times.
What makes the cabin charter different from a bareboat with a crew is that you only pay for your cabin, so it's less expensive. This reason alone makes the cabin charter especially suitable for first-time-charterers. It's a way to get familiar with the concept of living on a yacht for a week, without spending thousands of dollars on it. You may even enjoy sailing so much that you decide to learn it. We've seen that happen many times!
The other benefit of a cabin charter vs a bareboat is that you will have company on your trip. By sharing the yacht with other guests, you'll have the opportunity to meet fellow travelers and share incredible experiences together. A cabin charter offers the perfect balance of privacy and social interaction, making it an ideal choice for those who want a relaxed, hassle-free, and socially rewarding sailing holiday.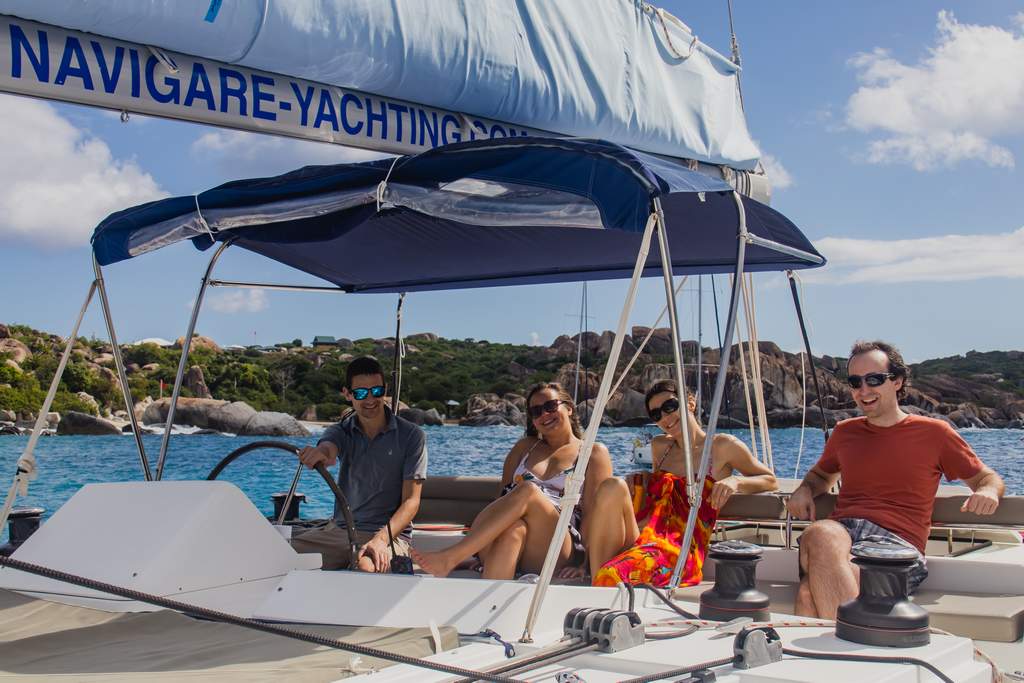 What's a Typical Day Like?
A typical day on a cabin charter is a perfect blend of relaxation, socializing and exploration.
Wake up in the comfort of your private cabin and take your time getting ready. Each cabin is accompanied by a spacious private bathroom and shower. Next, take a dip in the ocean, enjoy the morning sun, and savor a delicious breakfast prepared by your dedicated cook.
As the yacht sets sail, you'll have the opportunity to admire the breathtaking coastal landscapes of the Caribbean. Spend this time however you like. Get to know the other guests, read a book or simply enjoy the scenery.
Depending on the itinerary, you might have the chance to swim in secluded bays, snorkel among vibrant coral reefs, or simply sunbathe on the yacht's spacious deck. Throughout the day, your skipper will guide you to hidden gems and must-visit spots, offering insights into the local culture and recommending the best activities and attractions.
Lunchtime brings a delicious meal onboard, where you can indulge in fresh, local cuisine while exchanging stories and laughter with your fellow guests. Afterward, you might choose to explore charming islands, go for a hike, visit a beautiful sandy beach or engage in exciting water sports activities such as kayaking or paddleboarding.
As the sun begins to set, unwind with a refreshing drink and relish the tranquility of the open sea. In the evening, you can choose to dine ashore at a local restaurant, experience the flavors typical of the region, or enjoy a sumptuous onboard dinner under the starlit sky.
Every day on a cabin charter in the BVI is unique and will be tailored to the wishes of the guests onboard and there are often many options to choose from.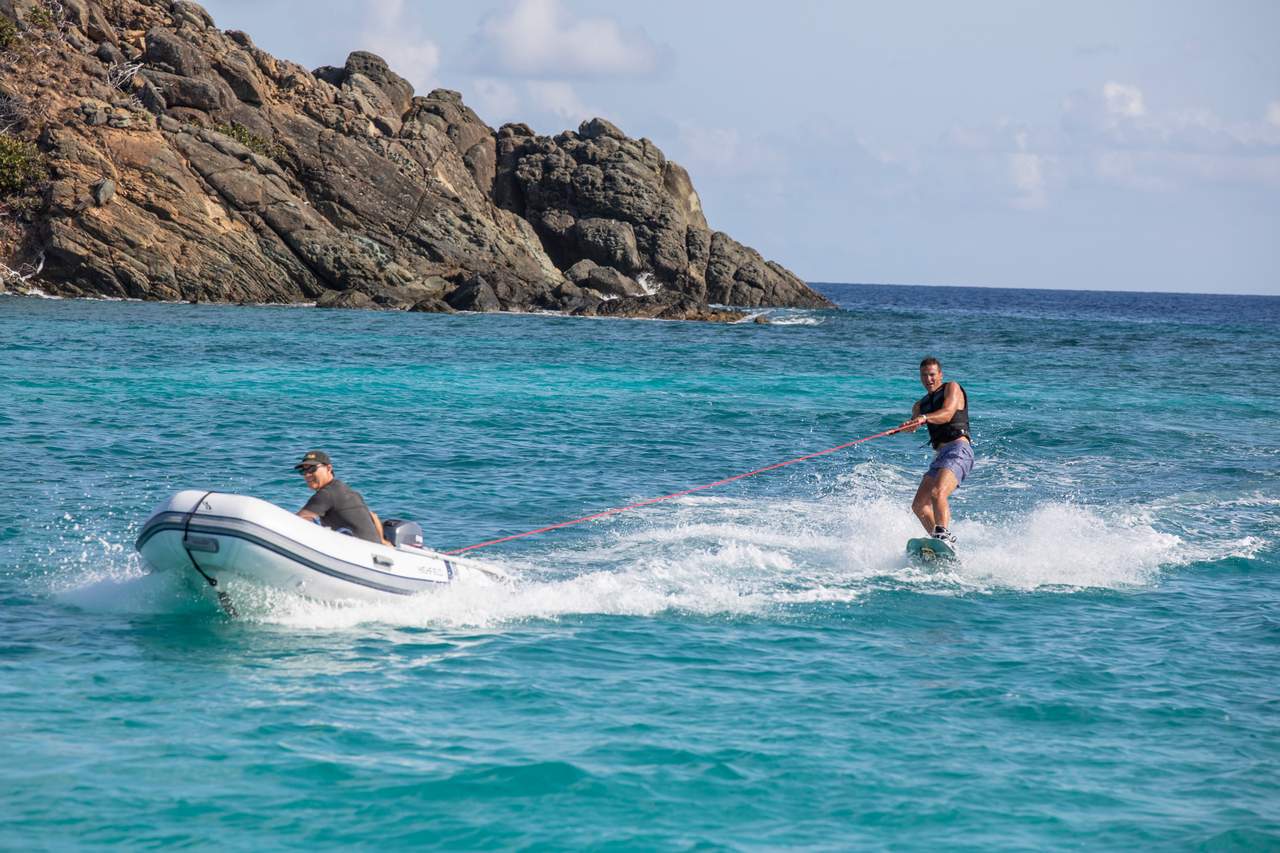 What's Included in the Price?
As mentioned, you only pay for your cabin, but there are more things than just the cabin included in the price, so let's break it down.
When you go on a cabin charter with Navigare Yachting, in addition to your cabin, you get a 7-day cruise with half-board service including breakfast and lunch and drinks including water, beer, and wine. The crew service is also included in the price and so are yacht fuel, tourist tax, mooring/docking fees, and cleaning services.
Furthermore, there is no need to worry about insurance. Navigare Yachting provides a comprehensive insurance package with your cabin charter, all damages covered.
Finally, let's not forget the yacht you will be traveling on. Our yachts are new, advanced, luxurious, and smooth sailing. We guarantee you will be traveling in style and ultimate comfort. The sleeping cabins are spacious and comfortable and come with a private bathroom and shower. Other living spaces onboard include a flybridge, cockpit, salon, and foredeck. For optimal enjoyment, the boat will also be loaded with water toys and equipment such as snorkeling gear, kayak, paddleboard, donut, etc.
Simply put, you are free to enjoy your vacation without having to worry about any additional expenses. No hidden fees.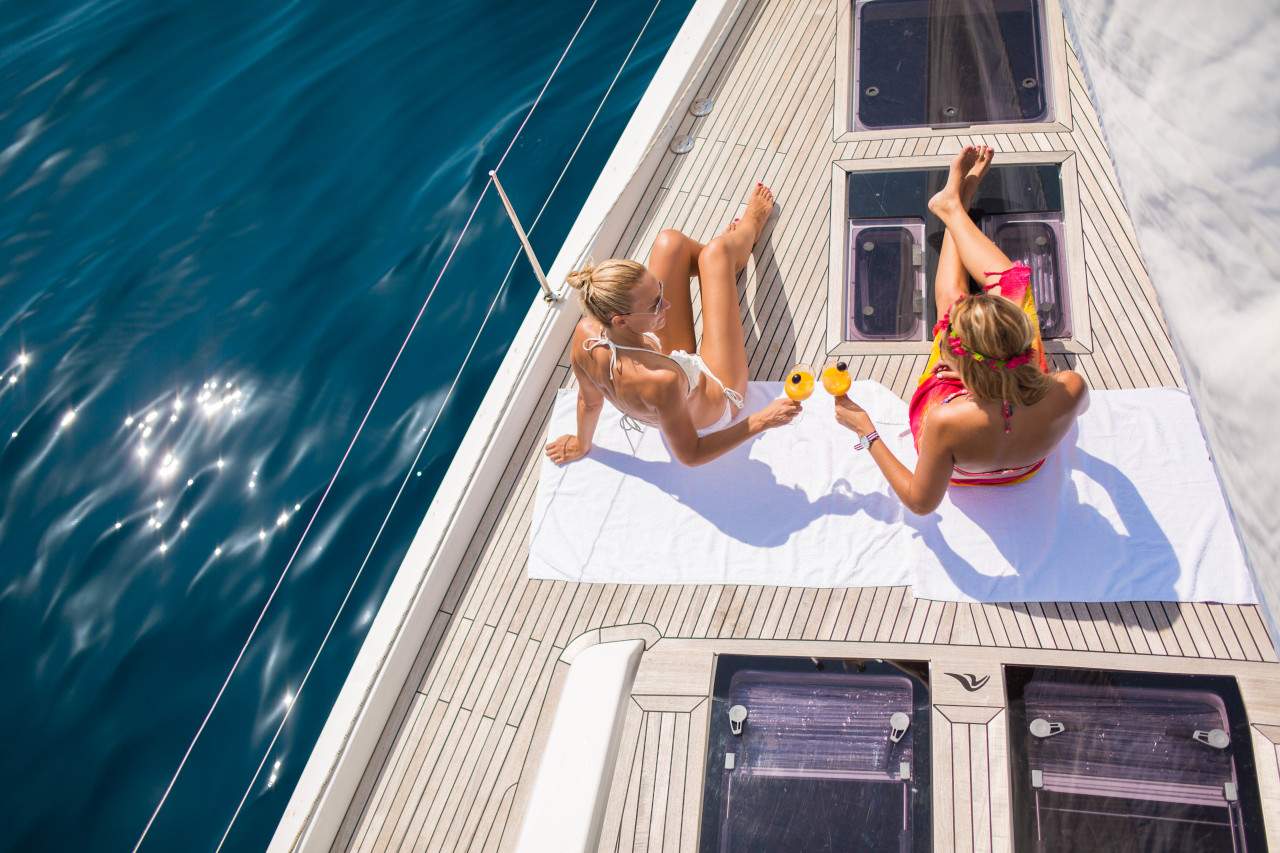 Perfectly suitable for all levels of experience, our cabin charters are effortless, convenient, and fun and give you unmatched value for the price. At Navigare Yachting we go above and beyond to make your sailing vacation as easy and pleasant as possible. We believe that your focus should be on having fun and enjoying the journey, which is why we take care of all the details.
Maybe you are apprehensive about sailing with complete strangers. We can assure you that an adventure on the sea — with new amazing experiences every day — tends to be the perfect condition for long-lasting friendships to form. Whether your fellow guests are experienced sailors or complete newbies, we feel certain you will meet like-minded people. You are in the same boat — both literally and figuratively!
Our dedicated team is ready to assist you today in planning the perfect cabin charter tailored to your preferences and needs. We can truly recommend choosing the BVI as your charter destination, where white sandy beaches and turquoise waters meet tropical forests and the quintessential Caribbean island vibes. It's a vacation paradise that is best explored from a boat.

Since 2001, over 300,000+ charter guests have set sail with Navigare - it's safe to say that your yachting adventure will be in capable hands. With 11 exotic locations worldwide, the possibilities are endless! Whether you're an experienced sailor or a first-time adventurer, Navigare Yachting opens up a world of exploration, discovery, and sailing that comes with complete peace of mind.