Explore Greece Through the Eyes of the Amateur Traveler
Greece, with its idyllic landscapes and breathtaking islands, has long been a dream destination for those seeking an unforgettable sailing adventure, and it's easy to see why. Steeped in history, dotted with charming villages, and surrounded by crystal-clear waters, the Greek Isles offer a captivating territory for seafaring enthusiasts of all levels.
Let's explore some of the most popular Greek Isles to visit during a one-week charter itinerary in Greece. We will also take the opportunity to share the sailing adventures of the Amateur Traveler who recently explored these hidden gems aboard a chartered yacht from Navigare Yachting.
Who is the Amateur Traveler?
In early May, Chris from the travel blog Amateur Traveler, gathered a group of family and friends and went on a sailing charter with Navigare Yachting in Greece. Chris runs both a travel blog and a podcast where he documents his travel adventures as well as interviews locals and other travelers who are familiar with the destinations he talks about.
Based on first-hand experiences, this is the blog article from the Amateur Traveler about his week-long sailing charter in Greece with Navigare Yachting. If you want to learn more about the beautiful and fascinating destinations in the blog post, then listen to this podcast episode. The episode also answers some of the most frequently asked questions by first-time charterers and unpacks all you need to know to make this dream come true for you as well, even if you have never chartered a boat before.
Greece Sailing Destinations for a One-Week Itinerary
During a longer sailing voyage in Greece, you might opt for the Cyclades in the south, but for the purpose of a one-week itinerary, we will focus on the Saronic islands and its beautiful villages and the historic Peloponnese Peninsula. It is worth noting that this is not a suggested one-week itinerary, but more so an array of recommended charter destinations in Greece. You may not be able to fit all of these into a one-week sailing charter, so please discuss with your skipper or charter specialist before deciding.
Perdika, Greece:
Nestled on the picturesque island of Aegina, the charming fishing village of Perdika has captivated visitors for centuries with its tranquil atmosphere and traditional Greek charm. Some claim that this is the most beautiful village in Aegina. Here you may enjoy a delicious seafood meal overlooking the harbor and the Saronic Gulf or take a stroll along the narrow alleys framed by the traditionally whitewashed buildings often associated with these quaint Mediterranean villages.
Hydra, Greece:
Hydra is easily one of Greece's most picturesque islands and it's not hard to understand why many tourists make a day trip from Athens to come to this fishing village. The island of Hydra, with its captivating blend of history and natural beauty, romanticizes all who step ashore. The absence of motorized vehicles adds to the allure, with donkeys and boats instead serving as the primary means of transportation. Most people travel by foot, so it's easy to stop by some of the picturesque little shops, churches, cafés, and restaurants that this village has to offer. Cobbled streets, elegant stone mansions, the previously mentioned donkeys, and vibrant waterfront views are some of the most memorable things that set Hydra apart from other Greek islands and make it a worthwhile stop on your sailing charter. The port gets really crowded during the summer months though, so don't expect to find a docking spot.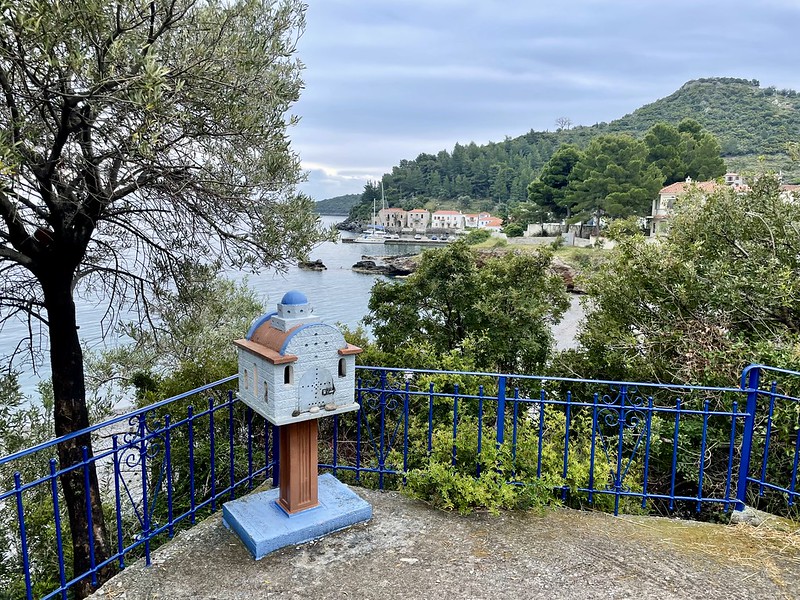 Kyparissi: Photo Credit: Chris Christensen



Kyparissi, Greece:
Nestled on the eastern coast of the Peloponnese, Kyparissi exudes an aura of untouched beauty. This is one of the most secluded villages on the list. Historically, it has been difficult to reach this place, and it still is unless you have a boat. While you can technically travel here by car, the road on the side of the cliff is quite treacherous. The ferry stopped coming here too, which makes it the perfect stop on your yacht charter if you are looking to experience authentic Greek culture and history away from all the tourist crowds. Its rugged cliffs, surrounded by azure waters, provide a stunning backdrop for an anchorage that feels like — and truly is — a hidden paradise.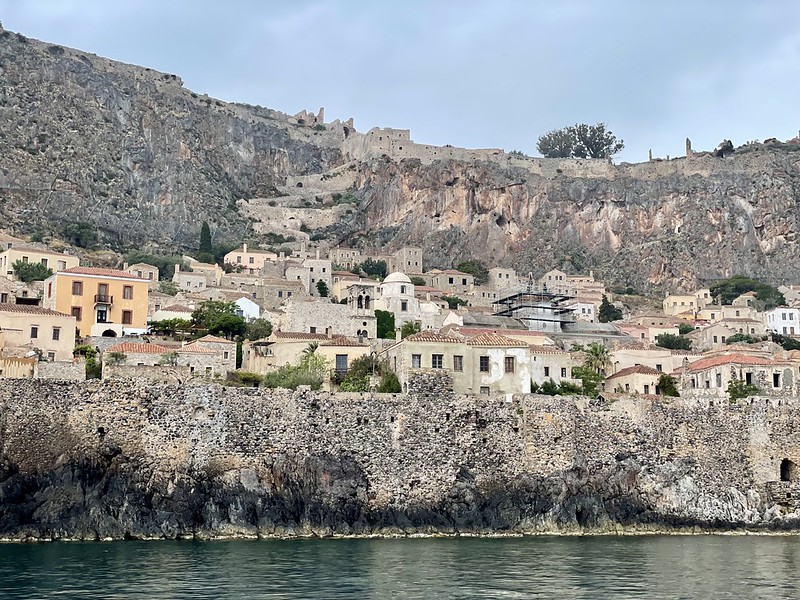 Monemvasia: Photo Credit: Chris Christensen


Monemvasia, Greece:
Arriving in Monemvasia feels like stepping back in time. This fortified medieval town is filled with mystique and history and looks almost straight out of a fairytale. Located off the east coast of the Peloponnese mainland on a tied island, Monemvasia is built on the side of a cliff that rises out of the Mediterranean Sea. It is completely hidden from view if you travel on land; only those traveling by boat are able to see it, which is why the city was protected so well over the years. Speaking of views, don't miss the beautiful view from the top of the castle and marvel at the well-preserved Byzantine churches for a truly historic experience. Out of all the places that Chris and his group visited during their charter with Navigare Yachting, this was his favorite destination. Although it's quite far from Athens, and may not fit into a week-long charter, we can strongly recommend paying a visit if you get the chance.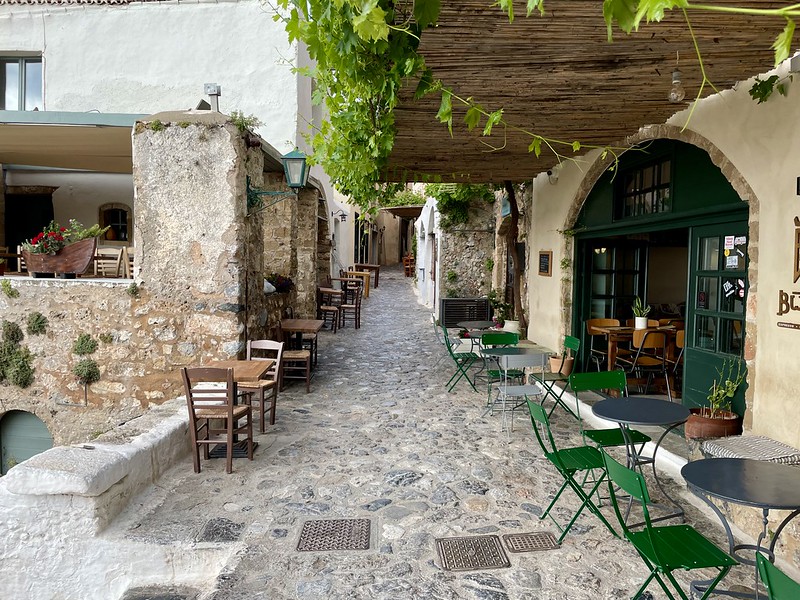 Monemvasia: Photo Credit: Chris Christensen
Spetses, Greece:
A favorite destination for jet-setters, the island of Spetses offers a delightful mix of sophistication and natural beauty. Thanks to the absence of cars, the atmosphere here is just as relaxing as in the previously mentioned towns. Similar to Hydra, this place offers views of elegant waterfront mansions and small boutique shops, as well as stylish cafés and restaurants. Exploring Spetses on foot or by bike, you may also discover hidden coves and pristine beaches, perfect for an afternoon swim. After a trip to the beach, perhaps go for a sunset ride in a horse-drawn carriage and enjoy a delicious dinner at one of the seaside candlelit restaurants. To end a perfect day, why not go for a walk after the dark has settled and enjoy the city when it comes alive with it's vibrant nightlife?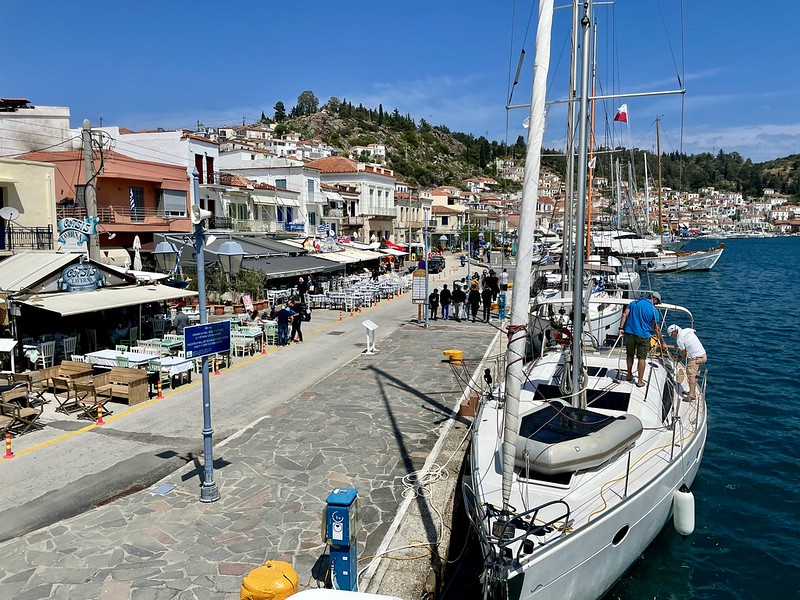 Poros: Photo Credit: Chris Christensen

Poros, Greece:
As you sail into the harbor of Poros, you are greeted by a captivating blend of traditional Greek charm and lively island vibes. Poros's proximity to Athens makes it a popular destination for both locals and international travelers seeking a slice of paradise just a stone's throw from the mainland. Explore the island's quaint narrow streets, relax on some of the best sandy beaches in Greece, and revel in the warm hospitality that Greece is known for. We also recommend taking the short hike up to the clock tower where you can simply take in the gorgeous views while you enjoy a moment of stillness.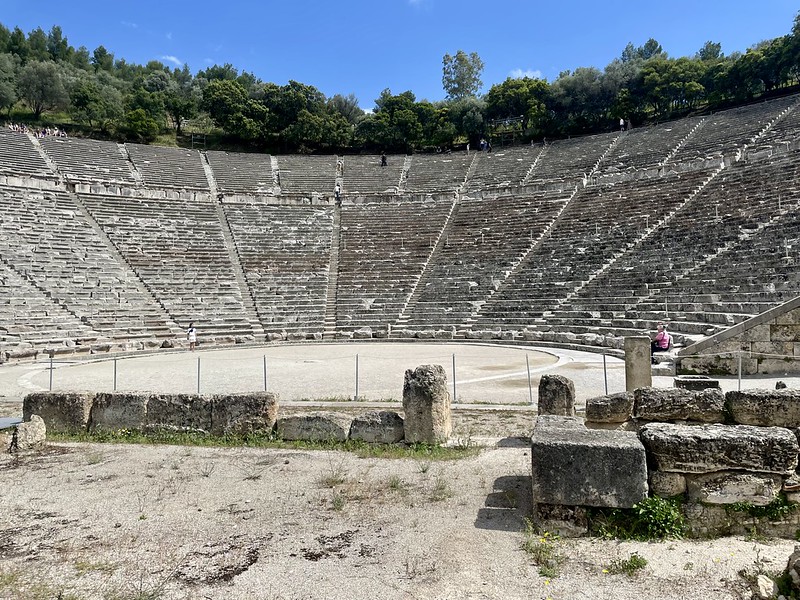 Epidaurus: Photo Credit: Chris Christensen
Epidaurus, Greece:
Renowned for its ancient theater and archaeological wonders, Epidaurus is sure to captivate everyone who appreciates history and culture. If you are looking for a break from beaches, churches, and restaurants, you may enjoy a trip to this ancient amphitheater. It's a bit inland so you need to take a taxi if you travel by boat. The exceptionally preserved theater is known for its remarkable acoustics, and it's not hard to imagine the echoes of ancient performances that once filled the air. In fact, live theater is occasionally still performed here. The surrounding area, rich in archaeological sites, provides a fascinating glimpse into the past, transporting visitors to a bygone era. The theater, which seats thousands of people, was once part of a healing center based on the premise that entertainment was good for one's health.
Aegina, Greece:
Finally, we return to the island of Aegina which has a town with the same name. In Aegina, you will find yourself quickly immersed in the town's vibrant atmosphere, bustling markets, and historical landmarks such as Apollo's Temple. There are a lot of things to do here, from exploring the town's rich cultural heritage and its archaeological sites to sampling local delicacies and going shopping. This city is somewhat bigger than Perdika, yet still picturesque and offers a lot to do and see.
If these places sound like a dream, Navigare Yachting is here to make it a reality. Embark on your own unforgettable sailing adventure in Greece with us.
Since 2001, over 300,000+ charter guests have set sail with Navigare - it's safe to say that your yachting adventure will be in capable hands. With 11 exotic locations worldwide, the possibilities are endless! Whether you're an experienced sailor or a first-time adventurer, Navigare Yachting opens up a world of exploration, discovery, and sailing that comes with complete peace of mind.