If you're planning on sailing Seychelles, Mahé Island is bound to end up on your itinerary. It's the largest and most populated island in Seychelles but think of Mahé Island, and its capital, Victoria, as less of a busy metropolis and more of a quaint city where people who are lucky enough to reside in paradise (or are visiting) come to shop, eat, and enjoy more beaches than you could imagine.
Seychelles is made up of 115 islands about 1,000 miles off the coast of mainland Africa with an interesting history as an uninhabited group of islands until the 16th century when settlers arrived. Travelers from all over the world now come to Seychelles, sailing from island to island, dropping anchor in impossibly blue waters, and lounging on whatever pristine beach is around the next point. It's perfect for an island (or anchorage) hopping, but wherever you're heading, you'll likely start on Mahé — and that's a good thing. We love it so much that the Navigare base is located on Mahé Island.
Sailing conditions in Seychelles
For the most part, sailing in Seychelles is especially relaxing because of its predictable weather. The islands rarely experience overly strong winds and from May to October, you'll find yourself with reasonably constant south-easterly trade winds and very little rain. If you're there from December to March, the trade winds will be blowing north-westerly and will have occasional rain squalls.
Some of the southern islands can get regional cyclones, but most of Seychelles' islands are outside of what we would consider the cyclone belt.
The straits between the islands can get strong tidal currents, so sailors will want to pay close attention to the tides (which are semi-diurnal and asymmetrical) when charting their course. Some channels leading to lagoons can empty at low tide.
A quick guide to Mahé Island
Mahé Island is a worthy destination in and of itself. Some spend their entire trip to Seychelles in and around Mahé, quite happily. Whether you're staying on Mahé Island for a week or only a day or two to bookend your vacation sailing Seychelles, there are a few places you absolutely must visit while you're there.
Where to hike:
Mahé Island is home to Morne Blanc, the most iconic mountain on the island. The hike to a viewing point along the Morne Blanc trail isn't long (about 45 minutes), but it is steep. Once you get to the top, you'll be treated to views of Mahé Island's west coast. We suggest doing this hike in the morning for optimal visibility.
If you're looking for a dip in the ocean at the end of a hike, we'd encourage you to try the Anse Major Trail (which takes you to Anse Major beach). The hike is longer (an hour and a half), but it's easier than Morne Blanc and you'll see some spectacular rock formations.
Where to walk:
If a stroll is more your style, you can, of course, wander along the many beaches, but we suggest checking out the Seychelles National Botanical Gardens. Mahé Island has an incredibly rich ecological story and this is a great place to enjoy it. Make sure you stop by the giant tortoise enclosure! We also recommend popping by the Wildflour Café while you're there.
Where to shop and eat:
There's no other way to put it: Victoria, Seychelles' capital city, is just plain charming. From its Big Ben-inspired clock tower to the Creole-style architecture, the city has a lot to offer, especially in way of provisions. The Victoria market (sometimes called Sir Selwyn Selwyn-Clarke Market) puts on quite a display of local food and culture. It has the most regular weekday hours of any market on the island, but if you're around on Friday, you can also check out the Victoria Bazaar or Bazar Labrin on Wednesdays.
When it comes to food, the best piece of advice we can give is to take advantage of the fresh seafood. Creole takeout stands are delicious for a quick bite before the beach, but there are also beautiful restaurants on and around all major beaches. You won't have trouble finding a great place to sit outside and enjoy some Seychellois cuisine.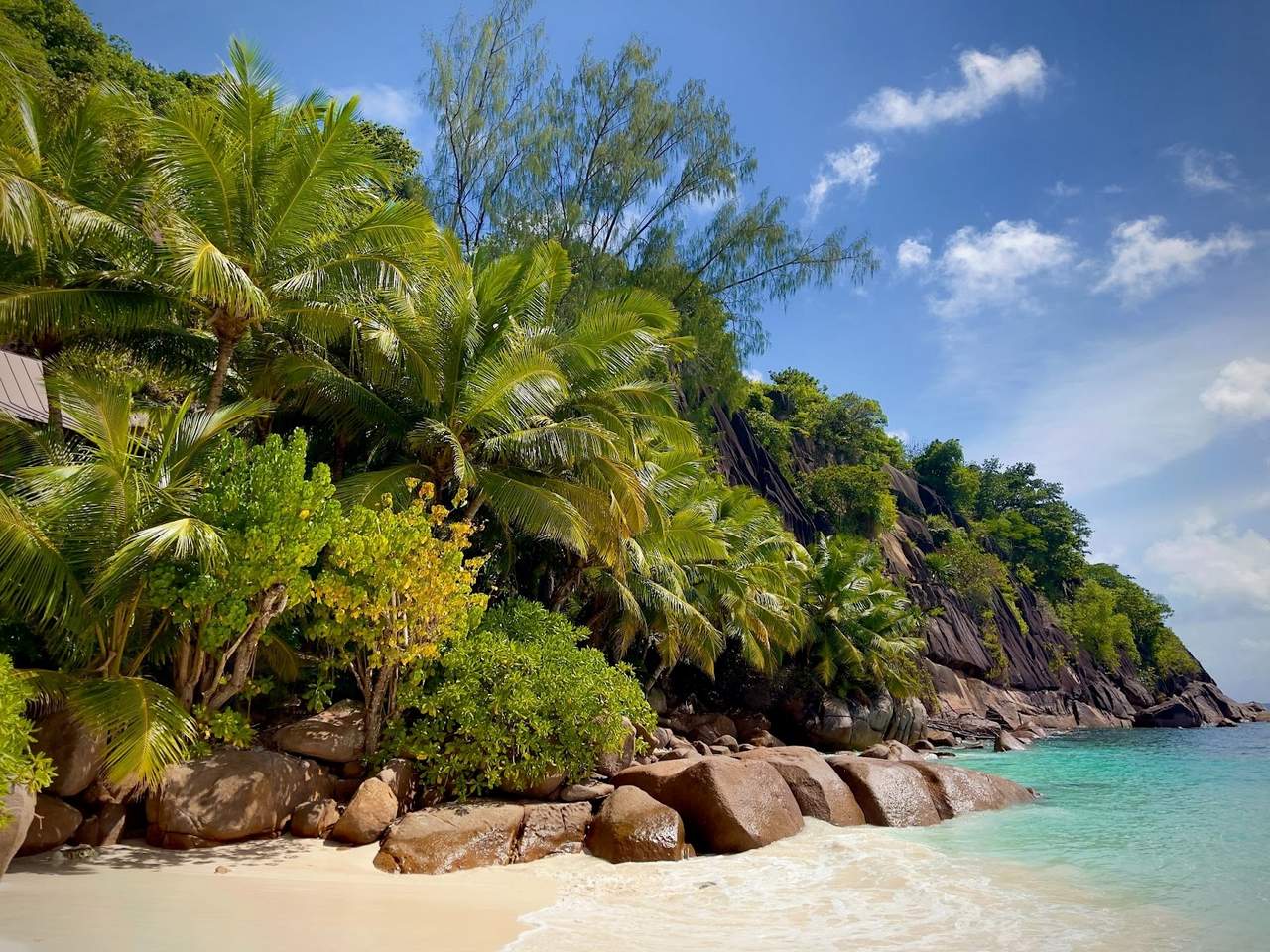 Best Beaches on Mahé Island
Mahé starts to show off when we start talking about beaches. White sand, clear waters, and world-class snorkeling make them the most common reasons that someone sails Seychelles. And while you can't go wrong, each beach does provide something unique.
Anse Intendance - This half-mile sprawling beach is framed by granite boulder formations and is perfect for grabbing a book and taking in the scenery. It should be mentioned that waves are strong at this beach, so it isn't the right spot for a swim, especially with children.
Anse Soliel - This postcard-perfect secluded beach is where we'd go for a little dip and relaxation. There's a restaurant and hotel nearby and, while not usually deserted, it doesn't get too busy.
Beau Vallon - While a little busy, this beach is popular for a reason. It's beautiful, of course, but it is also perfect for swimming, sports, and snorkeling. There are a lot of amenities close by, so everyone can find something they enjoy.
Anse Royale - If you're looking to snorkel, Anse Royale is your beach. The waters are clear and there are some interesting rock formations to explore.
Petite Anse - Some argue that this is the most beautiful beach on Mahé, but you can make a case for practically any of the beaches we've mentioned (as well as many we haven't). This particular beach is at the Four Seasons, but you can visit it even if you aren't staying there. There is a small parking lot for visitors and many find that it is a much quieter beach as a result.
Mahé Island is a unique combination of tranquility with convenience. It still feels very much like the rest of the Seychelle islands, where nature preservations exist to protect some of the rarest wildlife on the planet (like the tortoises found only here and on the Galapagos Islands), but you can also spend an afternoon sifting through treasures at a market or sampling rum at a distillery. You might find yourself alone on the most picturesque beach you've ever seen, but you can also meet new friends at a beachfront café and sample some traditional Creole fare. Mahé Island is truly a special kind of paradise.
Learn more about chartering a yacht in Seychelles so you can explore Mahé Island yourself!