Do something active during your vacation
During the last years, a new vacation trend has grown around the world. A lot of people are tired of spending their vacation just laying still in a sunbed sipping on a cocktail. Instead, more and more people are looking forward to doing something active during their vacation. Choosing an active vacation has a lot of health benefits and results in more energy for the rest of the year. Sailing is an excellent option for an active vacation and suits the adventurous traveler who wants to experience something new and get back from their vacation healthier than ever.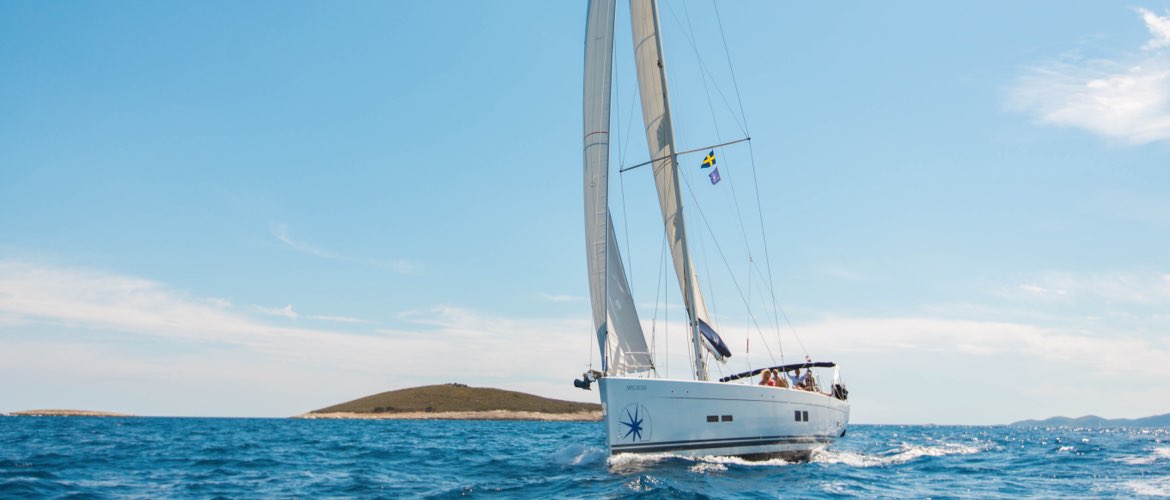 Imagine a boat on the calm ocean with the Mediterranean sun shining above. That's what we've been dreaming about during the cold and dark winter months. The rewarding feeling of taking your boat out by yourself to spend your vacation on the ocean is priceless. To sail during your vacation is an activity suitable for everyone, the friend group, your partner, or your family. It's not just an unforgettable memory to share with friends and family, a sailing vacation also has a lot of health benefits and is a great way to stay fit during your vacation. Even though it could be physically challenging to sail a boat, everyone who tried agrees that it's worth the effort. To be able to spend time outdoors and enjoy the wonders of nature is, as you probably already know, great for your health and wellbeing – both physically and mentally. There're many different ways to sail, both for the beginner and the experienced sailor, but they all have one thing in common: the positive impact on your health. Do you want to get back from your vacation with unforgettable memories and feel livelier than ever before? If your answer is yes, sailing is the active vacation suitable for you.
BOOK YOUR SUMMER 2022 VACATION NOW
Sailing is a physical activity
Sailing demands you to activate the entire body and involves several different muscle groups. Arms, shoulders, and legs are just a few of the muscles used to be able to raise the sail and control the boat. The core is another big muscle group used during your sailing trip, and just like in any other sport the core is an important part of sailing. A great core strength makes you a good sailor, just like sailing strengthens your core. Considering the different situations you'll face on the boat, there are different kinds of strengths needed to manage it. A mix of endurance and explosiveness guarantees some sore muscles during the first few days. Though this is easy to forget about when you can relax and watch the sunrise from the deck. The great effort required to sail increases the blood flow in your body which also gives a better blood flow to your brain, creating a positive effect on your wellbeing. Apart from the heavy lifting and pulling sailing also have a positive impact on your cardio levels. Don't forget the off-the-boat activities such as snorkeling and swimming, also great ways to keep your physique on top. Sailing is a constant workout that keeps you going without even having to think about it!
But there's more. Apart from the physical benefits, sailing is great for your mental health too! It's soothing and easier to disconnect from the stress at home while being on the boat looking out on the ocean. Sailing is just an extraordinary activity. By spending time alone with nature and your fellow sailors it's possible to relax in a whole different way compared to a normal vacation. Spending time on the sailing boat is a break from our stressful lives. To be able to relax without any pressure from the soothing waves of the ocean have a calming effect on our minds. The salty breeze contains ions, which increase your absorption of oxygen ability and balances your serotonin levels, which is proven to prevent depression! The salty air also has a positive effect on your sleep and you'll wake up feeling well-rested and filled with new energy, ready to take on the day. A sailing boat is also the perfect place for spending time with your loved ones. Invite them over for lunch or dinner and enjoy each other's company under the open skies above and the ocean beneath your feet. Together you're in charge of controlling the ship which creates a strong connection and brings you closer together. When you dock at the harbor, you'll get to know other sailors from around the world and create lifelong friendships.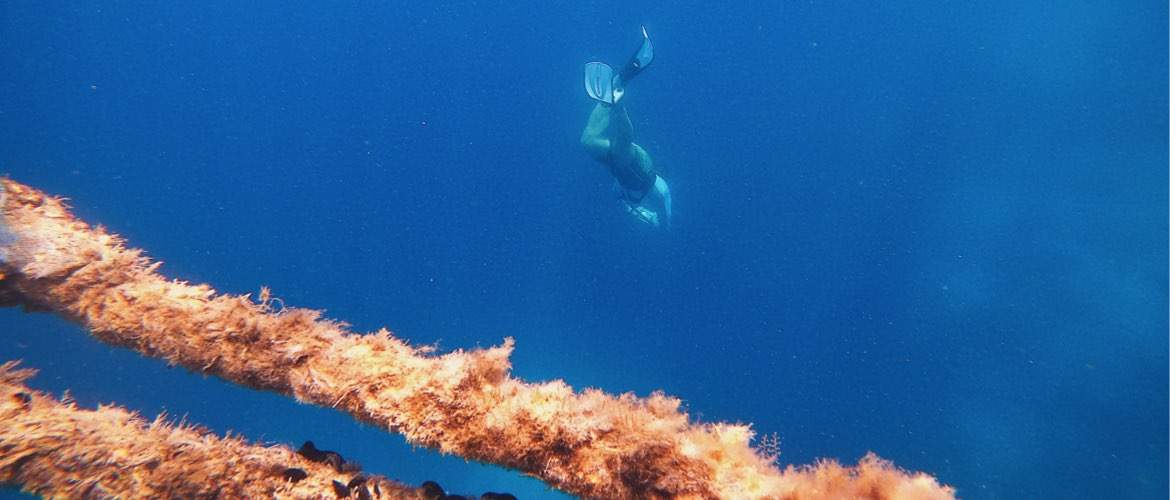 There're millions of places offering a great sailing
The variation of sailing is an advantage itself, experience an adventure on the other side of the world or explore the harbor next door. There're millions of places offering a great sailing experience and the possibilities are infinite. The majority of people who tried sailing will return year after year to experience it again. Neither you nor any of your fellow sailors will be bored during your vacation, there's always something new to do on the boat. Enjoy the closeness to nature and the constant possibility to see and experience new places. The combination of the thinking ability and the physical work is a part of the special charm of sailing and is suitable for everyone, it doesn't matter if you're experienced or a beginner – there are boats for every need. It's also a perfect activity for the climate-smart traveler. Sailing has fewer emissions compared to other kinds of vacations. So, make a good choice, not only for yourself but also for the environment.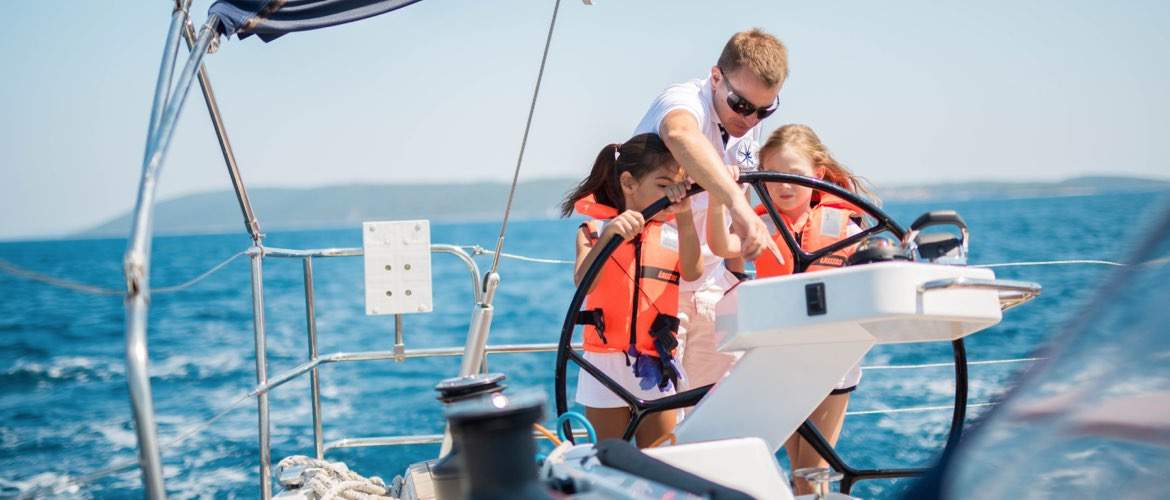 Apart from all things said above there are many other benefits to sailing. Your ability to concentrate increases, and you'll be better at organizing and communicating with your passengers. Sailing also makes you more flexible considering you'll have to navigate and stay stable on a moving boat. Sailing is one of the healthiest vacations to choose, and the optimal activity if you want to use your body and still have the chance to relax and enjoy some peace on your vacation. If you want to get healthier during your vacation, relax and re-charge, experience something new with your loved ones, and create lifetime memories, then sailing is the right choice for your next vacation. Contact us on Navigare Yachting and we'll guide you to the right trip.
DISCOVER MORE AND BOOK TODAY