How do you choose the right boat for your sailing charter? Both catamarans and monohulls come in many different sizes and cabin configurations, and it is not always easy to understand how many people they accommodate.
There are a few things to consider when choosing a charter boat. For starters, you'll have to weigh the pros and cons of a sailing yacht vs a catamaran. Be sure to review our post: Catamaran vs Monohull: which should you charter, and buy?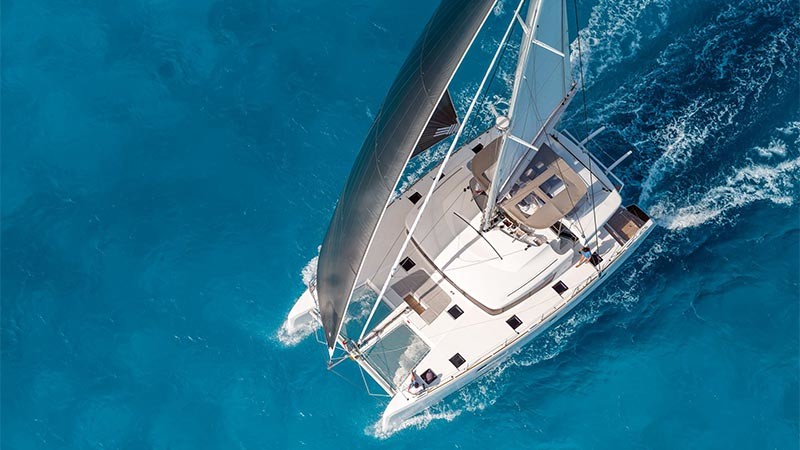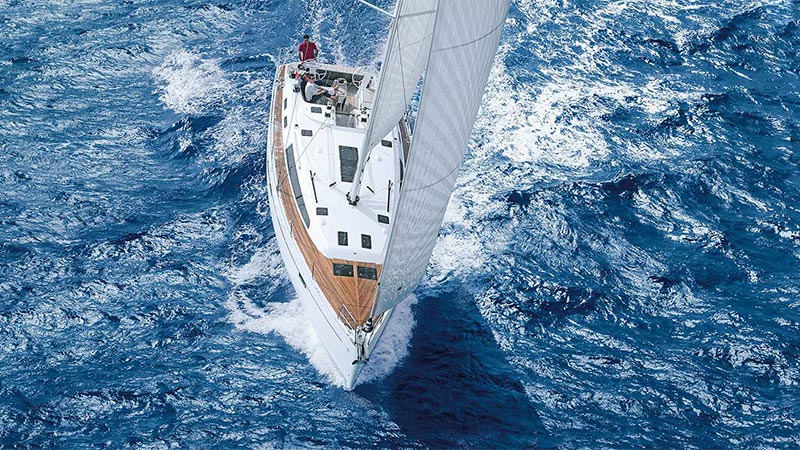 Once you've determined if your party will prefer a monohull or a catamaran, the capacity of the boat comes into focus.
First of all, how many people are going on the charter and will be staying overnight on the boat? Are you planning to have a professional skipper and/or other crew members join you? How long is your sailing vacation?
Most importantly, what are you comfortable with in terms of sharing spaces with others in your party and the hired crew?
Most people prefer to sleep in the interior cabins, but this is not the only option on many boats. Crew members will sometimes sleep in the so-called forepeak cabins (or skipper cabins) or on a convertible bed in the salon. Whether one of your guests may do the same, however, requires further consideration.
Optimal onboard capacity
Every boat has a maximum number of people it can legally accommodate. However, a 12-person "maximum" as authorized by law does not imply that 12 adults will be comfortable sharing the boat for an entire week. Let us break down for you the concept of optimal onboard capacity. We strongly recommend you obtain the advice of our charter specialists to ensure you're booking the right size boat for your group.
For example, a 40-ft catamaran, with a maximum of 12 guests, may offer four cabins, each accommodating two people. In addition, it may have one or two forepeak cabins to fit one person each. This arrangement would provide a sleeping capacity of up to ten people. Technically, with a legal capacity of 12, two more people could also sleep in the salon – perhaps children who are smaller and arguably less demanding in regards to privacy and comfort.
In reality however, 12 people sharing what is considered a "4-cabin" catamaran may not be able to tolerate each other for a week on a vessel this size, let alone 12 adults!
To fully appreciate the concept of optimal onboard capacity, let's take a closer look at the forepeak cabins.
Forepeak cabins
A forepeak cabin, also known as a skipper cabin, is a very small sleeping area, essentially just a "berth" in a tight space. It is located at the bow of the boat, completely separate from the rest of the living spaces onboard. The person who sleeps there will usually access the space from a floor-level deck hatch, and will climb down that hatch to access the bed located directly underneath it.
These "cabins" are very simple and often lack conveniences such as air conditioning and a toilet. It is therefore often difficult to find crew members who will agree to sleep in this space – while others literally cannot, because the space is too small for them to lay down at night!
That being said, for most people it is possible to sleep there, though it may be a tough proposition in a tropical climate.
Besides, do you want to trust the safety of your family at sea to a cranky, underslept, SWEATY captain? If your crew members occupy the forepeak cabins, they must of course be given access to a bathroom inside the boat.
One of your guests may be able to sleep in a skipper cabin, but there are a few things to consider before you assign your kids or another guest to one of these berths. As mentioned, forepeak cabins usually do not have air conditioning, so if you are sailing in a hot area, you may want to avoid these.
For safety reasons, we recommend that only children ages 12 and up, and who are comfortable getting in and out of the hatch, be considered for a forepeak cabin. Keep in mind that these berths are not connected to the rest of the boat. On that account, children may find the skipper cabins intimidating, especially if they tend to wake up at night.
Also consider how many nights someone would be sleeping there. Perhaps you have a guest joining your group for just one night? In that case, the skipper cabin may be a fair option.
In the end, the most important thing is to make sure that everyone is safe and comfortable. If you do decide to have a person sleeping in a skipper cabin, ensure that they fully understand what that proposition entails.
Sharing a bathroom?
As previously stated, If you have crew members sleeping in the forepeak cabin(s), you or one of your guests will likely need to share a bathroom with them as forepeak cabins very rarely offer a dedicated bathroom.
Consider whether you are comfortable with this scenario; if not, choose a boat big enough for your crew to have their own cabins.
Sleep in the salon?
Perhaps you'll decide that the forepeak cabin is not an option for you and your guests. In this case, you may want to consider using the salon to accommodate someone. Almost all charter boats have a sofa in the salon that can be easily converted into a bed - or in marine terms, a berth. Remember that the person sleeping in the salon will also need to share a bathroom with someone from the interior cabins.
As mentioned, some crew members prefer to sleep in the salon instead of in the forepeak. A skipper sleeping inside the boat is also better able to monitor the anchor and can react quickly to any situation such as an alarm ringing on the boat.
If you are not sure whether your skipper prefers to sleep in the salon, consider opting for a large enough boat so your skipper may have their preference.
Eating area & entertainment spaces
Not only is it important to consider the sleeping capacity of your boat, but also dining capacity and entertainment space. In general, a boat with four double cabins has a dining table that comfortably seats eight people, so keep this in mind If you have additional guests sleeping in the salon.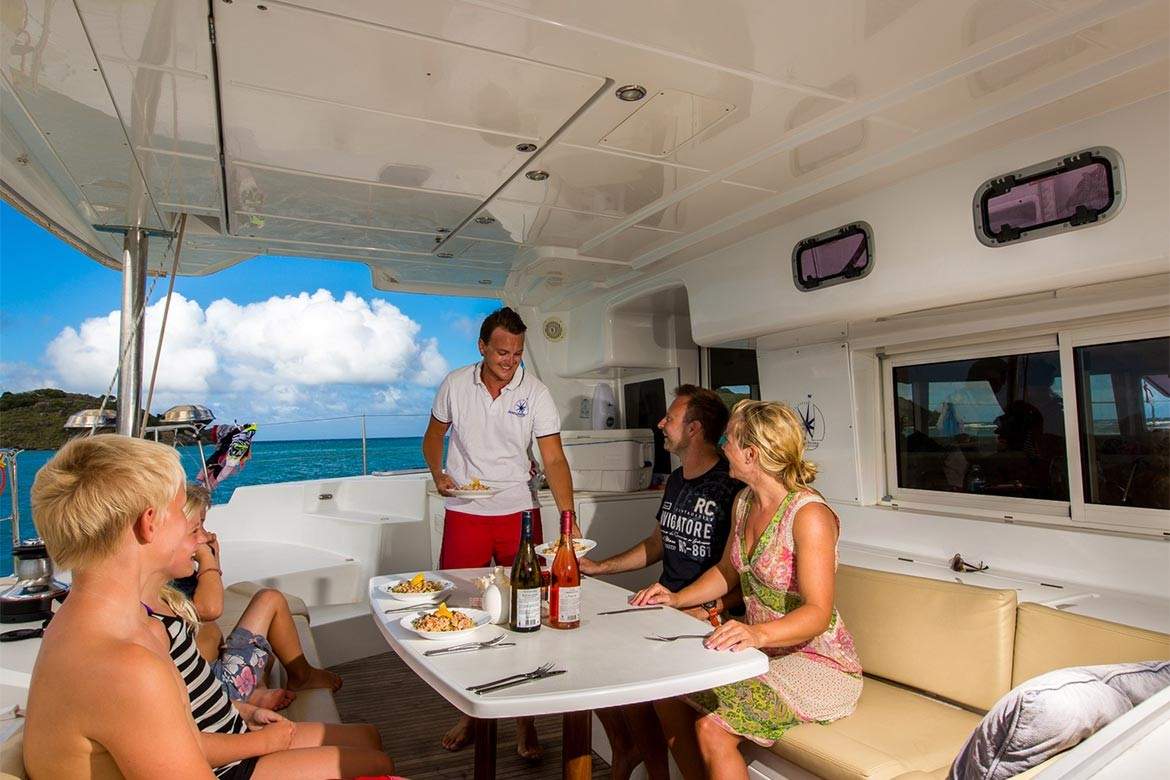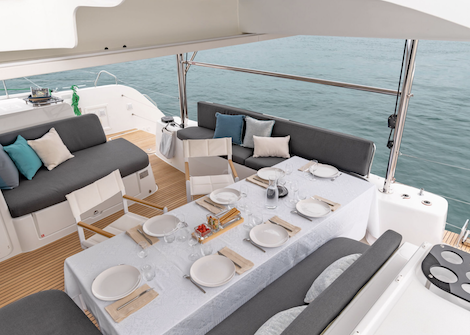 It is possible to fit them in at the table, it will just be a little more crowded depending on the number of children and adults in your group.
Additionally, how much lounging space does your group require? Again, this comes back to how much space you need and are comfortable with. Also consider your plans in terms of social gatherings.
Provisioning
Different boat sizes have different amounts of storage space. Consider how much space your group needs to store all your provisioning.
For example, smaller boats have smaller refrigerators, often in the form of drawers, while some bigger boats, designed to handle longer voyages, have extra refrigerators to facilitate storage of provisioning. These boats may suit larger groups that require more provisions.
Rule of thumb
If your charter boat has three double cabins, six people can sleep comfortably onboard. Additionally, the salon may accommodate up to two people, and there is also the possibility to use the skipper cabin; please check with our charter specialist prior to booking.
Nobody wants to begin their sailing vacation by scrambling to find a replacement crew member for a forepeak cabin that was not discussed with them!

Conclusion
The most important thing is to satisfy your own party's needs for space. A very tight-knit group would be comfortable sharing more spaces and living closer together. However, if you wish to maintain more privacy, choosing a slightly bigger boat may be the best option for you.
A catamaran, for example, could accommodate one family in each of its hulls, allowing a higher level of comfort and privacy. It is also important to dedicate berths and bathrooms for your crew if you plan to hire a professional skipper and/or another crew member.
Once you have mapped out your needs and decided on a sailboat or catamaran, based on its overall size and sleeping arrangements, all there is left to do is the exciting task of picking your model and destination.
Discover our charter fleet and book your vacation today! We can't wait to welcome you onboard!