Catamaran vs Monohull: which should you charter, and buy?
Which is better for you?
Both mono- and multi-hulls are available on charter and if you're wondering which is better for you, know that there are tradeoffs. Different boats will make sense based on your group, your destination, and your vacation goals. Testing out both may also help you decide if you want to buy a yacht and place it on charter.
Space, Sailing, and Expenses
Catamarans have about 1.2 times the space of a monohull. In other words, a 40-foot cat should have the deck and interior space of a 50-foot monohull so you can charter a shorter cat and still have plenty of room. Cats usually have large cockpits that become social hubs, some have flybridges that add deck space, and they have biminis that protect you from rain and sun so you're not doused in afternoon squalls or baked to a crisp in the tropics.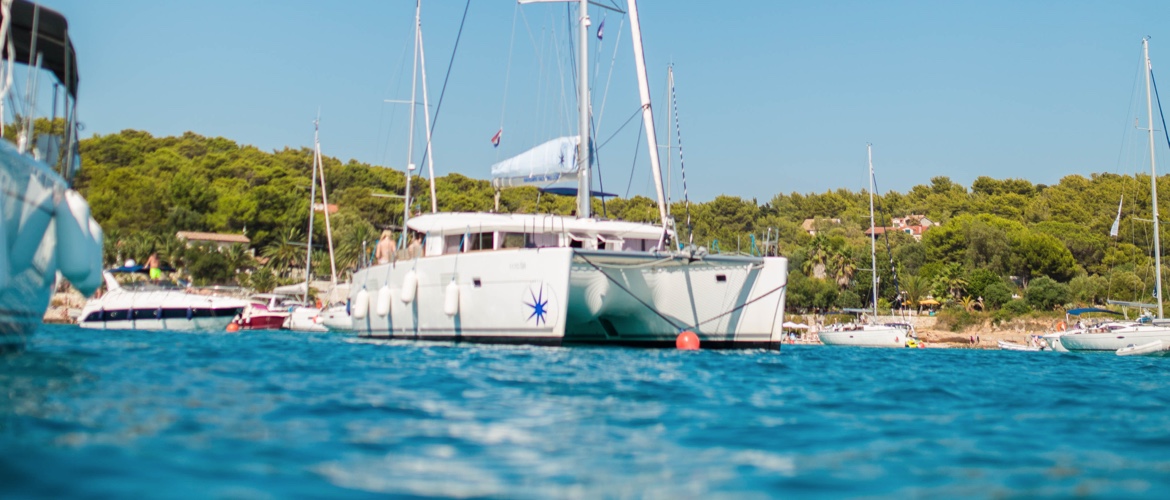 Cats also have more interior space with up to four cabins even in a vessel under 40 feet. These usually provide easier berth access and they have hull windows with opening portlights so you get better air and light even down in the staterooms. Also, on a cat, the cabins are usually better separated for more privacy.
On the other hand, if you don't need the space (for example, if you're chartering just as a couple) a monohull will be both easier to manage shorthanded and cheaper to charter. Even small cats are big and so is their gear. Hoisting the mainsail on a cat without an electric winch can be a job for two big guys while most anyone can raise the main on a 40-foot monohull. Also, the pressures on big sails can be intimidating so when sailing shorthanded, a monohull may be the better choice.
There's also the pure sailing aspect. Although cats sail beautifully downwind or on a beam reach, they're not known for their snappy tacks or their ability to make good progress when close-hauled. Monohulls, on the other hand, tend to sail well even upwind and provide more of a sailing purist experience.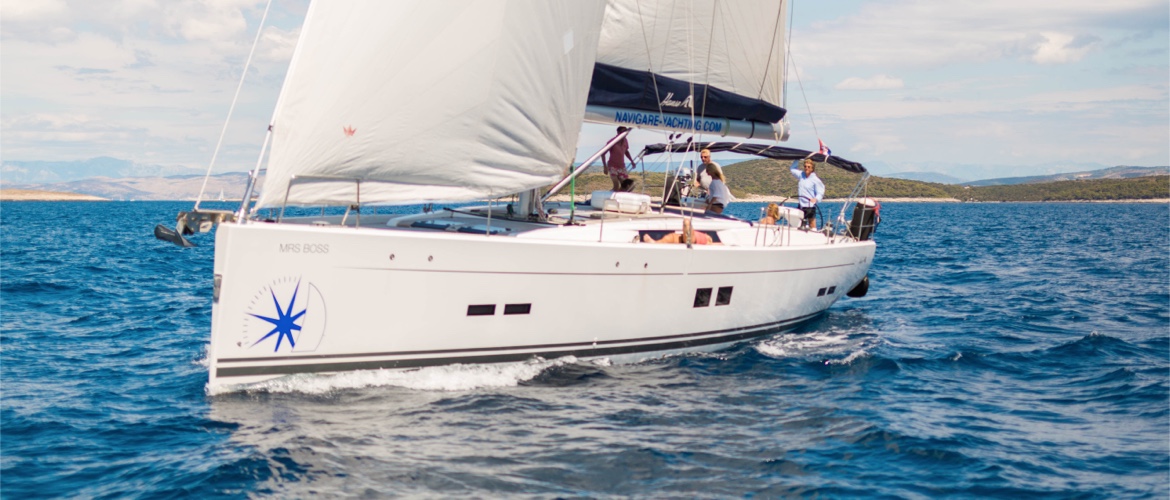 Finally, monohulls are more affordable to charter than catamarans but they're getting scarce. You can still find plenty of monohulls to charter in the Mediterranean -- including in Croatia and Greece and many more! - but in the Caribbean, expect to find more catamarans.
Motion, Maneuvering, and Draft
Some people love the motion of a monohull – the rhythmic swaying under sail. Others turn green, especially when the boat heels or they spend time below when the boat is on its ear. Cats have a different motion. Downwind with following or quartering seas, cats tend to waddle, but since cats don't heel (much) they generally induce less seasickness. This is key if you're chartering with friends and family who have delicate stomachs or with kids and older folks who may not be steady on their feet. You also don't have to be as vigilant when stowing your stuff on a cat since they tend to stay upright.
On the other hand, cats slam. When heading upwind in a seaway, most cats tend to hobbyhorse and slam the bridge deck into head seas. A monohull will usually slice through waves more efficiently and even if you motorsail, a monohull will need less power (and therefore less fuel) to push through oncoming waves.
Docking and maneuvering is a toss-up between one hull and two. Monohulls have the advantage in Med mooring situations (which are used all over the Mediterranean and in some parts of the Caribbean) where you back up to a dock. They simply require less space on a quay than cats that can be twice as wide. But, when backing into a tight space with a cross breeze, there's nothing like a cat with its twin screws set 20 feet apart to provide better control and maneuvering. There's no need for a bow thruster on a cat so you'll look like a pro whether pulling up to a fuel dock, Med mooring on a crowded quay, or keeping station in a blow while anchoring. Maneuvering is almost always easier with two engines so cats have it all over monohulls whether going forward, backward, or sideways.
Finally, if you're chartering in shallow waters like in the Bahamas or Seychelles, a cat will serve you well. Cats have shallower drafts and can get into more places. An extra foot under the keel can save your whole vacation.
Placing a Yacht in Charter
The availability of monohulls versus catamarans varies by destination. In Europe, they still have more monohulls in charter because Europeans are purists and continue to be devotees of single-hull sailing. However, in the Caribbean and Bahamas, cats dominate due to their warm-weather appeal and shallow drafts. This is a consideration if you're contemplating purchasing a yacht and placing it in the charter. Cats are more expensive, so they generate more income for the owner (depending on location). The demand for catamarans in the charter is growing rapidly so it's likely your boat will be chartered more often, even during the shoulder season.
If you need guidance, Navigare Yachting can help! We'll walk you through what kind of boat is best for the location you're considering, we'll help with outfitting the boat so it's a popular choice for charter, we'll guide you through the purchasing, financing, and insurance processes, and we'll help you sell the boat at the end of the charter program.
There's no right or wrong choice between a catamaran and a monohull and your needs may vary by destination and who you bring along. If you're looking at a boat in the charter as an investment, we will help you figure out the pros and cons and then you can enjoy chartering and owning -- regardless of how many hulls you choose.
Continue your research: explore Navigare Yachting's ownership programs.