If the end of your charter program is imminent, this article is for you. Owners of monohulls and catamarans who have placed their new boat in a charter fleet like Navigare Yachting need to prepare their vessel's exit from the fleet. Whether you have decided to keep your boat for personal use, trade in for a new model, or put it up for sale, you will want to prepare for a full inspection.
Below is our list to help you manage the phase-out process and assess the condition and necessary refit of your boat.
1. General tips
Our most important piece of advice: Get personally involved in every step of the process. Some owners hope that the charter operator will do all the work without actually talking about it. While it is possible, it's best to make sure of the process and not make assumptions.
You may want to take a look at your agreement to see exactly what is contractually required to happen during the Phase Out. Some operators, such as Navigare Yachting have a very detailed description of the Phase Out.
Have reasonable expectations: you will end up with a used boat that has been rented for up to 7 seasons. It is therefore expected to show signs of "normal wear", and engine hours that may reach up to 4,000 hours depending on the base location.
Charter operators are very sensitive to the equipment of the sailboat and its maintenance, to avoid breakdowns and therefore operating losses. For this reason, Navigare implemented several years ago its proprietary service platform to record all the maintenance tasks associated with every yacht in the fleet. It serves as a service log and a communication tool between the base and the yacht owner. Upon resale, the entire history can be downloaded to create a comprehensive maintenance logbook.
Preview of the Navigare Service Platform accessible to every yacht owner: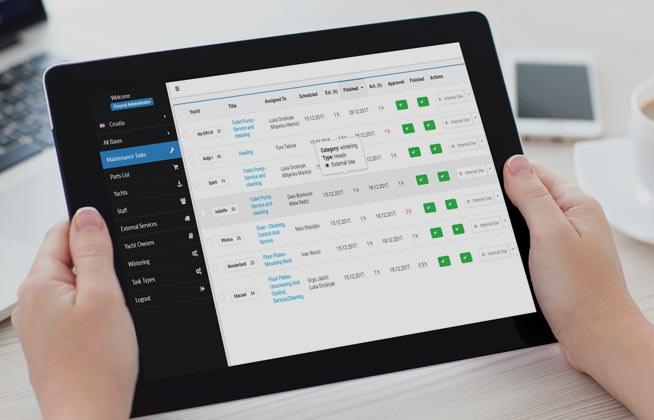 The vast majority of catamarans and monohulls are equipped with Yanmar or Volvo engines capable of reaching 8,000 to 10,000 hours before a rebuild. The engines, if maintained appropriately, will therefore have reached only half their life expectancy.
Likewise, your boat will likely have some small cosmetic imperfections such as dings on the woodwork, scratches on the floors, and some plexiglass crazing by sun exposure ... Remember that you have been "compensated" for the use of the boat during the term of the charter agreement.
Everything on your boat will be in working order, but you will not receive new upholstery or sails or a new engine unless they are badly and abnormally damaged of course. Torn sails, non-functioning electronics, cracks in the rigging, and large blisters in the hull are not "normal wear" and will need to be addressed. The same applies to the safety of the vessel and the passengers, such as failing through hulls as a result of advanced corrosion.
Don't be an abusive owner: yacht owners will benefit much more from the charter operator and a good relationship with the base staff if they are friendly and develop a personal relationship with the team and technicians.
2. The preparation for the exit from the fleet begins a year earlier!
Get ready to go sailing! Once you have established your exact date of departure from the fleet per your agreement with the charter operator, schedule a week-long sail on your boat, or at least 3 to 4 days. If you prefer, you can have a surveyor inspect your vessel. Schedule this sea trial to take place approximately 2 months before the fleet exit date: should you encounter any significant issues, the charter operator will need time to resolve them. Don't schedule your final sail too early; if too much time passes between your last inspection and the exit from the fleet, you may have to organize a new sea trial and incur significant costs (travel, haul out, surveyor…).
Compile the information and get organized! Make a detailed list of concerns and take as many photos as possible. Request the maintenance log from your charter operator and look for any possible accident or grounding incident that may have caused a structural issue and check for a good quality repair. If you intend to upgrade your boat or add new equipment such as a spinnaker, solar panels, new electronics, a watermaker, etc. check with the charter company who may be able to obtain preferential rates and recommend the best professionals to carry out this work.
3. What to do 6 to 12 months before leaving the fleet
If your boat is in the Caribbean and you plan to bring it home to Europe or the US, make a list of the safety items to have on board. You should be prepared to present this equipment in the event of an inspection.
Also, check well in advance the tax status of your vessel with the maritime authorities of the destination country. If the boat is duty-free, you may have to pay VAT on the EU country where the importation takes place or US Customs Duty on the value of the vessel at the time of importation.
Check the insurance requirements well in advance and also inquire about the costs, dates, and conditions of transport by cargo or with a skipper if you prefer this option.
4. What to do 2 to 3 months before leaving the fleet?
A few months before leaving the fleet, organize the survey and haul out of the vessel. While a formal survey is not mandatory, it is recommended to bring to light any problems that may not be readily visible to base technicians.
Depending on the location of the vessel and its size, the survey with haul out can cost between $2,000 and $5,000. This expense and responsibility are entirely on the owner, with the aim of total impartiality.
Choose your marine surveyor carefully. Just finding one (let alone a good one) in some areas can be challenging. Ask for references, previous survey reports to see how they are compiled, and look for reviews online -- all of this will help you guide your choice.
We strongly recommend that you be present during the survey at the end of the final sea trial. If your boat is in the Caribbean and you plan to take additional equipment on board, allow plenty of time. Customs in the Caribbean can add a lot of time to your timeline.
Take notes and make a list of issues to be corrected before final delivery, which will constitute your "Conditional Vessel Acceptance". Part of this list will be taken directly from the survey report. Address your list with the base manager and the charter operator.
Take an inventory of what will be included in the handover and what will not. For example at Navigare Yachting, you do not own the dinghy and outboard engine, therefore they will not convey when you take over your vessel -- which isn't a bad thing because it is better to start up with a new dinghy and engine since the lifespan of this equipment is limited during the charter program.
5. Boat survey
If you have correctly prepared your exit from the fleet, you will have planned the haul out and scheduled a survey at the end of your final sail or shortly thereafter. Do your best to be present during the survey. If you can't attend, rest assured your surveyor will take lots of photos so that potential problems can easily be brought to you for your review. A thorough survey takes all day and consists of the following:
Perform a full hull inspection looking for any blisters, delamination, and structural problems.
Complete exterior inspection, including the deck, leaks, mast, rigging, sails, etc.
Complete interior inspection with the test of all systems and electrical panels, refrigeration system, detection of potential leaks...
Complete engine check (cold engine start) with sea test to verify gear engagement, misalignment or vibrations of the propeller shaft, etc. NOTE: An analysis of the oil may be a good idea to check in particular its content in metal filings, which may be indicative of pronounced wear, or the presence of water which would reveal a real problem. For this inspection to be valid, avoid performing this check immediately after an oil change.
6. Checklist of mechanical and cosmetic points
The checklist below is by no means an exhaustive list, but it can be used by the yacht owner as a guideline for a pre-inspection before the professional appraisal. In addition, this list does not deal with inventory items that must be checked separately. The surveyor will only take inventory of safety items.
On Deck



Windlass and remote control working correctly in both directions?
Chains (primary and secondary) in good condition / rusty?
Does the chain locker leak through the bulkhead?
Mainsail hoisting: easy, or very hard?
Mainsail furling system (if applicable) working well?
Genoa furling system works smoothly or very hard?
Are the reefs lines or reefing systems working?
Lazy jacks and lazy bag OK?
Torn sails?
Leak at the base of the mast?
Do the winches work and sound good?
Stanchions, lifelines, swim ladder OK?
Are all halyards, sheets, and mooring lines in acceptable condition?
Are the deck hatches and portholes functioning properly? Leaks?
All deck electronics: speedometer, log, wind vane, autopilot, GPS repeater, etc… in working order?
Are all deck lights, and navigation lights working?
Does the shore power outlet work when connected? Battery charger ok?
Does the deck shower work? Leaks?
Engine




Starts well?
Overheating after 2 hours of use?
Black smoke? White smoke?
Is oil pressure ok?
Engine maintenance log checked?
Detect recurring issues if they exist.
Transmission: Does the control lever work well?

Comfort



Bimini/canvas enclosure: seams holding up?
Is the color faded?
Do the zippers work?
Anti UV genoa strips in good condition?
Notches and scratches on the hulls?
Condition of the upholstery?
The general condition of woodwork, upholstery, bedding, linings?

Below the waterline & others




Condition of the anodes?
Blisters, osmosis on the hull and/or rudder?
Rigging (MUST be inspected by the expert or a professional rigger)
Check for cracks around the keel for monohulls, and the condition of the keel hull seal. For catamarans, check the condition of the mini-keels and any traces of Gelcoat cracking, particularly between the bridge and the hulls.
Find explanations for leaks or odors
Inspect the floors and inner hull liner for signs of structural stress (cracks, cracking of gel coat, detachment of the hull liner, etc.).
Proper operation of the plumbing system (pump, taps, showers, toilets, etc.)
Electrical panel in working order? state of the connections behind it?
All electronics in working order: VHF, GPS, audio, etc.
Gas connections
Are the deck hatches and portholes functioning properly? Leaks?
Original boat inventory fully verified?
Post-survey negotiations
At this point, armed with the surveyor's report and your list of points to review, you will probably have to negotiate with your operator to determine what will be repaired at their expense. This is where your charter management agreement and the notion of "normal wear and tear" come into play. A large part of the work will be obvious and the charter company will have to repair these elements without a doubt: delamination of the hull, torn sails or bimini, cracks in the rigging, broken electronics, leaks, defective refrigeration, missing inventory items...
However, some other items will be in a gray area. For example, how do you define "normal wear and tear" on upholstery, cushions, sails, sheets and halyards, woodwork, and more generally in all cosmetic items? It is not that easy, and it becomes a matter of negotiation and fairness on the part of the charter company and its representative, the base manager.
Once the two parties finally agree on the conditional acceptance points, monitor the progress of the work. Call the base manager (or the person in charge of your fleet exit) regularly, and discuss the progress.