You certainly don't need to be a diver to enjoy a Bahamas yacht charter vacation with Navigare, but if strapping on air tanks and roaming through an underwater maze of coral sounds like a good time to you, visiting the best dive sites in Abaco should be a part of your travel plans. The Abacos are known for being a little more secluded than the rest of the Bahamas, which is especially important if you're hoping to spend time with some of the more shy marine life. You won't find a lot of man-made tourist attractions here, but it's a pretty good trade-off to dive with turtles, tropical fish, and, of course, sharks.
One of the reasons the Abacos have some of the best dive sites in the world is its unique reef structures. Compared to the rest of the Bahamas, the reefs in the Abacos get more exposure to the Atlantic temperatures, so the base of these fringing reefs creates caverns and tunnels to explore. Facing the Atlantic also brings in an all-you-can-eat buffet for marine life and corals, ensuring that a diverse array of sea life is always milling about. Because many of the sites aren't too deep (lots are less than 60 feet), both experienced and new divers can fall in love with these dives.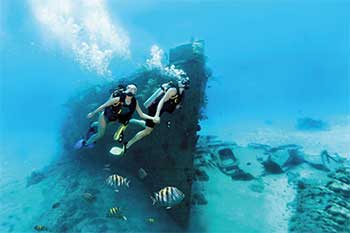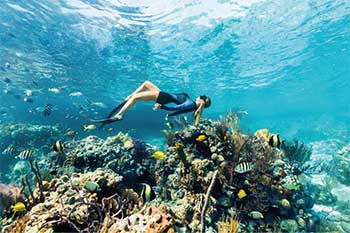 Fowl, Sandy, and Pelican Cays
All three of these dive sites are protected National Parks, keeping their biodiverse ecosystem one of the healthiest in the world. A lack of current makes these some of the best sites to dive (and even snorkel in!) in the Bahamas for all experience levels.
Pelican Cays, Land, and Sea Park protect 2,100 acres of coral reefs. It serves to preserve over 170 species, including sea turtles, so you're able to see some fish and sea life here that you'd be unlikely to find outside of these areas. Established in 1972, this national park was the second land and sea park of its kind in The Bahamas. The Exuma Cays Land and Sea Park was the first, in 1958, and started with the goal of protecting West Indian Flamingos, but went on to inspire the Bahamas National Trust.
Sandy Cay, located inside Pelican Cay National Land and Sea Park is an underwater playground. The coral reef is gorgeous and healthy, so you'll see a lot of fish and if you're reasonably lucky, some Spotted Eagle Rays. Because the maximum depth is 30 feet, this area attracts divers of all levels and also snorkelers, making it a great destination if you have both divers and snorkelers in your group and the weather is good.
You can reach Fowl Cay's 3 square mile reserve from Marsh Harbour were at depths of 33-98 feet, a wide variety of marine sea life is waiting for you. Here, you'll find rock formations, tunnels, coral heads, and some good swim-throughs and caves. You'll see some reef fish and likely turtles, but this dive is special for us because of its underwater flowers, sponges, and corals.
Best Bahama Dive Sites for Coral Pinnacles
The Towers and The Pillars
These dive sites have huge coral pinnacles (50-60 feet tall) and all of the intriguing caverns and tunnels that go along with them. The Towers (with two tower pinnacles around 60 feet tall) feature likely Caribbean reef shark sightings as well as rays and turtles. The Pillars are known for having an especially impressive number of fish and turtles to keep you company as you explore.

Best dive sites for sharks in the Abacos
If you'd like to encounter large marine animals, like sharks, you've come to the right place. Divers from all over the world know that they can get their shark thrills diving in Abaco, Bahamas, and they can do it year-round.
Shark Rodeo
Sure to give you a heart-pumping moment, upwards of 100 blacktip and Caribbean reef sharks descend upon this area to feed. Tiger Beach in Grand Bahama certainly is the most famous for tiger sharks, but if you're a shark enthusiast, Shark Rodeo shouldn't be missed.
The Ledge
Another incredible coral formation, this time with the addition of black-tip reef sharks as well as supersized turtles. The Ledge is a 40-60 foot dive site and a great opportunity for a shark swim.
Wreck Dives in the Abacos
People often consider the Exumas to be home to the best wreck dives in The Bahamas, but the Abacos also has some great sunken environments to check out, including the San Jacinto.
20-50 feet deep, the first US-built steamship was wrecked in 1867 and is now home to more tropical fish than you could imagine as well as some green morays. Most of the wreck, which stretches acres because of the rubble, is now coral covered, but you can still see the boilers and some of the stern intact.
Other notable dive sites in the Abacos
There is no limit to the amount of time you could spend diving in the Abacos, during your Bahamas yacht charter vacation, let alone the countless other dives in The Bahamas as a whole. These living, breathing, underwater wonders are ever-changing, making no two dives the same. Along with the dive sites above, here are a few other places to add to your list of best dive sites in Abacos, Bahamas:
Guana Coral Caverns
On the north side of Guana Cay, you could spend days exploring the caverns and tunnels in these coral gardens.
50-60 feet
The Cathedral
Close to Scotland Cay, you can dive here to experience an underwater cathedral-like formation.
60 feet
Kristin's Crannies
This dive is near The Cathedral and is a lovely coral head.
25 feet
Guppy Garden
Two healthy coral heads are at this site near The Maze.
30 feet
Cuda Alley
At this reef, you might get to see a school of barracudas.
20-50 feet
Mermaid Reef
Small, but still with interesting sea life, this reef often has large moray eels.
The Skyscrapers
The coral structures here reach the surface and can include black-tip sharks.
60 feet
The Maze
Just as it sounds, this reef structure features lots of maze-like tunnels, but still good light.
30 feet
Learn more about a Bahamas charter yacht vacation with Navigare so you can jump in the water and check out these world-famous dives. Our Navigare base is located at the Conch Inn Marina in Marsh Harbor, only minutes from the airport. And our charter specialists are standing by to guide you with the rental of your diving equipment while you sail with us!