Few charter destinations can be everything to everyone but one group of Caribbean islands comes close: the British Virgin Islands (BVI). The magic of this place is that it's both an ideal destination for first time yacht charterers and also the place that sailors revisit for years because there's so much to see and do. How does one group of islands manage to appeal to everyone? Well, the BVI has much to recommend it with over four dozen islands, islets, rocks, and cays covering roughly 60 square miles. Let's start with some highlights.
Many of the 30-plus charter companies in the BVI are based on the main island of Tortola. Some of the largest, like Navigare Yachting, tucked into picturesque Nanny Cay, just down a bit from the capital of Road Town. With ample provisioning opportunities and its place in the heart of the BVI, Nanny Cay is the perfect jumping off point for a week of chartering bliss. You can set any itinerary, but most people do a leisurely counterclockwise circuit, taking advantage of island hopping up the always windy Sir Francis Drake Channel and then sailing down the northern side of Tortola on a lovely broad reach on the way back. On this circuit, you'll take in some of the best nooks and crannies the BVI has to offer.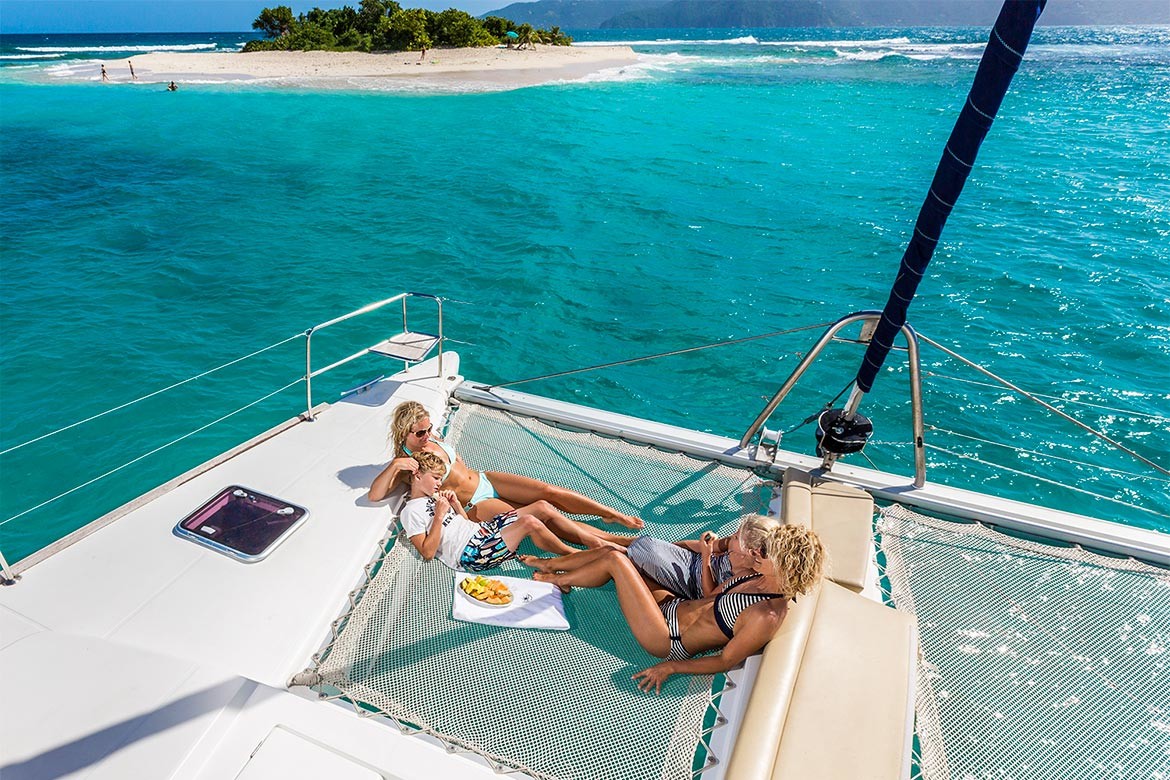 Norman Island and the Indians – A short, five-mile trip south will take you from Nanny Cay to great snorkeling at the Indians, a group of four rocks surrounded by mooring balls. Catch one (there may be a wait) and dive in. The rocks create substantial structure below the surface that's like an underwater city, packed with fish and colorful yellow fire coral. After an hour or two, motor to the tip of Normal Island and Treasure Point where you can swim through caves before turning the corner into Bight Bay for the night. Here you'll find the Willy-T pirate ship/floating bar where you can tie up your dinghy and party with a crowd. The bay is large, protected and has lots of mooring balls so it's perfect to spend the first night.
Salt and Cooper Islands – Just six miles northeast is Salt Island and the wreck of the Royal Mail Steamship, Rhone. You can dive or snorkel the length of the ship out to the bow which is in 60 feet of water. Then, head to Manchioneel Bay, catch a mooring, and take the dinghy to Cistern Point to snorkel an arc around the reef where parrotfish, grunts and schools of blue tang will keep you entertained until your skin prunes. Spend the night and book dinner at Cooper Island Beach Club.
The Baths – Head to the Baths on Virgin Gorda Island early in the morning so you can catch a mooring in this national park. Swim to shore and then explore the caves and rock formations. Take a short hike to the Top of the Baths, a restaurant with fabulous views and a freshwater swimming pool to rinse the salt off.
Virgin Gorda North Sound – You can usually find a great beam breeze to sail from the Baths up to the top of Virgin Gorda where you have a choice of places to visit. Check out Saba Rock with its evening tarpon feedings and great dockside dining. Grab a slip at the rebuilt Bitter End Yacht Club or visit the posh Oil Nut Bay with its fabulous Nova restaurant. For Oil Nut, you'll have to navigate a narrow channel around the corner from Saba but here you can stay overnight at a dock and top up with water if you need to.
Anegada Island – The most "remote" of the BVI is Anegada Island that will take you on a lovely beam reach sail from Virgin Gorda as you slip along the eighteen mile-long Horseshoe Reef. There are over 300 known wrecks along this reef so take care to enter only through the well-marked channel. Once inside the lagoon, catch one of the dozens of moorings in front of the Anegada Reef Hotel where you can make a reservation for a lobster feast dinner. Take a taxi past the salt ponds that are home to the island's flamingos and enjoy a beach and bar day at Cow Wreck Beach on the windward side.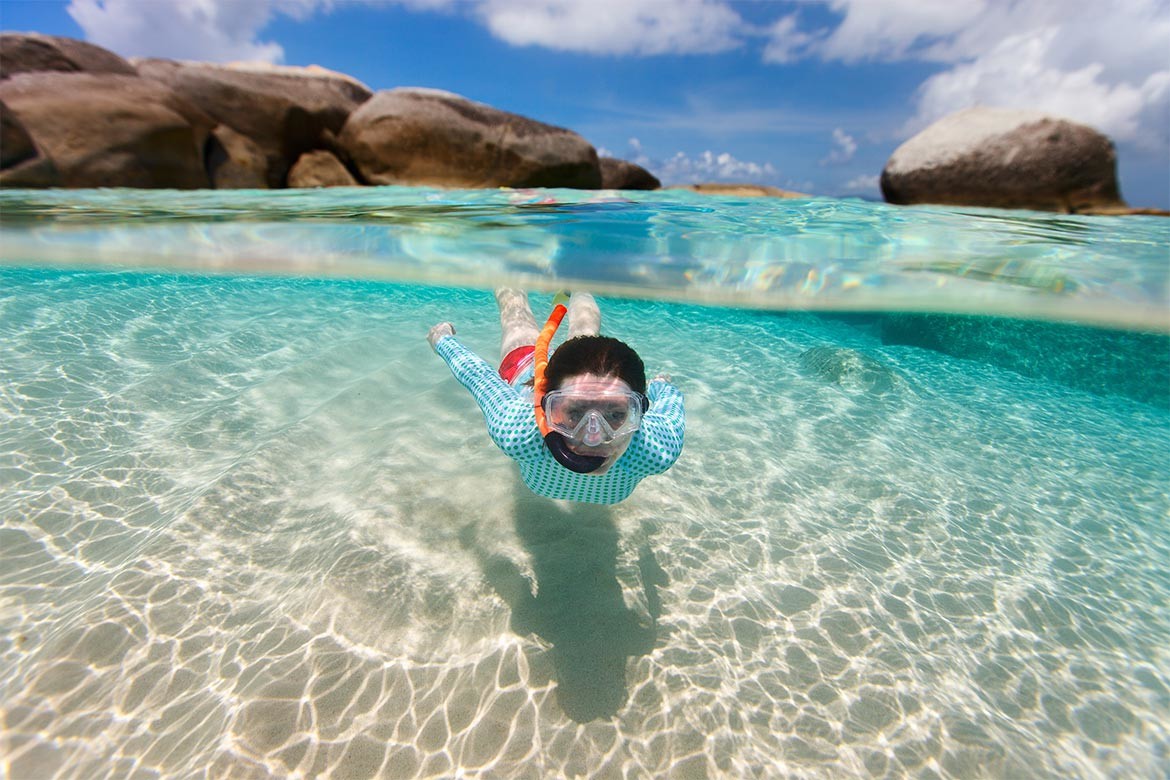 Green Cay and Sandy Spit – From Anegada, set sail on a languid broad reach along the northern side of Tortola. If the sail is brisk and you have time, drop the hook at Green Cay or Sandy Spit, two islets that are right out of Robinson Crusoe. Kayak or dinghy to one of the amazing beaches and feel like a castaway for the day. Then, catch a mooring in front of Foxy's Taboo Bar at Diamond Cay National Park and hike to the Bubbly Pool. Here, waves crash through a narrow rock opening, churning the water in a small pool. It's like swimming in a washing machine and people squeal with delight as wave after wave of white foam come spilling in.
Jost Van Dyke Island – Since you're already at Jost Van Dyke Island, motor around to Great Harbor, the home of the world-famous Foxy's Tamarind Bar and Grill tucked in among sea grapes and palm trees. Sometimes Foxy himself makes an appearance and the Pina Coladas can't be beat. Around the corner in White Bay, you'll find the Soggy Dollar Bar where you can order a Pain Killer cocktail and laze the day away on a white sand beach.
Scrub Island and Trellis Bay – If you have extra time or want to plan your next visit to the BVI, put a couple more destinations on your list. Scrub Island is the home to an upscale resort and marina where you can lounge at one of their pools, cocktail in hand. Or aim for a full moon jump-up party in Trellis Bay on Beef Island where you'll find the Last Resort bar on Bellamy Cay that has been there since the 1950s.
So Much to Do
Short distances for line-of-sight navigation, plenty of entertainment infrastructure like bars, restaurants and shopping, manageable and steady winds, and spectacular scenery combine in the BVI cruising grounds that are great for newbies and old salts alike. If you tell friends you're doing a yacht charter in the Caribbean, the conversation inevitably turns to the BVI and it's no surprise. This island group has more boats, more visitors, more islands and more to do than just about anywhere in the world so pack your bags and remember that one week won't be nearly enough and you'll have to return again and again.