The Ultimate Luxury Crewed Sailing Vacation in Greece
If you are looking to experience the ultimate luxury charter vacation, look no further than Navigare Yachting's luxury crewed charter. Picture yourself cruising the warm Mediterranean seas, basking in absolute freedom and comfort, all while being catered to by a highly professional and service-oriented crew. With Navigare Yachting, your dream of a luxury crewed charter becomes reality.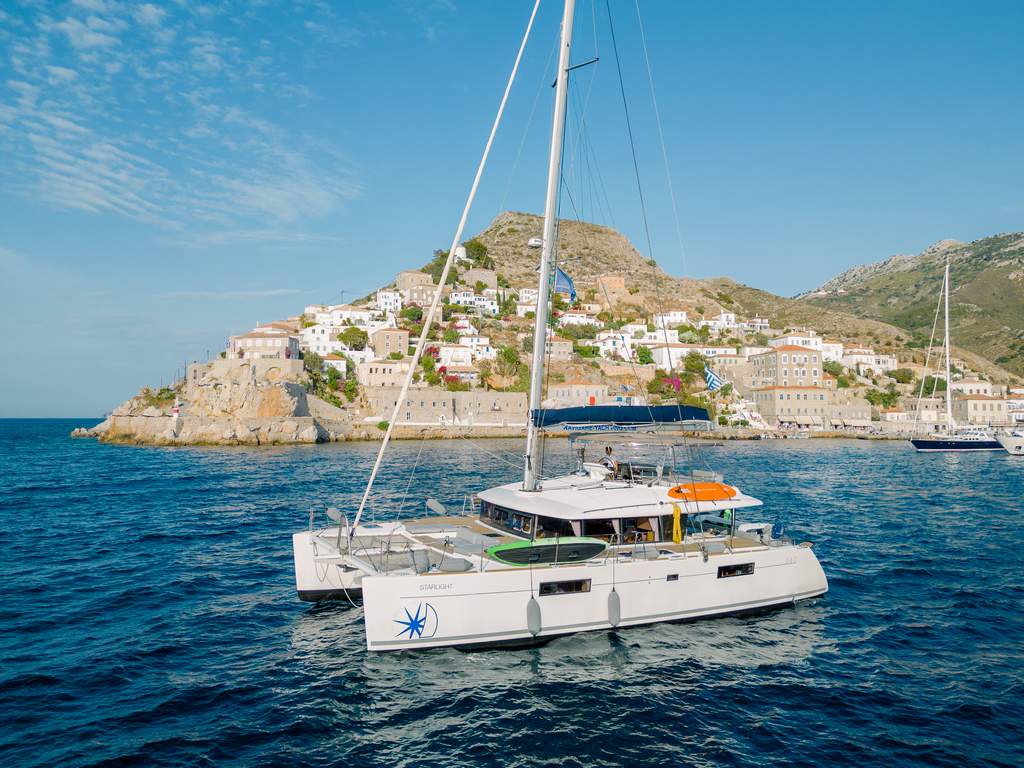 How is it different from a bareboat with a hired crew?
A luxury crewed charter in Greece is the pinnacle of sailing holidays, offering unparalleled lavishness and comfort. When you choose Navigare Yachting's luxury crewed charter, you get an all-inclusive deal that is far more luxurious than the regular charter.
What makes it different from a regular charter is that this offering is all inclusive. No budgeting or tracking your spendings and no need to purchase your provisions and cook your food. It's our equivalent of a luxury cruise. You pay one price and get everything you need. Let go of all worries and immerse yourself in the ultimate freedom to unwind and celebrate your well-deserved holiday.
What makes this offering more exclusive than the regular crewed charter, is that each boat has a full time crew that always work together. They know each other as well as they know the region, setting the stage for top-notch service and local expertise. They are the best guides you could possibly imagine.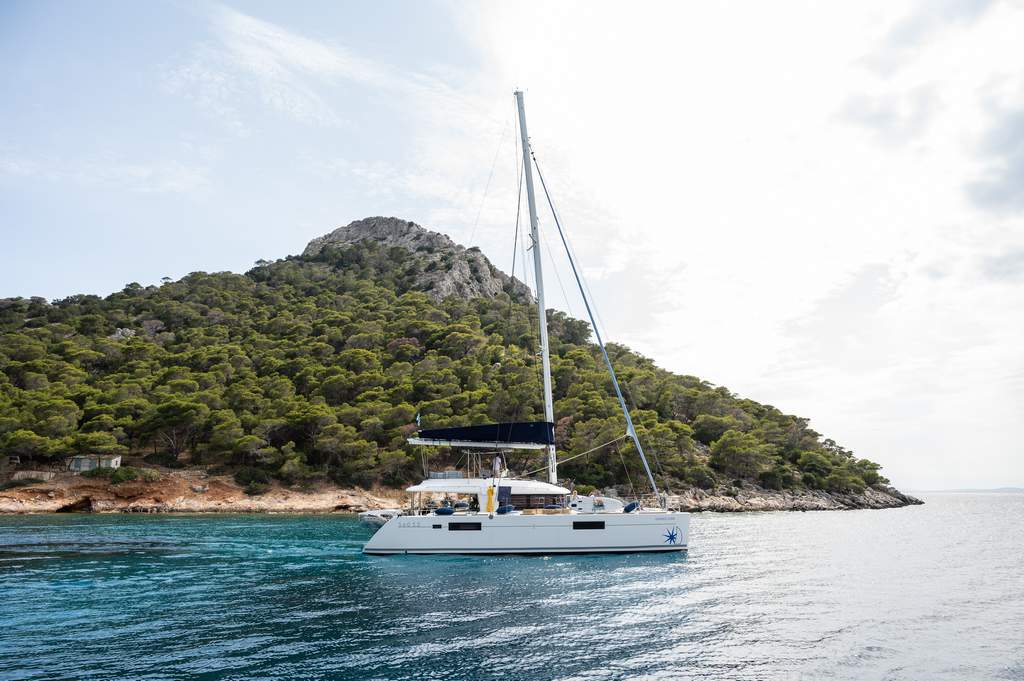 What's included in a luxury crewed charter?
To embark on this luxurious adventure is an easy choice based on all the incredible offerings included in this deal, which you will soon discover. Let's take a look at everything you get when you charter a luxury crewed yacht with Navigare Yachting. Of course, this is all in addition to the priceless memories and the stories you will tell for years to come.
1. The Yacht
Our luxury crewed charters are only offered on some of the largest, most luxurious sailing catamarans in our fleet. In Greece, we currently have three beautiful sailing yachts, Grand Dame, Starlight, and Valinor completely dedicated to this exclusive offering.
Both Grand Dame and Starlight are Lagoon 560 S2 and Valinor is a Lagoon 55, two of Lagoon's largest and most innovative models. At 56 feet (17.07 m) and 54 feet (16.46 m) respectively, these catamarans offer plenty of space to lounge, relax and socialize, and are big enough for a large crew without ever feeling crowded.
Perfectly aligned with the Lagoon brand, both models have elegant and sleek designs that do not compromise with comfort or performance and prove that a boat can truly be like a hotel on the water. Whether you relax on the flybridge, enjoy a breakfast in the cockpit, or socialize in the salon, these boat models are sure to elevate your vacation to new levels of luxury and comfort.
Check out this video of the crewed catamaran, Starlight.
2. Captain
Without the crew, the luxury crewed charter would just be a charter. Our experienced captains possess local knowledge of the best locations to explore as well as extensive sailing skills that come from years of rigorous training and plenty of hours on the water. Relax in the cockpit or on the flybridge and rest assured that your captain will bring you safely to the next stop on your trip without you having to lift a finger.
Our captains will guide you to hidden coves, stunning deserted beaches, extraordinary dive spots, and picturesque villages along the way, each destination handpicked to suit your wishes and preferences. The captain can also serve as your private guide on the trip, giving you the top recommendations that only a local could.
3. Chef
In addition to the captain, the crew also includes a chef who is responsible for preparing delicious meals and keeping the galley clean during your trip. Our chefs go above and beyond to ensure your every need is met. From purchasing provisions to preparing gourmet meals and serving snacks and drinks, the chef will keep everything you require at your fingertips.
The chef on your yacht will prepare breakfast, lunch and snacks every day. Many guests prefer to eat dinner ashore at one of the local restaurants, but the chef can also make a delicious dinner onboard if that's what you and your guests prefer. Either way, you will not be disappointed by the extraordinary culinary experience of Greece.
4. Conveniences
At Navigare Yachting, we make it easy for you to enjoy the best charter experience with minimal effort from you. Just book your trip with one of our charter agents and we take care of the rest.
When you arrive, your yacht will be fully equipped with bed sheets, towels, and safety and sailing equipment. The boat also comes equipped with a dinghy and a fully stocked kitchen that has everything your crew needs to provide excellent service. The crew will buy provisions based on your dietary needs and preferences and load everything onto the boat before your departure. Both the water and fuel tanks will be full when you start, and you will also enjoy free Wi-Fi the whole week. Finally, there is no need to worry about cleaning the boat after your trip, as this service is also included.
5. Insurance and Damage Waiver
As with all of our charters, the luxury crewed charter includes our mandatory insurance package. The Navigare Carefree package includes both the vessel insurance and a damage waiver which guarantees peace of mind for all of our clients. By offering this full coverage insurance we make sure that you as our charter guest will not be liable to pay in case something breaks during your trip.
6. Watersport Equipment
On this luxury charter offering, in addition to all the essentials, the boat will be equipped with watersport equipment for optimal entertainment and fun on the water. In this package, you get snorkeling equipment, a flotation ring with rope, a donut, a kayak, a standup paddle board, a wakeboard, bikes and a GoPro camera, ensuring you will always have something fun to do whenever you are at anchor. With this equipment you will create memories to last a lifetime as you try all the activities the water has to offer or go for a bike ride on the nearby island.
7. Advanced Provisioning Allowance (APA)
The Advanced Provisioning Allowance (APA) is simply an amount of money you pay in advance of your charter week. The APA will cover all of your additional expenses so you can enjoy your vacation without having to budget or track your spendings during your trip.
This amount covers fuel, food, beverages and mooring and docking fees. The captain is responsible for accounting for all of the APA expenses during the trip and will present a breakdown of the costs to the client at the end of the charter. Whatever amount was not used will be refunded back to you. The only cost not accounted for is the dinners you may have in restaurants.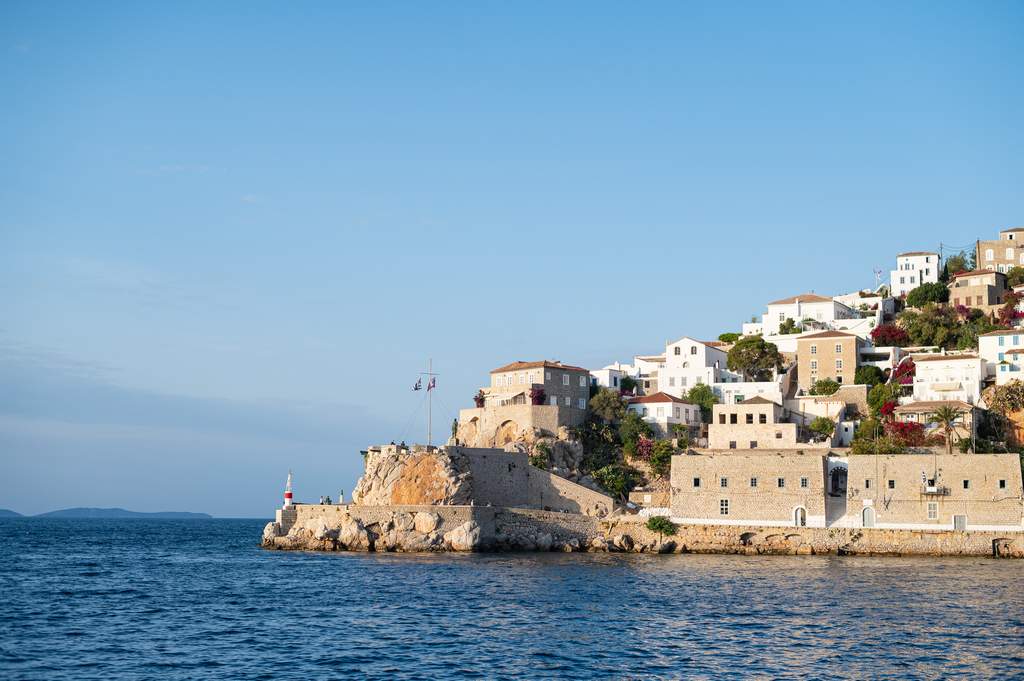 What's a typical day like?
So, what can you expect from your luxury crewed yacht charter with Navigare Yachting in Greece?
Imagine waking up each morning with the soft glow of the sunrise over the horizon, surrounded by breathtaking azure waters just waiting to be explored. Your day begins with a gourmet breakfast prepared by our skilled chef. You savor each delicious bite at your leisure, while every detail of your day is being carefully planned by your crew.
Before you set sail, you might take a refreshing morning dip and bask in the sun on the swimming platform. How you want to spend your time while underway is entirely up to you. You might lounge on the flybridge while enjoying additional snacks and drinks, read a book in the cockpit or simply enjoy the gorgeous scenery.
Inside the yacht, you'll find a light spacious salon and well designed cabins that exude premium comfort, functionality, and convenience. The owner's cabin boasts a separate washroom and direct access to the cockpit, ensuring your privacy and comfort are always prioritized.
Where will your adventures take you today? The options are endless. Discover secluded white sand beaches perfect for leisurely strolls, swimming and sunbathing. Go snorkeling in hidden coves and witness the marine life thriving beneath the surface. Engage in thrilling water sports such as paddle boarding and wakeboarding and try out all the fun equipment available on your boat.
When you're ready to explore the islands, a world of quaint Greek towns and breathtaking nature awaits. Go for a hike and marvel at the beautiful views, explore the mysteries of historic buildings and ancient ruins, or simply take a stroll through the narrow cobblestone streets in one of Greece's many villages. For more inspiration about which places to visit during your charter in Greece, check out this blog post.
As night falls, prepare to indulge in unique epicurean dining experiences. Visit ambient restaurants and savor the flavors of local delicacies, immersing yourself in the world famous culinary scene of Greece. Unwind at seaside cafes, bars, and clubs, where you may mingle with locals or simply enjoy the laid-back ambiance.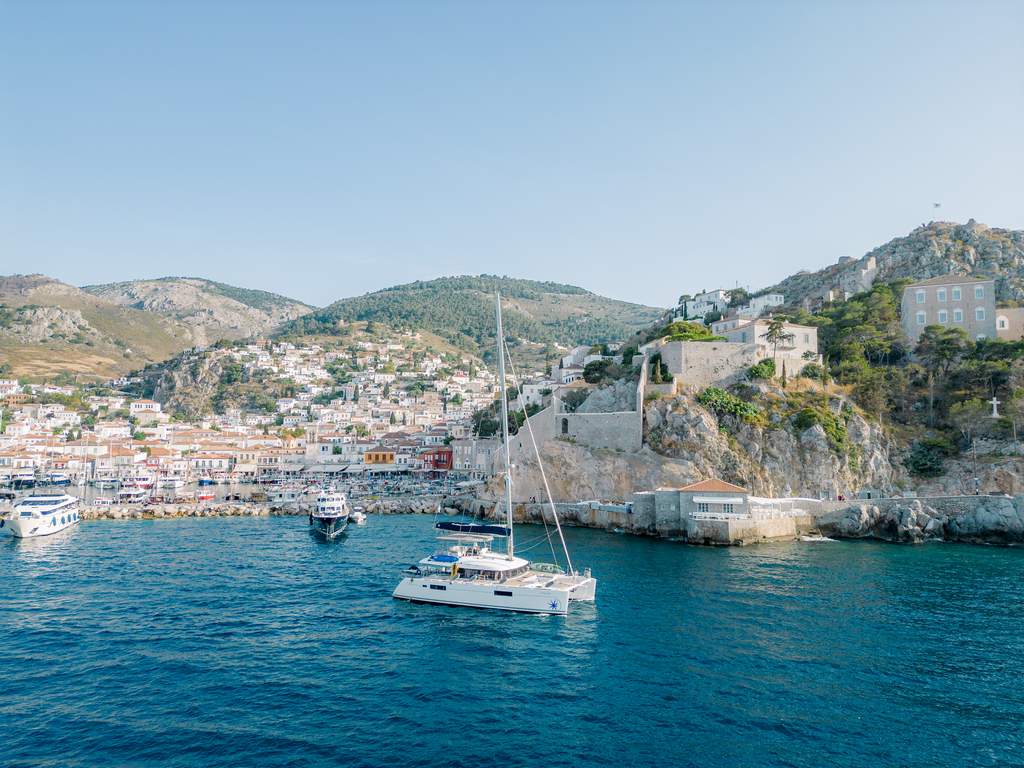 For additional inspiration, check out this sample sailing route in Greece.
Your luxury crewed sailing holiday with Navigare Yachting is entirely customizable, allowing you to shape each day and evening according to your desires.
It's easy, worryfree, luxurious and the vacation of a lifetime. What are you waiting for? Contact us today and book your own luxury crewed charter with us.
Luxury Yacht Ownership Program
Are you looking for a yacht ownership program that gives you the most travel flexibility and allows you to maximize your investment to the fullest? With Navigare Yachting, you have the power to decide how often you explore the world. Our programs come with all of the perks of luxury yacht ownership without the hassle, and allow you to acquire the additional reward of higher revenue the more your yacht is chartered. Discover how you can secure the best return for your yacht investment and get the most out of a flexible sailing schedule.
Since 2001, over 300,000+ charter guests have set sail with Navigare - it's safe to say that your yachting adventure will be in capable hands. With 11 exotic locations worldwide, the possibilities are endless! Whether you're an experienced sailor or a first-time adventurer, Navigare Yachting opens up a world of exploration, discovery, and sailing that comes with complete peace of mind.