CLIMATE
Croatia is a Mediterranean country with mild winters and hot summers, with a sailing season that starts in the second part of March to April and lasts to November – with its peak in July and August. This long sailing season offers different experiences for sailors of all kinds – those experienced will appreciate colder months with stronger winds and more excitement, while those who fancy calm seas will enjoy the summer breeze and slow sailing. September and October are the months for true sunset lovers. The powerful and intense colours of the sun setting into the Adriatic are hard to forget.
FOOD
Fresh seafood, domestic and organic food and vegetables, fresh seasoned salads, and heavenly good wine. Do we need to bring up more arguments? Not only Croatian cuisine is very delicious but it is also heterogeneous due to the variety of ingredients used in different regions, but also due to an influence of the other cultures and cuisines brought here throughout the past. What is an absolute must try is: dalmatian smoked ham called "prosciutto", usually served with cheese as an appetizer, "brudet" – seafood stew traditional fisherman's dish, "black risotto" made of squid – a creamy delight, or for the meat lovers – "pasticada" – long cooked beef meat marinated with herbs.
Did you know? Locals in Dalmatia traditionally drink "bevanda" during lunch. It is a beverage made of home-made vine mixed with non-carbonated water. It is also believed this is beneficial for health in general.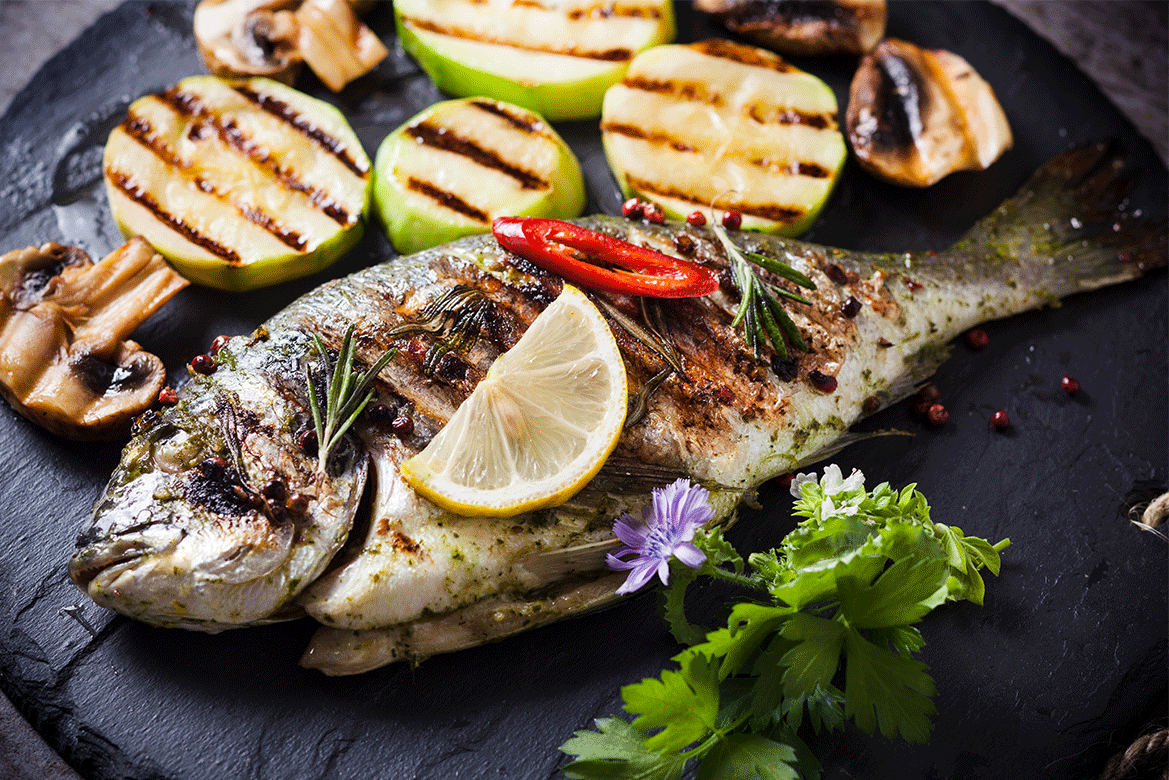 PLACES TO VISIT
About 2000 km of coastline and in some parts, more than 3000 years of history, means almost every village on the coast or at islands has its own story. Did you know? One of the Croatian islands from above looks just like a fingerprint. And exactly the fingerprint was firstly used to solve the crime by Ivan Vucetic – born Croatian, originally from Hvar island. Just nearby Hvar, you can also find the island of Korcula – that is believed was the birthplace of Marco Polo.
Not only Croatia is rich in culture and history, but it also offers quite a lot of natural gems that are worth visiting.
You might say: "Ok, you got me! How and when to go sailing in Croatia?!"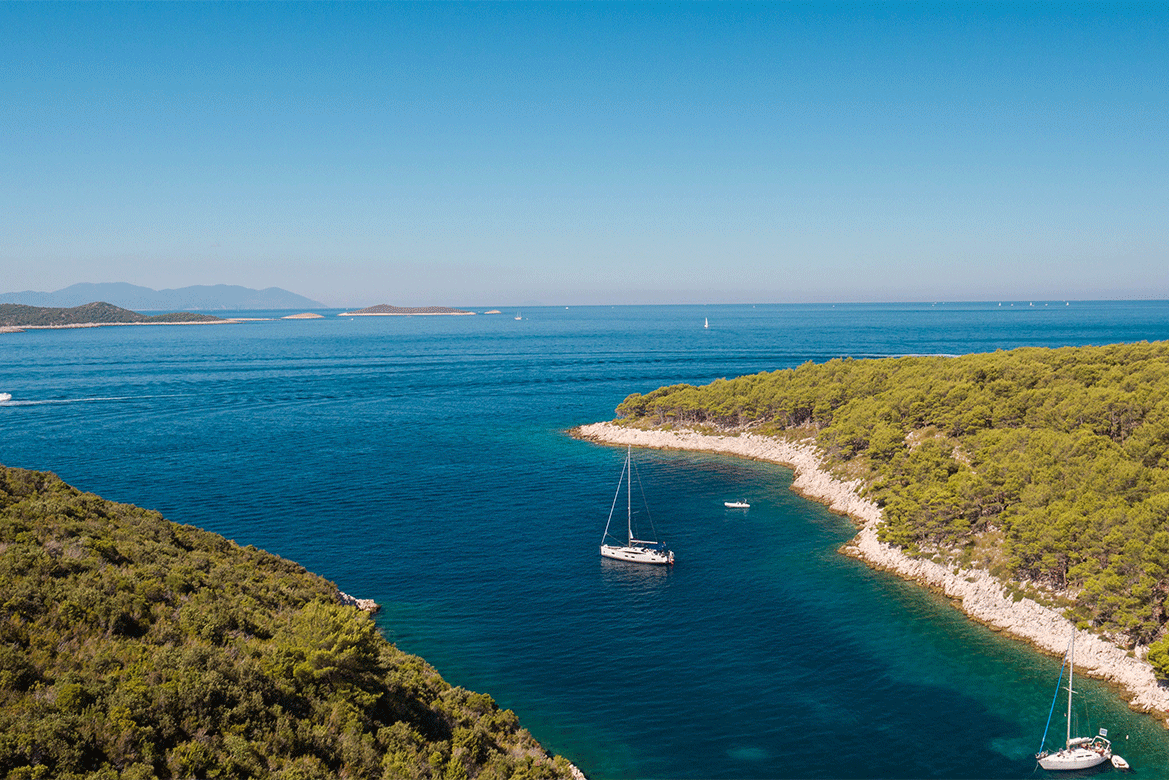 Experience the genuine vibe of the Adriatic islands
If you prefer to have this paradise mostly for yourself and your crew, enjoy it to the fullest, avoid crowds, and have a summer feeling, before the summer starts, then you will most probably be enjoy sailing as early as in March, April and May.
Mild weather conditions combined with possible windy days are perfect for those who are aiming for a variety of sailing experiences during just one trip.
With FLAT prices and special discounts, this is for sure one of the most wanted "city breaks" for all those sailing lovers. And yes, during this time you can book a charter for less than a week.
During this time, you most probably won`t be able to party hard or eat in many restaurants on the islands, but you will for sure have an opportunity to discover and feel the genuine vibe of a local and traditional lifestyle on the islands, and maybe even start some new friendships.
Having a hard time finding a perfect crew?
No problem. You can still enjoy sailing and discover the beauty of one of the sunniest countries in the Mediterranean.
No previous sailing experience is necessary to set sails into historical or gastronomy heritage of Croatia, to let yourself enjoy your one or two week vacation, while experiencing the most interesting parts and meals of the Adriatic, precisely picked and pre-planned by locals, professionally handled by an experienced crew, and approved by many satisfied guests.
You don`t have to book a full boat to sail Croatia, but only a cabin.
Read more here: https://navigare-yachting.com/en/services/cabin-charter/croatia
That "learn how to sail" is for way too long been sitting on your bucket list?
Not anymore! With Navigare Yachting you can learn how to sail while making memories for a lifetime.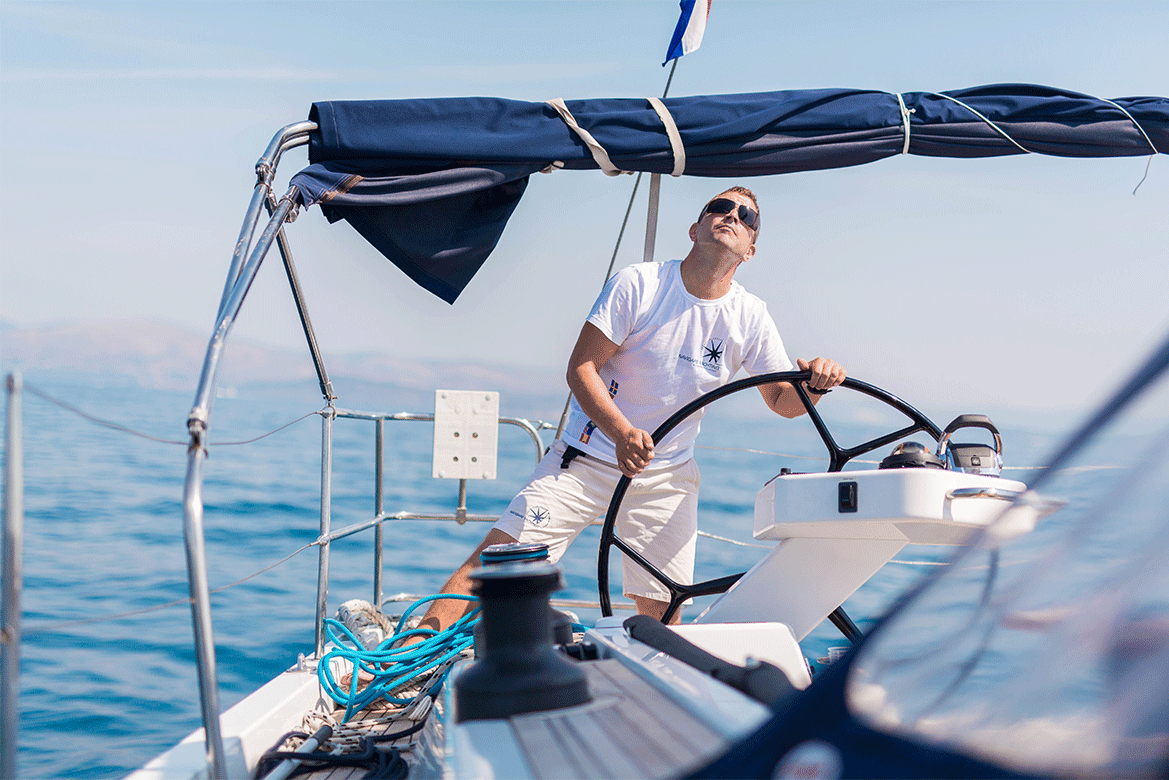 Two weeks course with our highly professional and experienced sailing instructors, who make sure you learn all it is needed while providing you also the practical skills, will lead you to obtain the IYT Bareboat Skipper Certificate that qualifies you for an International Certificate of Competency (ICC), another highly demanded yachting credential.
Next Sailing school is planned in March 2021 and what to expect there you can read here: https://navigare-yachting.com/en/services/sailing-school
All-inclusive sailing vacation in Croatia?
Sounds just amazing, right? Maybe you are among those who prefer to enjoy their vacation to the fullest without feeling any "musts" and "have to". Well, we strongly believe sailing is one of the best ways to just relax, inhale the sea scented air, not thinking about anything – just being. To make this feeling even more profound and your vacations as pleasant as possible we offer:
If you arrive by flight, we will arrange for someone to pick you up at the airport. Check-in to the yacht easily via the Navigare Experience App. The crew will meet you at the yacht as soon as it's ready for departure. Your yacht is stocked with food and drinks and you can now start your holiday, lean back, and enjoy the freedom of being out at sea far away from the crowd, but with a dedicated crew to take care of you and your party on board.
Sample itinerary you can find here: https://navigare-yachting.com/en/services/all-inclusive


Imagine absolute freedom and a luxury vacation experience, sailing the open sea with a crew trained to make this an unforgettable adventure for you!
Tempting? Read more about this kind of vacation: https://navigare-yachting.com/en/services/luxury-crewed-charter
You just need to pick your favorite summer outfits and books, while we take care of the rest.
For your questions and bookings reach us at:
reservations@navigare-yachting.com or +46 40 26 0808 or +01 2331 661
Let`s #experienceTogether!