What Is the Best Yacht Charter Ownership Program? A Comprehensive Guide
If you've ever dreamt of owning a sailing yacht and embarking on life-changing adventures while maximizing your investment, Navigare Yachting's yacht charter ownership programs can turn that dream into a reality.
With several options available, how do you determine the best yacht charter ownership program for your needs? In this guide, we'll explore the key features and benefits of Navigare Yachting's most popular Ultimate ownership program, providing valuable insights to help you make an informed decision and see if this is the right fit for you.
Flexible Investment Program:
Navigare Yachting's Ultimate program provides unparalleled flexibility and empowers you to steer the course of your yacht ownership experience. With this program, you have complete control over how often you explore our 11 destinations and have the potential to maximize your charter revenue with a variable income of up to 12% annually.
This program sends the majority of the revenue to the owner. From this revenue stream, you will pay the maintenance expenses of the yacht. The additional risk allows the program to qualify for US tax advantages and, typically, offers the highest return. With this program, your yacht can quickly turn into a profit-generating asset.
To learn more in-depth about the Ultimate program, check out this webinar.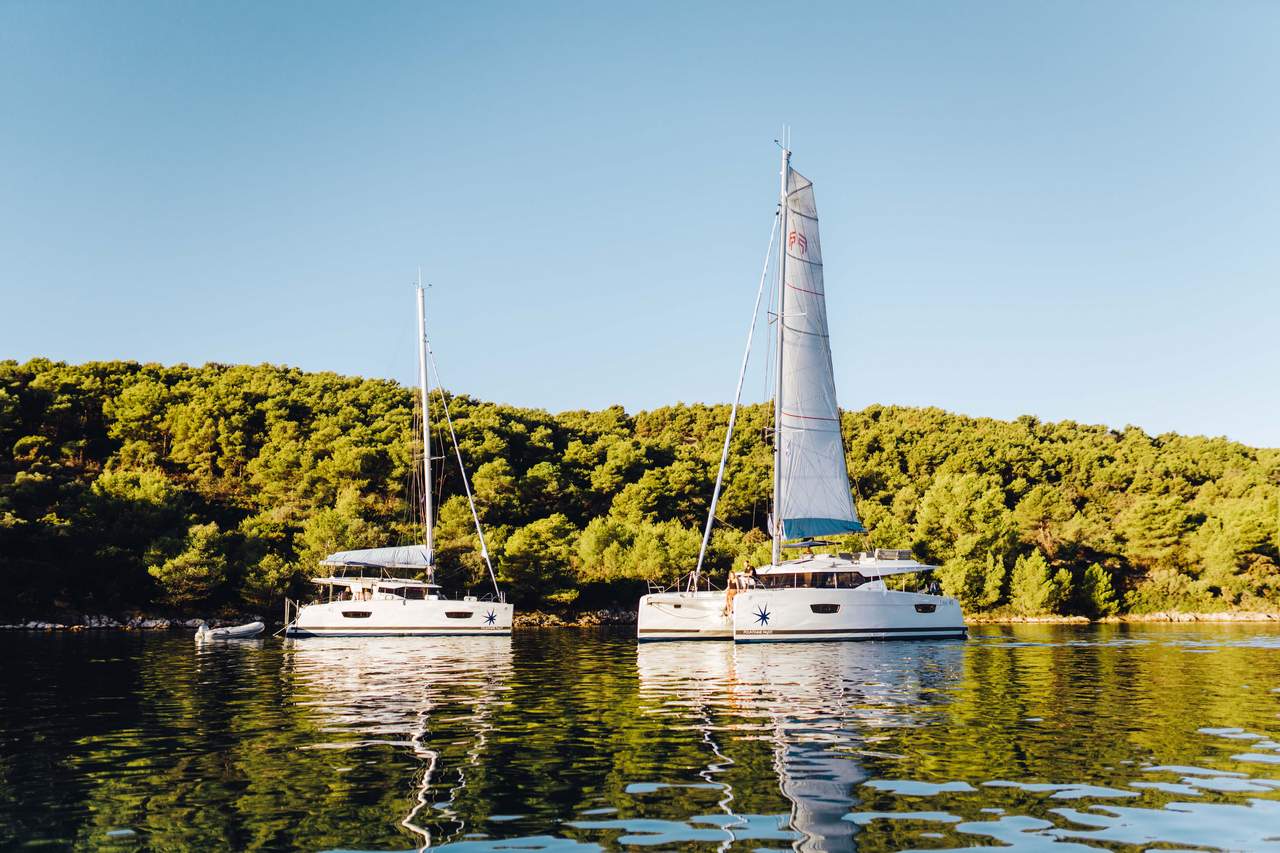 Yacht Ownership Made Easy:
With the Ultimate program, you purchase a new yacht through Navigare Yachting, which is then placed in our charter fleet. In our ownership programs, Navigare takes care of all the logistics associated with maintenance and charter turnover, relieving you of the hassle and saving you both money and time.
Enjoy the privileges of yacht ownership without stress. Leave all the work associated with boat ownership for us. You'll enjoy your boat on your own schedule and let it generate income the rest of the time without having to lift a finger.
Maximize Income Potential:
The Ultimate Program is not our most popular program without reason. One of its most significant advantages is the opportunity to maximize your income. With the Ultimate program, also known as the variable program, you can capitalize on any unused owner weeks by leaving the boat available for charter to increase your earnings. The percentage of income varies depending on factors such as the type of boat you buy, destination choice, and yacht maintenance.
While the Ultimate program has the potential to be the most profitable, if you prefer a higher level of security, you may opt for the Complete or Smart programs instead, which offer a guaranteed income and no maintenance costs or the ability to offset the initial cost of the yacht using charter revenue.

Flexibility to Explore the World:
Imagine indulging in the pleasures of sailing the world as little or as often as you desire. In this investment program, you can use your yacht for up to 12 weeks per year. This opportunity gives you the choice between maximizing your revenue by leaving the yacht available for charter or getting the most out of your investment by sailing more.
All of our ownership programs not only give you access to your own boat but to our entire fleet and all of our 11 destinations. With a steep discount, you can charter any other yacht in the fleet, giving you the exclusive opportunity to explore other parts of the world and other yacht models while your own boat generates income.
The Ultimate program offers a flexible sailing schedule, where you have the ability to reserve the boat last minute if it has not been booked by charter guests. Additionally, you can share your yacht with your loved ones as owner weeks can be used by your direct family members, without extra charge to them.

Expert Guidance and Support:
At Navigare Yachting, our team of experts takes care of yacht maintenance and charter turnovers, ensuring that you can enjoy your yacht stress-free.
We provide professional yacht and charter management services, with a dedicated owner support system. Our owner's concierge will take care of you from the day you enter the fleet to the day you leave it, helping you book your owner's weeks and taking care of any inquiries you might have.
Furthermore, our unique online Service Platform allows you to track all planned and completed services in real-time, keeping a close eye on your vessel at all times.

Holiday Program Rewards:
In our charter fleet, in addition to the sailing time mentioned above, you gain access to our exclusive Holiday Program called Thirdhome. This program allows you to earn points that can be exchanged for unforgettable vacations on land anywhere in the world. Whether you prefer sailing on your own yacht (or another yacht in our fleet) or exploring various worldwide destinations and live in luxury vacation homes, the Ultimate program offers it all.
Thirdhome will take your vacations to the next level, exchanging your week on the water for a luxury ski resort in the Alps, a massive villa in Bali, or a beautiful beach house in Costa Rica while only paying a small cleaning and booking fee. The Holiday program offers thousands of luxury vacation rentals globally and is a truly unique opportunity to get even more out of your yacht ownership.
Carefully Planned Exit Strategy:
When considering a yacht ownership program, it's essential to have a clear exit strategy in mind. Navigare Yachting understands this and offers guidance tailored to your long-term goals and will assist you in making the best decision.
Through our ownership programs, we offer many beneficial exit strategies, whether you want to continue owning boats, take a break from the boating lifestyle, or retire and go cruising.
Thanks to the high market value of our yachts at the end of the charter program, one reasonable option is to simply sell the boat. Trading the vessel in for a new boat is another great option that tailors to those who want to continue living the boating lifestyle within a financially sound framework. Or why not retire on your yacht and sail away into the horizon? Enjoy complete freedom and explore the world.
No matter what you choose, our sales representatives are here to guide you through every step of your exit from the fleet.
All of Navigare Yachting's yacht charter ownership programs provide an exceptional opportunity to own a yacht, maximize your investment, and enjoy unforgettable sailing adventures all at the same time. The Ultimate program has been our most popular historically due to its flexibility, income potential, expert guidance, and access to exclusive benefits. The Ultimate program clearly stands out as an excellent choice for those seeking a financially rewarding yacht ownership program.
Our team of experts is ready to help you embark on a journey of luxury, freedom, and financial rewards, so what are you waiting for? Don't hesitate to get in touch and start your yacht ownership adventure with Navigare Yachting today!