Why Buy a Boat in a Charter Program
There are many questions every yacht buyer should ask as they consider placing their boat in a charter fleet. Shopping for a new boat at the boat show is exciting and fun, but don't skip your due diligence!
If you've fallen in love with sailing, you may be tempted to sail away one day... however there's much to learn, from sail handling to boat systems, navigation, safety at sea, and so much more. Why not accelerate your sailing education by purchasing a monohull or a catamaran – and placing it in the care of a charter operator to help manage it for you?
While buying a new boat and putting into a yacht charter management program isn't for everyone, you'll be surprised to learn how attractive it is -- particularly in destinations with long seasons like the British Virgin Islands and Seychelles.
In all of the Navigare ownership programs, you can sail a generous amount of time each year (on your charter boat and others in our fleet), pack a lot of miles under your belt, and generate income in the process. Boat ownership has never been more affordable.
Charter yacht ownership can offer you lots of perks and is much simpler than you think. To learn if buying a boat in the charter is in your future, start by evaluating the benefits of a charter placement for your new boat.
Extensive Sailing
A charter company like Navigare Yachting provides opportunities for you to sail extensively (up to 12 weeks!) and get paid while you do it (reducing the cost of ownership). Through our Holiday Program, you'll get familiar with lots of cruising grounds in the best sailing destinations in the world!
Turnkey maintenance
Our track record spans 20 years, so we know a thing or two about making sure your charter boat is equipped with the right options, and we even developed our maintenance software to ensure we take care of your boat as if it were our own!
Whoever you buy your charter boat with, ensure your operator-partner has a good reputation for maintaining boats throughout the program duration. So that when your boat is released to you, not only do you receive a maintenance logbook, but you'll also enjoy good residual/resale value. Because of the special attention we bring to care and service, Navigare Yachting is the only operator in the charter industry who can guarantee income on your charter boat for up to 7 years.
Your boat pays for itself
In its guaranteed income program, the Complete program, Navigare offers guaranteed returns with turnkey, zero-cost maintenance. We will help with third-party financing, provide advice on boat selection, and outline the highlights of charter ownership.
If you wish to run an active business, you'll want to explore our tax-advantaged Ultimate program; we can refer you to independent fiduciary advisors who can offer guidance on managing your yacht as a business… and ensure you plan your exit strategy.
More importantly, we will discuss your goals together with you and tailor our yacht ownership program to your needs.
Find a new hobby & make new friends
Finally, chartering is also a great introduction to the lifestyle. You'll meet like-minded people while sailing and, in some cases, even get to know other owners at periodic gatherings.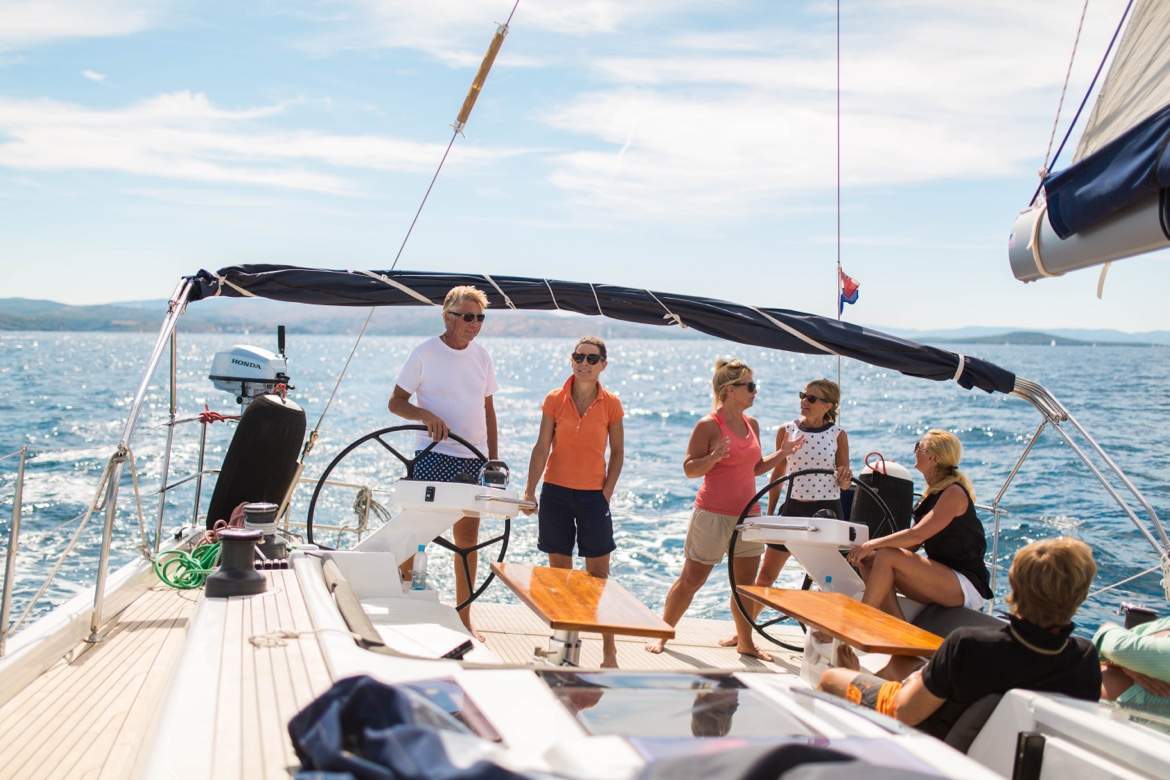 What are you waiting for? Sailing starts now, contact Navigare Yachting to learn more.