10 Reasons to Charter a Sailing Yacht with Navigare Yachting for Your Next Vacation
Ahoy there, fellow travelers! Are you searching for an unforgettable vacation experience that combines the pleasures of sailing with the breathtaking beauty of the world's most stunning destinations? Look no further - chartering a sailing yacht with Navigare Yachting is the perfect way to make memories that last a lifetime.
With over 22 years of experience, we operate one of the largest and best-reviewed charter fleets in the world. Here are ten reasons why you should choose Navigare Yachting for your next sailing adventure:
1. Experience Freedom and Flexibility
With a chartered sailing yacht from Navigare Yachting, you have total control over your itinerary. No more following predetermined routes or touristy group tours - set sail on your schedule and explore the hidden gems of your chosen destination at your own pace. If you charter a bareboat (a yacht without a skipper), you and your group get completely free reins and can go anywhere and stay for as long as your charter period allows. On a crewed yacht, your dedicated skipper and hostess/cook will discuss the itinerary with you and take you safely to any place you desire. The crew are often locals and may even show you some of their favorite spots.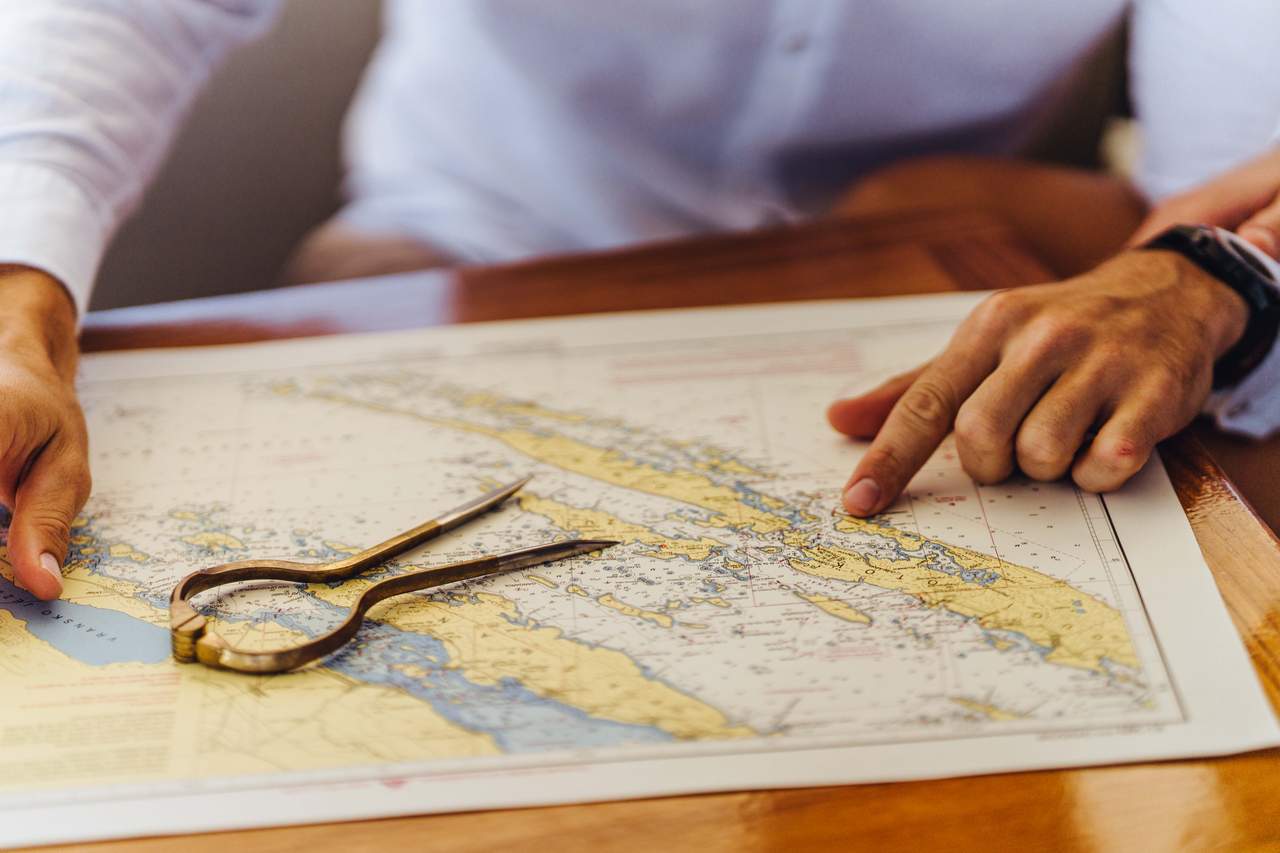 2. Enjoy Privacy and Exclusivity
Unlike crowded cruise ships, a sailing yacht charter with Navigare Yachting offers an intimate and exclusive experience for you and your loved ones. Enjoy the freedom of having your private getaway, far from the crowds and noise of modern life. In a post-Covid society, avoiding huge crowds is a top priority for many travelers, and it's easy on a yacht charter. Of course, this doesn't mean that you will be "stuck at sea" all the time. There will be plenty of opportunities to go ashore and explore towns and local culture as well.
3. Immerse Yourself in Natural Beauty
Navigare Yachting offers charters in some of the most breathtaking destinations in the world. Sail away to remote coves, deserted beaches, and unspoiled nature reserves, completely immersed in the stunning landscapes that abound in your chosen paradise. In the Mediterranean, indulge in the scenic sailing routes of the Adriatic Sea, the Aegean Sea, and the Balearic Islands where secluded beaches meet breathtaking Mediterranean cliffs and clear turquoise water rich with marine life. If a tropical destination falls more in your taste, choose between one of our Caribbean destinations, the Seychelles, or Thailand. Relax on a powdery white beach framed with lush green vegetation or go snorkeling in some of the best diving sites in the world.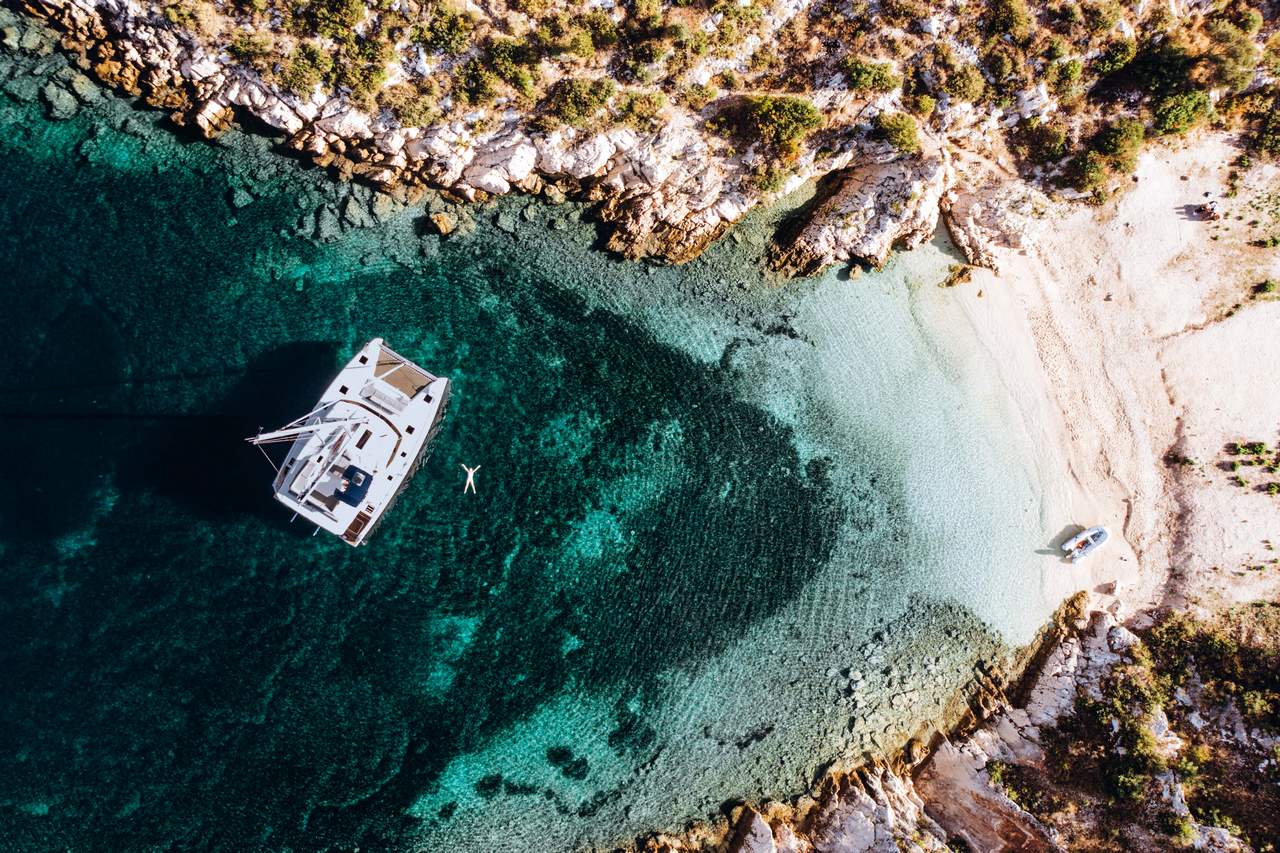 4. Go on an Adventure
With a sailing yacht from Navigare Yachting, you can explore your chosen destination like a true adventurer. Dive into the pristine waters, go snorkeling, or swim with the dolphins. Discover hidden coves and beaches accessible only by boat, and awaken your inner explorer as you soak up the sun and sea. Why not hike through a rainforest or go wreck diving in the Bahamas or the BVI? Observe stunning bioluminescent plankton at night or climb a hill for a fantastic view of the Mediterranean Sea. With our sailing charters, the breathtaking beauty of this world is at your fingertips.

5. Experience Luxurious Comfort
There is nothing more luxurious than vacationing on a yacht. Navigare Yachting offers catamarans and sailing yachts from the world's most renowned shipyards including Lagoon, Fountaine Pajot, Island Spirit, Jeanneau, Beneteau, and Bavaria. Our world-class yachts are kept spotless and in flawless condition throughout their charter life so that our clients can experience maximum comfort. A charter with Navigare is the perfect combination of adventure and luxury. Enjoy the amenities of a world-class hotel, including gourmet meals, spacious bathrooms, deluxe bedding, and spa experiences, all while sailing to a new destination every day.

6. Get Personalized Service
On a crewed yacht charter with Navigare Yachting, the crew is at your service, dedicated to meeting your every need. From expert guidance to intimate dinner parties, your crew is there to make your vacation unforgettable. Whether you choose a skipper, a host, or a cook, our crew is familiar with the areas they work in and can show you some of the best spots you would probably have missed otherwise. They also serve as personal guides as they can teach you about the culture of your destination and perhaps even share in storytelling and entertainment. This above-and-beyond mentality coupled with full commitment to the wellbeing of our guests, ensures our crew consistently provides top-notch personalized service way above your expectations.

7. Relax and Unwind
Escape to a world of peace, relaxation, and tranquility on your sailing yacht from Navigare Yachting. With the gentle rocking of the waves and the melodious sounds of nature around you, find a sense of calm and clarity amid the chaos of modern life. It's the perfect getaway. Indulge in a peaceful morning swim followed by a luxurious breakfast on the deck. Watch a beautiful sunset from the flybridge and fall asleep faster than ever before to the relaxing sound of delicate waves against the hull.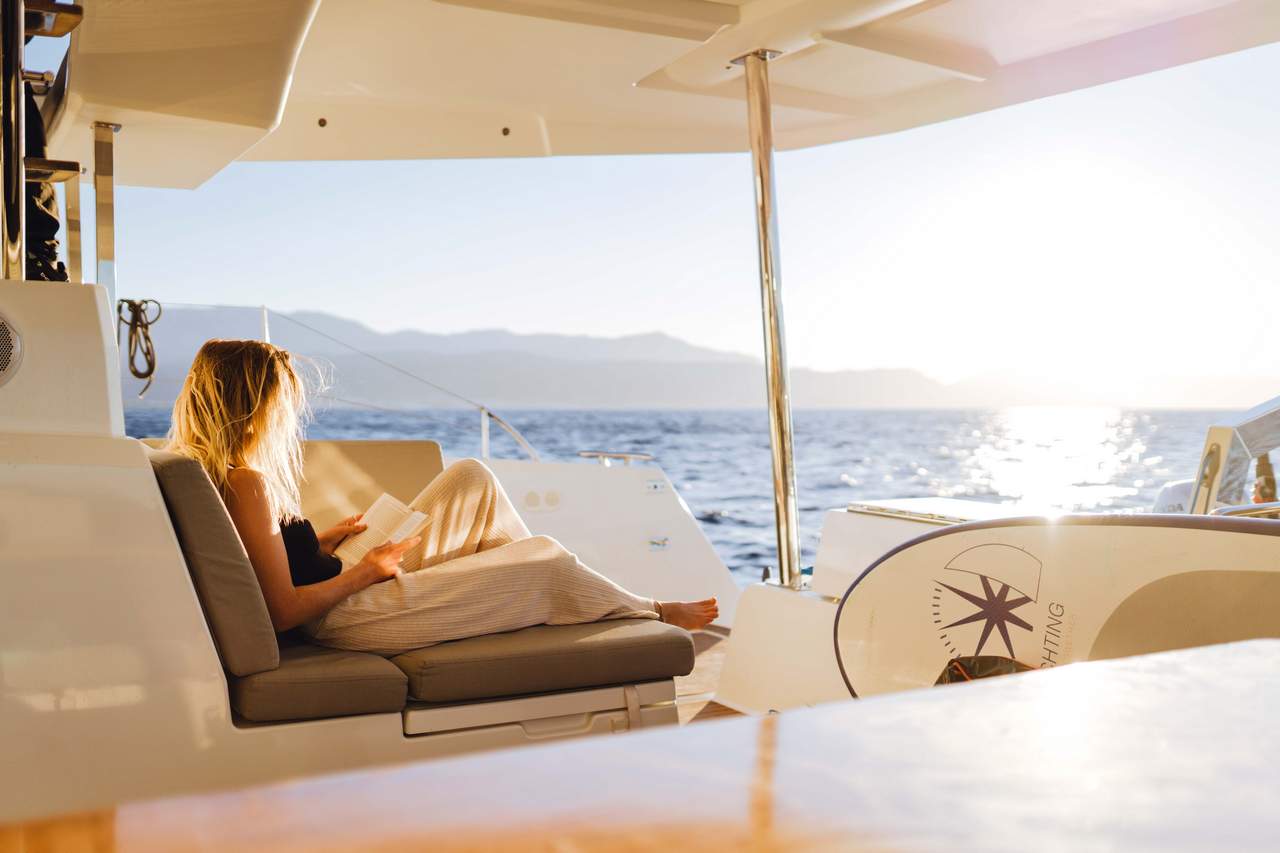 8. Create New Memories
Sailing with Navigare Yachting is a unique and unforgettable experience that you'll treasure forever. Enjoy bonding time with your loved ones and create unforgettable memories that you'll relish for years to come. Our slogan is Experience Together and the concept of creating unforgettable memories with loved ones permeates everything we do. We know the things that matter the most to our clients and that's our beacon of focus in this ever-growing industry.

9. Choose Sustainable Travel
Sailing charters from Navigare Yachting are a great way to explore the world while minimizing your environmental impact. With renewable energy options and an expanding commitment to sustainable practices, our sailing vacations offer a more environmentally responsible way to travel. Because you use the wind to power your vessel forward, sailing is considered one of the most sustainable modes of travel. Many of the newer yachts in our fleet even come with solar panels. Consider additional ways in which you can minimize your impact on the environment during your sailing vacation including sourcing local produce when you get the chance, respecting wildlife habitats, and disposing of waste responsibly.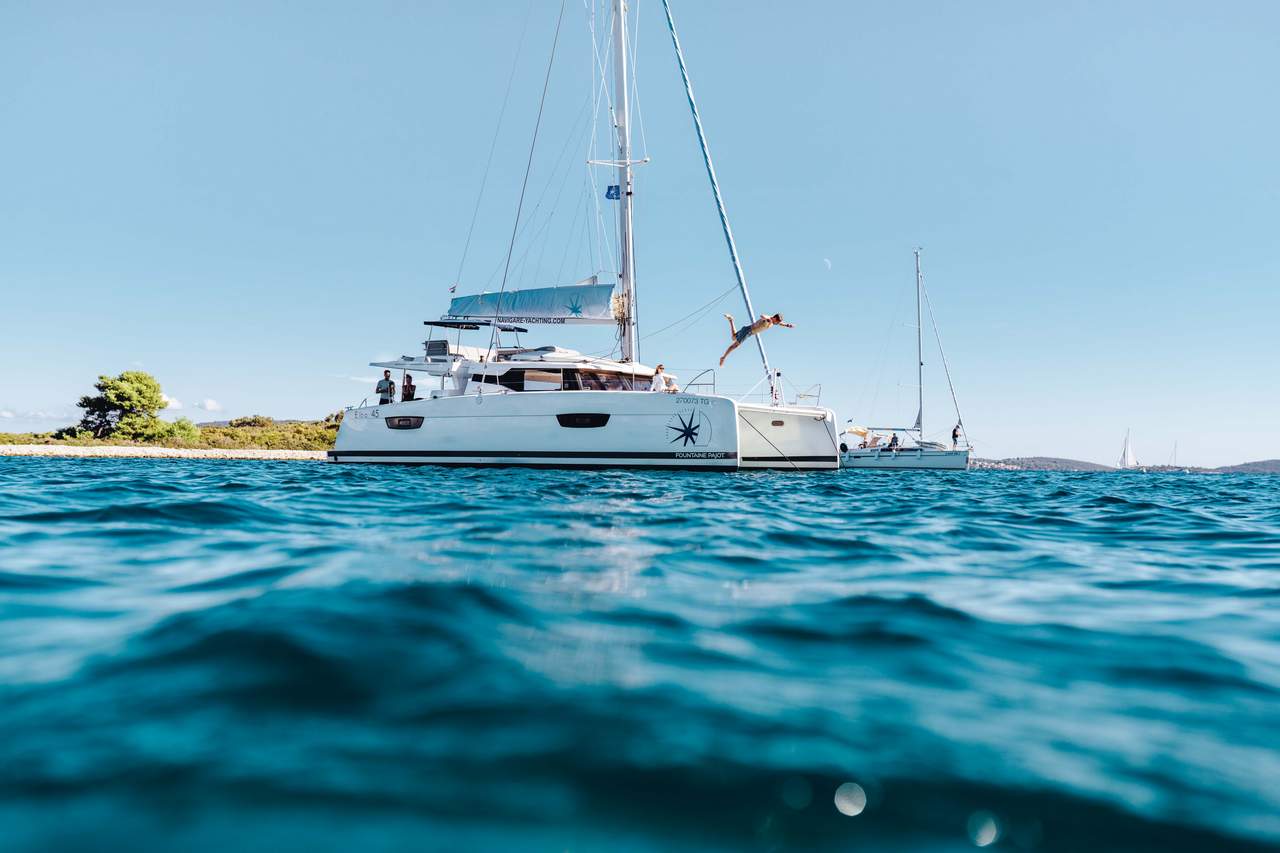 10. Enjoy the Sense of Freedom
Finally, there's no experience like the freedom of setting sail and exploring the open ocean. With the wind in your hair, the sun on your face, and endless possibilities before you, the sense of liberation and joy is unparalleled. Experience a Navigare Yachting sailing charter for yourself and see what we mean or check out what others are saying. Feel free to browse our destinations and available boats, book completely on your own through our online booking platform or get help from one of our knowledgeable charter agents.
A sailing charter with Navigare Yachting truly offers a combination of adventure, relaxation, freedom, and flexibility. It's a vacation experience like none other, suitable for family bonding time as well as get-togethers with friends.
Our fleet is meticulously maintained ensuring that your sailing adventure is safe, comfortable, and hassle-free. Our expert team of yachting specialists is on hand to help you plan your itinerary and make your sailing vacation the best it can be. We look forward to welcoming you aboard!