Electric Catamarans
Pros, cons and a new option on the horizon
Electric boats, and specifically electric catamarans, aren't new but newly-designed and efficient models are making this technology more accessible and more popular every day. Electric catamarans are driven by electric motors which draw on power stored in massive (usually lithium chemistry) battery packs. These batteries are in turn replenished by onboard combustion engine generators, wind generators, solar panels or some combination of all. If it's a sailing cat, regeneration can even come from the free spinning of the propellers while the boat is under sail.
Benefits and Drawbacks
The benefits of electric solar-powered catamarans are many. Electric boats are quieter and run cleaner with reduced or zero emissions. There are no diesel or gasoline fumes and little or no engine vibration. Electric motors require no idle speed so they're more efficient and have torque from the second the shaft is engaged so they tend to accelerate faster than traditional combustion engines. Electric catamarans require no oil changes, less winterization maintenance, and no filter or impeller replacements. They may also have greater resale value. Electric motors are also usually smaller so they take up less space in the hull. (Some of this last benefit is offset by the need for more space for larger battery packs.) Finally, there's no risk of spilling fuel at the pump because electric cats don't go to the pump.
The largest drawbacks have to do with purchase price and range. Electric propulsion can be expensive initially, but the cost of ownership is usually lower over time. The second drawback is range. How far can an electric catamaran travel on a charge and are there available charging stations along the way? Much like with electric cars, range per full charge is usually limited and that's made worse on a boat by a variable sea state. Charging facilities may be limited to marinas and charging can be fairly slow. The key to unlimited range is onboard energy regeneration as described above that can make the boat fully self-sustaining.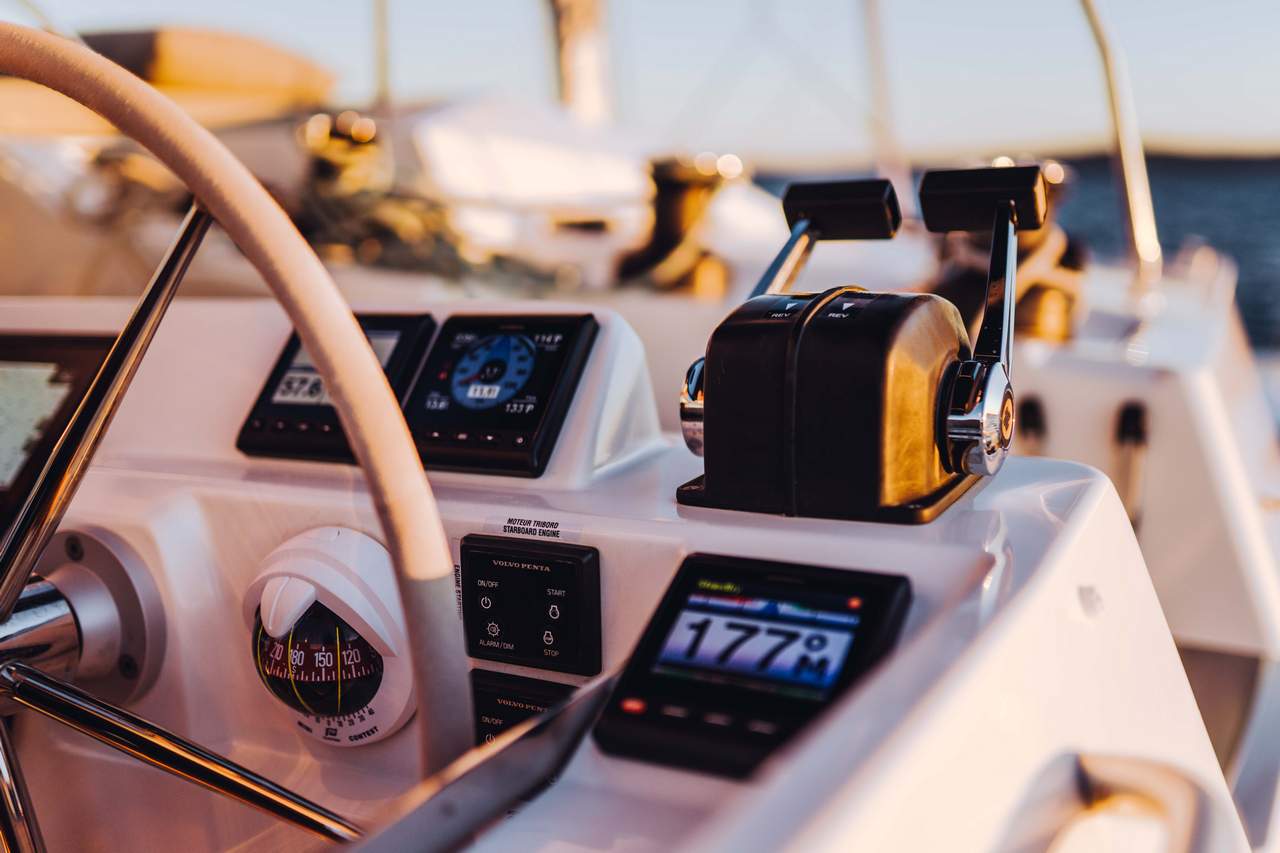 Some Popular Electric Catamarans
Electric and solar-powered catamarans are already plying the waters and some have even crossed oceans with regeneration systems that provide an extended range. One sailing catamaran version is the Polish-built Sunreef 80 Eco that has solar panels embedded into the composite structure of the hulls, coachroof and flybridge top. Another promising model is the Island Spirit 525E sailing cat that will be available to buy in charter as well as for private use via Navigare Yachting in 2023.
A Closer Look at the Island Spirit 525E
Island Spirit Catamarans in Thailand launched their first 38-foot cat a decade ago and has distributed 100 units since. Their commitment to cutting-edge systems has led them to the next anticipated introduction – their first electrified solar sailing cat, the Island Spirit 525E.
The new cat is roughly 52 by 27 feet so it's a substantial platform. Living aboard will happen on three decks – lower (accommodations/cabins), main (salon and forward and aft cockpits) and the flybridge. The boat will be available with twin 57-hp or 80-hp Yanmar diesels with SD60 Saildrive transmissions and a 264-gallon fuel tank. However, this new cat was thought out from the start for electric propulsion so you have a cleaner option. Expect to see an electric drive that uses twin 65kW (approximately 88-hp) electric permanent magnet motors, and a 55kWh main battery generator or "range extender". (The boat is expected to cruise at eight knots using only 37kW of power.) This version will run 24V DC with a 48kWh house battery bank and 210 kWh e-drive storage bank. To keep the batteries topped off, there will be 2000 watts of solar panels on the Bimini top.
Of course, the Island Spirit 525E is primarily a sailing cat with a massive sail area of 1,905 square feet between the mainsail and the easy-to-manage self-tacking jib. The inverted wave piercing bows give her an appearance of speed even at rest, and the construction is a vacuum-infused sandwich cored with closed cell foam (no heavy plywood) that keeps the boat light and able to perform even in low wind speeds.
The IS 525E will be available with 3-6 cabins each en-suite with head and shower. Two optional cabins will be available for crew in the forepeaks and Navigare Yachting expects to offer this boat in both crewed and bareboat charter in its fleet. It is also the appointed distributor for Europe and North America.
Some highlights include a walk-through salon with large windows for an abundance of natural light and large sleeping cabins. The galley is spacious with commodious storage for dishes and provisions and there are options in how the interior furniture is laid out.
A door leads directly from the salon to the forward cockpit with its generous lounge, cocktail table and integrated sun shade. The aft cockpit connects to the salon as well via large glass sliding doors and a window. With the forward door and aft slider open, a fresh breeze cools down the interior quickly even if the boat was closed up for an extended time. The most popular dining place aboard will undoubtedly be on the massive flybridge where wraparound seating and twin tables can accommodate 10 for dinner and the views are unsurpassed.
Also on the flybridge is the helm with a double seat and good access to winches and clutches for line handling. The visibility forward and along the starboard side is excellent. Steps lead down from the helm directly to the starboard deck for a fast transit if the captain needs to help with dock lines.
Overall, the focus of the IS 525 is on guest comfort, privacy, multiple gathering areas and copious storage options.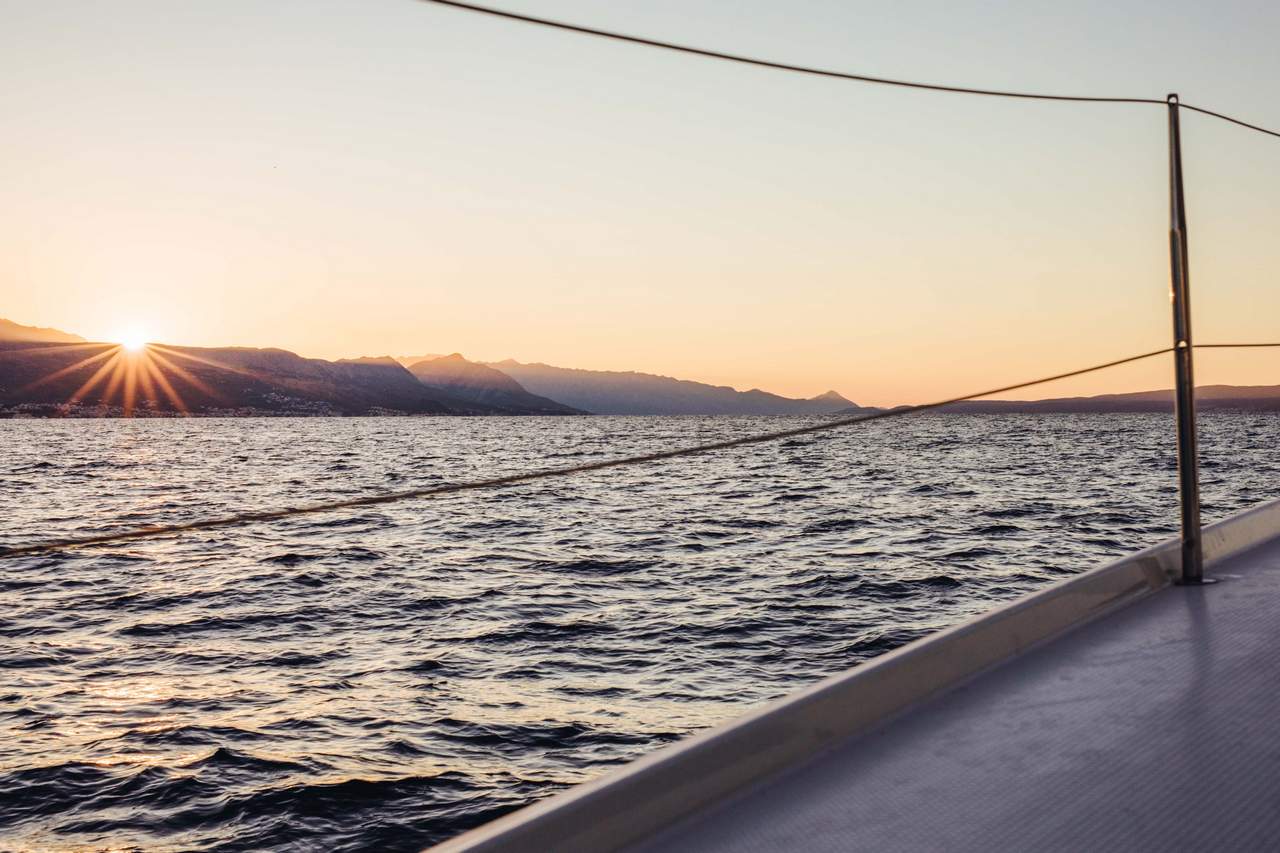 The Future is Electric
Approximately 2% of boats today are powered by electric or hybrid propulsion (a combustion engine generator combined with electric propulsion motors) but this trend is expected to grow by as much as 50% in the next 20 years. The automotive industry is leading the advances, but multiple progressive boat builders like Group Island Spirit are already embracing advanced propulsion technologies with electric motors, superior battery chemistries, and regeneration capabilities that lean heavily on passive technologies like solar to provide a "free" cruise and to help protect the environment.
If you're looking to charter or purchase a solar-powered electric yacht, your options are growing, especially with Navigare Yachting, so take the plunge – the water's great.