3 Reasons to Book Your 2024 Yacht Charter Early
Planning a sailing yacht charter vacation is an exciting endeavor that will undoubtedly lead to unforgettable experiences. Planning well in advance is indeed a wise approach, as it allows you to secure the best options, make cost-effective decisions, and thoroughly research your destination.
While booking well in advance benefits everyone, no matter how many times you've chartered before, if this is your first time chartering, an early booking is especially something you may want to consider.
Let's dive into the top three reasons why booking early is a smart decision.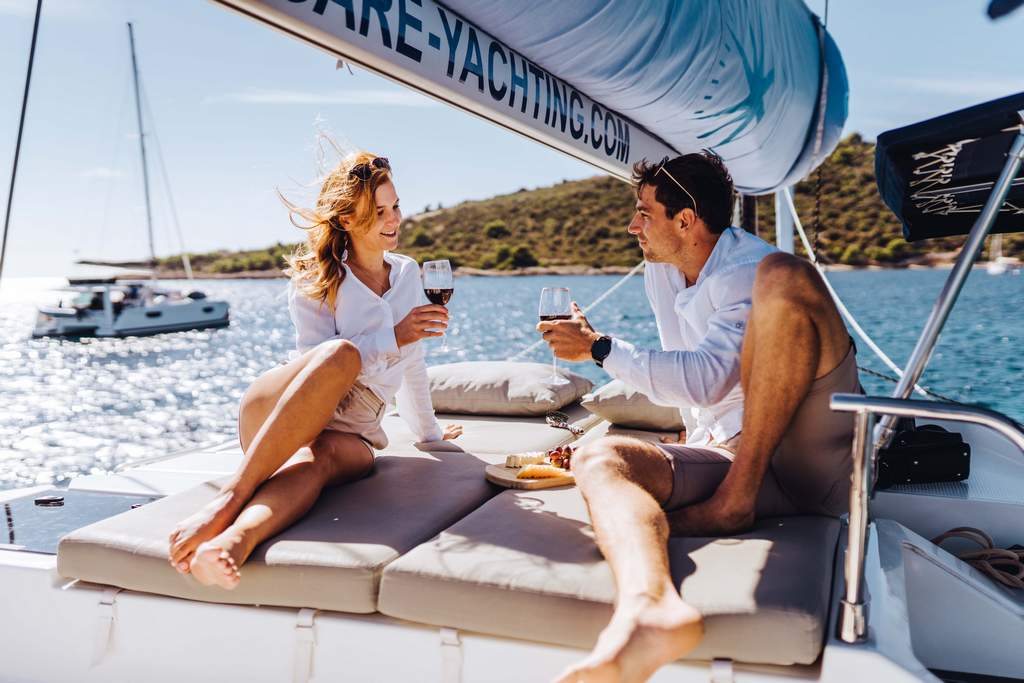 1. More Availability Means Preferred Boat and Dates
When you book your yacht charter far in advance, you get the benefit of more availability in regard to yacht models and sizes, dates, and destinations.
Enjoy the freedom to choose the boat, in your preferred destination, that best fits your group's needs in regards to size, cabin configuration, and budget. Bigger boats are of course more expensive but will accommodate a larger group and provide more space for activities such as dining, entertainment, and lounging. For a smaller party, a 3-4 cabin yacht may be a better option.
Finally, if you plan on sailing the boat yourself, are you comfortable sailing any boat or do you prefer a specific yacht brand, size, and model? (Don't forget that a check-out skipper is always an option if you want help familiarizing yourself with an unfamiliar boat.)
There are many aspects to consider when choosing the right boat for you and your crew, and booking well in advance will increase your chances of finding the boat that checks all the boxes for you. Still unsure of what boat to choose for your charter? Check out this blog article to learn more.
Finally, you may want to consider if there is a specific week you are looking to secure, for example when your kids have a school break or when one of your charter guests has a birthday. Booking early makes securing popular weeks much easier, especially if it's during high season in your preferred destination. Our boats usually sell out during these times.

2. Save Money With Early Booking Deals
Booking your sailing charter months ahead of time is also smart from an economical perspective. An early booking will increase your potential to save big on both flight tickets and the boat itself.
It is likely that you will need to travel by airplane to get to your chosen destination, and it's not a secret that airline tickets tend to be much cheaper when you book early since demand is lower.
Not only can you save on airfare, but boat charter companies also often encourage early bookings (hint: Navigare Yachting is no different), which means you are likely to save on the boat as well. Booking early, therefore, means double the savings!
At Navigare Yachting, we are excited to share that you currently get 20% off the boat on all 2024 bookings! It's a limited-time offer valid only through September 2023, so don't delay and book your 2024 charter right now to reap the reward of this amazing promotion. Check out available boats in 2024 in our award-winning destinations in the Caribbean and the Mediterranean.
3. Research Your Destination For Ideal Travel Seasons
Let's not undermine the importance of researching your destination, especially for a sailing trip. If you have ever planned a trip before, you know how time-consuming it can be, so starting early is a good idea.
You will need ample time to research aspects of the destination like seasonal weather, sailing conditions, places to visit, and culture. Doing research in advance on these topics will help you pack more efficiently, make potential crew arrangements and other necessary preparations in advance, and plan your sailing route thoroughly to make your yacht charter smooth sailing from start to finish!
If you plan on having crew members onboard, some research on cultural practices in your destination can provide insight into gratuity etiquette. For more information on this topic, here is an article that might be helpful.
Before your charter, you may also wish to research weather conditions in your chosen destination, especially if you plan on sailing the boat yourself. Some research on this topic will also give a clue as to how to pack for your sailing vacation.
Of course, our charter specialists are ready to assist you with all things relating to your charter and stand ready to answer any questions about your destination of choice relating to weather, sailing conditions, cultural practices, what to pack, and much more. Reach out to us anytime through our live chat or give us a call at (800) 807-1562.
While booking last minute might seem convenient sometimes (and that also has its pros and cons), when you book your charter early, your chances of securing your dream boat in your dream destination, for the dates you want, increase significantly. You also have the chance to cut down on the cost of both flight and boat while allowing yourself ample time to research your destination and plan for your charter adventure.
If you haven't booked your 2024 charter yet, we highly recommend booking it well in advance, and with the incredible 20% off promotion we currently have, there has never been a better time!
Since 2001, over 300,000+ charter guests have set sail with Navigare - it's safe to say that your yachting adventure will be in capable hands. With 11 exotic locations worldwide, the possibilities are endless! Whether you're an experienced sailor or a first-time adventurer, Navigare Yachting opens up a world of exploration, discovery, and sailing that comes with complete peace of mind.