Budget-Friendly Yacht Charter: Cost Breakdowns and Insider Tips

Is it truly possible to go on a yacht charter vacation when you're on a budget? The answer is, yes, of course, it's 100% possible if you know a few insider secrets! In this article, we'll show you exactly how budget-friendly a yacht charter can be. Depending on which boat you choose, it can even be a lot cheaper than a cruise ticket!
We understand that the words "yacht charter" can deter people who don't have thousands of dollars to spend per person on a vacation – which is most people! Luckily, your pocket does not need to be as deep as you think! You and your friends, or a group of family members, can charter a yacht in the Caribbean paradise this winter to make unforgettable memories this holiday travel season.
Skip the cruises, resorts, and hotels this year! Instead, opt for an exclusive, luxuriously intimate getaway in the award-winning British Virgin Islands. Experiencing the BVI with Navigare Yachting means you can expect a winter vacation that combines island hopping, itinerary freedom, exclusive off-the-beaten-path exploration, fun in the warm sun, and pure sailing bliss. You deserve a chance at deep relaxation and creating memories that last a lifetime, all while spending less money than you would on a traditional Caribbean cruise.
Below you'll find a breakdown of the numbers, so hopefully, we've laid it out so that you can make the best decision based on budget and other preferences. Keep in mind that you pay per day when you charter a boat, so decreasing the number of days will inevitably decrease the price (just like a hotel stay). For simplicity, we have chosen to present numbers that reflect a charter duration of 7 days. All the boats listed below are currently available for the mentioned departure dates, but with our 30% discount, they sell out quickly, so we encourage you not to delay. Let's take a look!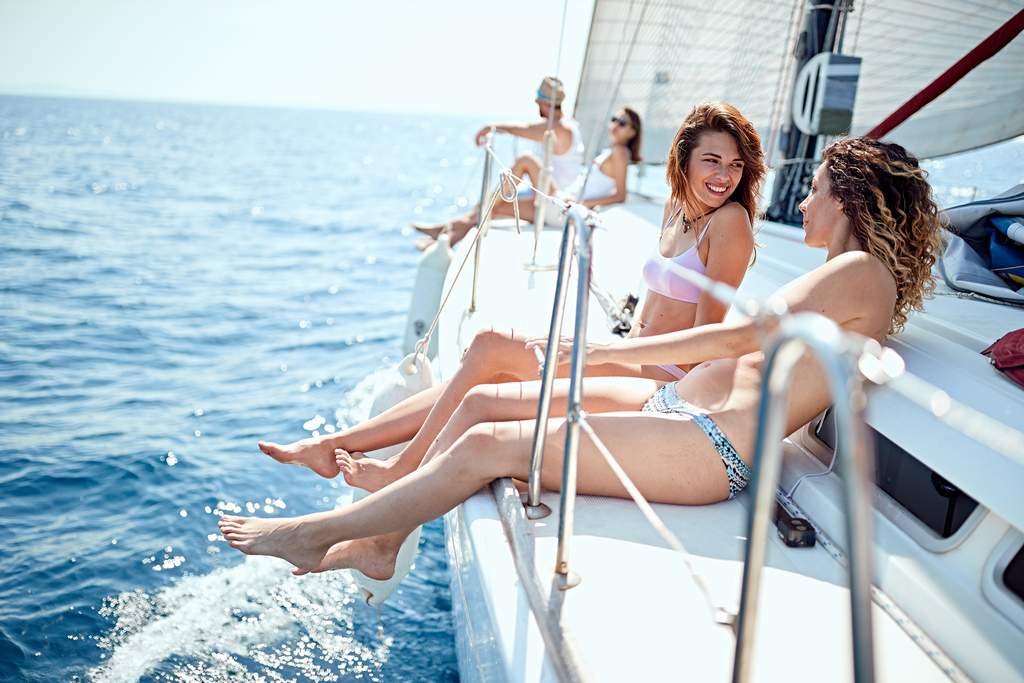 Yacht Charter Example #1 - Monohull Sailing
For one of our most budget-friendly alternatives, you can charter a Sun Loft 47, a 47-foot sailing monohull from 2020, for only $2,850 (with the added discount of 30%, which applies to all departures through Feb 2024 in the BVI) for a week during high-season in December.
This yacht has six luxurious cabins with beds to accommodate 12 people. If there are 12 people to share the cost of the boat, you only pay $238 per person to charter the boat for one week.
Let's say you want to add a skipper to the booking (which is required unless one of your guests has adequate sailing experience to handle the boat on their own), that would be an additional cost of $2,535.75 for a week, and you will land at only $449 per person.


Yacht Charter Example #2 - Catamaran Sailing
This 45-foot catamaran from 2019 charters for $5,635 the second week of December with a 30% discount applied. You can sleep 8 people on this yacht, so the charter cost split on 8 people is $704 per person.
If you add a captain, at the flat rate mentioned in the previous example, you would pay $1,021 per person for this skippered 4-cabin catamaran.
For an even more budget-friendly setup, you can let an additional two people sleep on the convertible bed sofa in the salon and split the cost between 10 people instead of 8. This setup works as long as the "salon-sleepers" are comfortable sharing a bathroom with other guests. With a captain onboard, you would then pay $817 per person.


Yacht Charter Example #3 - Caribbean Christmas
Lagoon 450 F, 2018, "Judge's Chamber"
Perhaps you wish to sail in the British Virgin Islands for a week over Christmas which is the peak season for sailing in that region, with gorgeous weather and warm temperatures. It's a soul-warming way to celebrate the holidays with your loved ones. Though it is the most expensive week of the year, and most of our boats are already booked up, we still have some available boats left that won't break the bank. For example, you can charter a Lagoon 450 F, a catamaran from 2018, for $7,812 with the applied 30% discount.
The yacht has 4 cabins, each accommodating 2 people. The cost of the boat split on 8 people is $977 per person. With a captain, it is $1,293 per person.
If you choose, just like in the previous example, you can let two people sleep on the convertible bed in the salon. In this scenario, you would end up paying $1,035 per person for the Christmas week with a captain.


Yacht Charter Example #4 - Bigger & Newer Yacht
Bali 5.4, 2023, "Ne Plus Ultra"
If you are looking for a more luxurious yachting vacation that is still reasonably affordable, you could pick a Bali 5.4 from 2023. It's one of the latest, most innovative Bali catamaran models, with a design and layout that harmoniously combines comfort with performance and style, and guarantees an incredibly luxurious sailing experience. At 54 feet, the spacious catamaran comfortably sleeps 12 people.
To charter this spacious yacht for a week in the peak season of December (with the 30% discount) is $14,796. Split on 12, it's $1,233 per person.
This yacht has a legal maximum capacity of 12 people which means that if you hire a captain, you can't have more than 11 guests onboard. If you split the total cost on 11 people, including the cost of the captain, you end up at $1,576 per person.
Choosing a larger yacht is not necessarily more expensive since they accommodate larger groups and the cost can be split between many people. Which option is better comes down to the size of your party of course and simply your preference.


Additional Costs to Plan Into Your Budget
Carefree Sailing: In addition to the yacht itself, there is an obligatory fee that every charter guest needs to pay that you'll see included in the final pricing. Our mandatory Navigare Carefree Sailing package includes yacht insurance and a damage waiver. It also includes extra products and services such as final cleaning, bed sheets, towels, wi-fi, full fuel tanks and water tanks, dinghy, dinghy fuel, cooking gas, and snorkeling gear. Our insurance package, as you can see, is about much more than insurance, it's about ensuring you have the best experience aboard our yachts. It's truly designed to provide a fully carefree sailing experience, with a damage waiver that guarantees peace of mind and does not require a security deposit like most other companies.
The Carefree Sailing package is a flat rate for bookings of up to 13 days. If you charter for two or more weeks, a surcharge applies. The rate of the package varies depending on boat size and production year but typically ranges between $700-1,000 in the Caribbean. (If you are sailing in the BVI, you will also need to pay a cruising tax which is USD 4 per person per day. This fee is not included in the Carefree Sailing package.)
Fuel Costs: Before handing the boat over at the end of your trip, you need to fill up the fuel tanks. Fuel rates fluctuate with the market, but you can expect to pay between $5-7 per gallon in the BVI.
Provisioning Costs: Provisioning is another cost to consider, but buying groceries is obviously less expensive than eating in restaurants, so you may even find that you spend less money on food on a yacht charter compared to other types of vacations.
As a final note on budgets and costs, it is worth mentioning that the yacht prices change with the seasons. If a budget-friendly charter is what you are looking for, you may find that it makes more sense to travel during the shoulder or low season. All of the above examples are based on prices in high/peak season. However, with our incredible Caribbean deals on all departures through February 2024, those prices are much lower than normal. That's why we encourage you to take advantage of this extraordinary opportunity while you have the chance, and while yachts are still available.
As you can see, chartering a yacht doesn't have to be more expensive than a mainstream cruise ship vacation, or even staying at an upscale hotel or in a resort. It's a luxurious and exclusive vacation that comes with countless benefits, but most importantly, it's truly an unforgettable life experience you can't get anywhere else, or in any other way. Simply put, a yacht charter gives you more value and pure sailing bliss for your money compared to other vacations!
Since 2001, over 300,000+ charter guests have set sail with Navigare - it's safe to say that your yachting adventure will be in capable hands. With 11 exotic locations worldwide, the possibilities are endless! Whether you're an experienced sailor or a first-time adventurer, Navigare Yachting opens up a world of exploration, discovery, and sailing that comes with complete peace of mind.