Lagoon 46 vs Bali 4.6: Which is better to own or sail in the charter?
So, you're thinking of chartering a catamaran or even buying one and putting it in a charter program? As you may know, the sweet spot for family catamarans in the charter is between 44 and 52 feet -- this is where bareboat catamarans offer the best accommodations for charter guests and generate the most revenue for the yacht owner.
Perhaps you've narrowed it down to two models, the Lagoon 46 and the Bali 4.6, both of which are available through Navigare Yachting. So, which is better?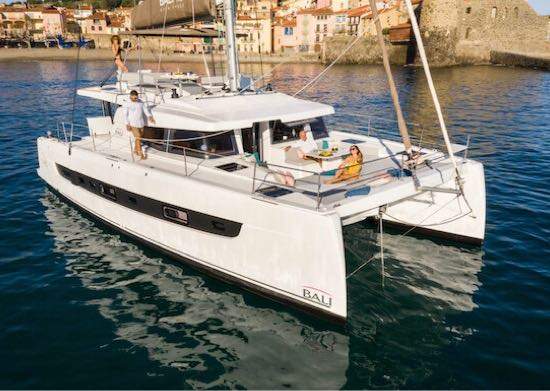 Tech Specs
Let's begin by comparing the specs and technical features. First, let's clarify that the specifics of length overall (LOA), draft, and beam often appear in brochures and on websites differently for each model and they seldom agree. That said, it's usually a matter of inches so it's a moot point.
The Lagoon 46 is 45' 11" LOA with a beam of 26' 10" and a draft of 4' 5" while the Bali 4.6 is 46' 9" LOA with a beam of 25' 1" and a draft of 4'. Lagoon's extra beam may translate to slightly more room on deck and below while Bali's marginally shallower draft may allow you to sail a little closer to the beach. Light displacement figures show the Lagoon is a little heavier at 15.7 tons vs Bali's 13.6. That's not insignificant since keeping weight down on a catamaran is critical but once you load up both models with equipment and full tanks, the differences will be fairly negligible.
The sail area and sail plan of both models are comparable: Lagoon offers 1,323 square feet of total upwind sail area while Bali has 1,311. Both offer square top mainsails to catch the last bit of wind up high and self-tacking jibs for easy short-handed sailing. Lagoon's optional Code 0 is a bit bigger than Bali's for faster downwind sailing.
Both models offer standard and upgraded (more powerful) engine packages and as luck would have it, they're identical. Both brands offer Yanmar diesel with 45- or 57-hp models. Tankage differs slightly. The Bali offers 210 gallons of fresh water and 210 of diesel while Lagoon carries 137 gallons of fuel and 158 gallons of water. For charter or coastal cruising, fuel won't be an issue, but water is always precious, so Bali has a slight edge here, especially with new boaters who like long showers.
On deck
A tour on deck does show some differences. The Lagoon 46 features low transom steps that are easy to ascend to the cockpit and engine room compartment hatches that open aft so they're safer to access underway. Meanwhile, Bali has a slim deck behind the transom so once the dinghy is launched, you can traverse from port to starboard and back without stepping into the cockpit which is a nice additional feature. Lagoon's side decks have flush hatches while Bali's decks are mostly devoid of hatches which means you don't have to step on or over them but there will be less airflow below and guests will be more reliant on air conditioning.
The foredeck and cockpit are where the real differences lie. The lagoon offers two traditional net trampolines forward. This keeps the weight low(er) and makes a great place to lounge on a lazy downwind sail while watching the hulls part the water. Bali has a solid foredeck that is topped with cushions forming a giant sunbed. It makes the model heavier forward, but it also offers better footing when catching a mooring or working with the windlass.
Both models have forward seating areas. In Bali, the lounge is well defined with a large table and a door that leads inside. This door not only brings in lots of fresh air at anchor but also changes the traffic patterns aboard. The Lagoon has a smaller lounge and a forward window that slides up/down to bring in some air and also offers a way to hand food and drinks to those relaxing upfront.
Aft is another stark difference. The Lagoon has a traditional outdoor cockpit (shown left, below). It's large and has a wet bar with a sink and small fridge, a transom seat, and a side lounge. This is in addition to a separate interior salon settee. Meanwhile, Bali pioneered the indoor/outdoor approach (shown right, below) with only one seating area where the entire aft bulkhead lifts electrically like a garage door. Also, large side windows open to help bring the outdoors in.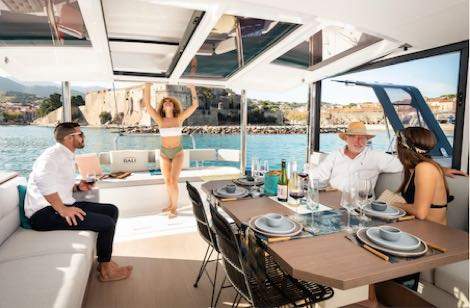 Some people love doubling up the space and having only one dedicated dinette while others like a separate cockpit that is truly outdoors and that's where Lagoon shines.
Flybridge and helm station
Both the Lagoon and the Bali are flybridge models meaning that there's a steering station and extra lounge space up top. The Lagoon offers a way to ascend to the deck right from the cockpit and then up to the flybridge. (There's a seat on the port side that slides forward to reveal steps.) You can also go aft via the cockpit and up a set of starboard steps. On the Bali, you must come up from the aft end and up steps on either side. Neither is better, they're just different.
Bali's helm station is offset to port while Lagoon's wheel is on the centerline. On both models, you can see well forward but just about nothing aft since the respective hard Biminis obscure visibility to either transom and you'll need crew to guide you when backing into a slip. Bali's arrangement does offer better visibility down the port side where the sightlines are good when tying up the port to.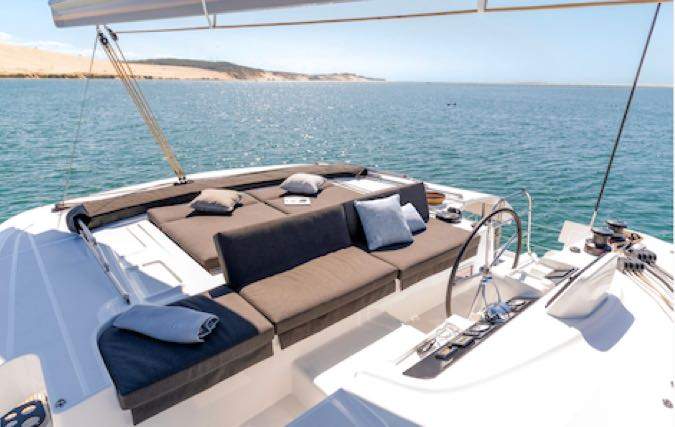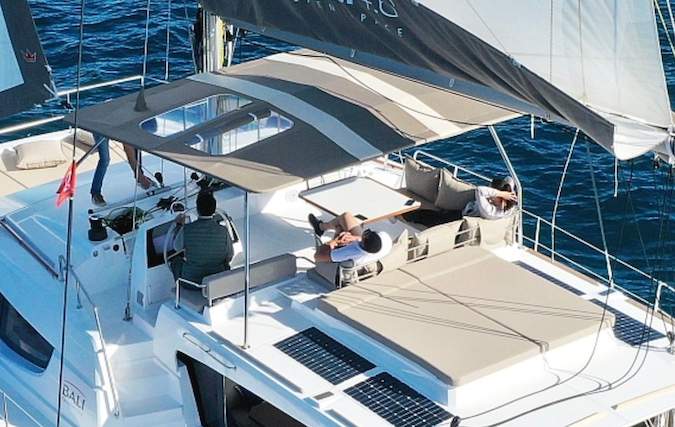 Bali offers a full dinette as well as a large sunbed on the flybridge while Lagoon has a long bench seat behind which you'll find a lounge but no dinette. Both booms are high and that makes it difficult to manage the mainsail in the bag. Lagoon's hardtop has ladders so you can climb up, but these ladders aren't easy to maneuver on anything but a very still vessel.
Interior & accommodations
As mentioned above, Bali has one social/seating area and it serves as both the interior salon and the exterior cockpit. For those who like separate gathering spaces (for kids and adults, for example) the Lagoon offers two distinct areas aft while Bali offers a second large cockpit area forward in place of the trampoline. Both models have navigation desks in the corner for dedicated ship's business. On the Lagoon, you'll find the electrical/control panel at the stairs leading to the starboard hull while on the Bali, the panel is located at the nav desk.
Lagoon has refrigerator drawers with another front-loading fridge option. The striking difference here is that Bali uses a household-sized, side-by-side fridge/freezer combo with a water dispenser and an ice maker just like at home and that has great appeal to new boaters. Note that the drawers are more ocean-friendly as the "home fridge" will let items fly off the shelves if you must open the doors while underway in heavy seas. Another thing to keep in mind: although Bali's fridge is more familiar and easy to work with, Lagoon's refrigerator drawers will lose less of the cool temperature every time they're opened. That means the batteries (and generator) have to work less hard and consume less fuel.
Both models offer plenty of countertop space and that works well when multiple people are cooking. On the Lagoon, if the chef is attending to food at the stove, the sous chef can be chopping and prepping at the side counter inboard. On Bali, the same holds except the two cooks have more separation. While one works at the sink or stove, the other can be preparing happy hour and passing it forward to the lounge area. Both galleys are central to all dining spaces inside or out which means the cooks stay in the middle of the social action even as they work and nobody feels left out of the fun.
Stowage is good on both models below the cabin soles and beneath the settees. These spaces are key when storing gallons upon gallons of drinking water that makes its way aboard any charter. The same goes for wine bottle storage and dry goods that are provisioned. The Lagoon has handy overhead storage lockers but they can be tricky for short people or kids so be sure to pack the snacks down low.
Both models offer an owner's version with the entire starboard hull dedicated to the owner's suite. To maximize sleeping accommodations, four cabins with four heads (all with separate shower stalls) may be spaced on both models. One difference is that Bali offers a five-cabin layout with an over/under bunk cabin amidship on port (which is good for kids) and an aft cabin with its entry and head from the deck (which works well for professional crew). Bali may have an advantage for large groups that like the crew aboard.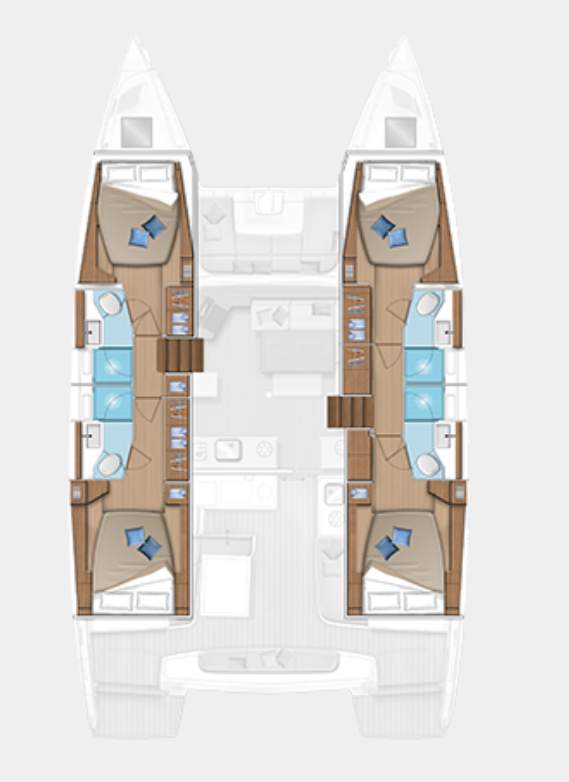 The preferred layout of your catamaran in charter*. Above: the 4-cabin layout of the Lagoon 46. Below: are the two options for the Bali 4.6 with the 4 and 5-cabin layouts: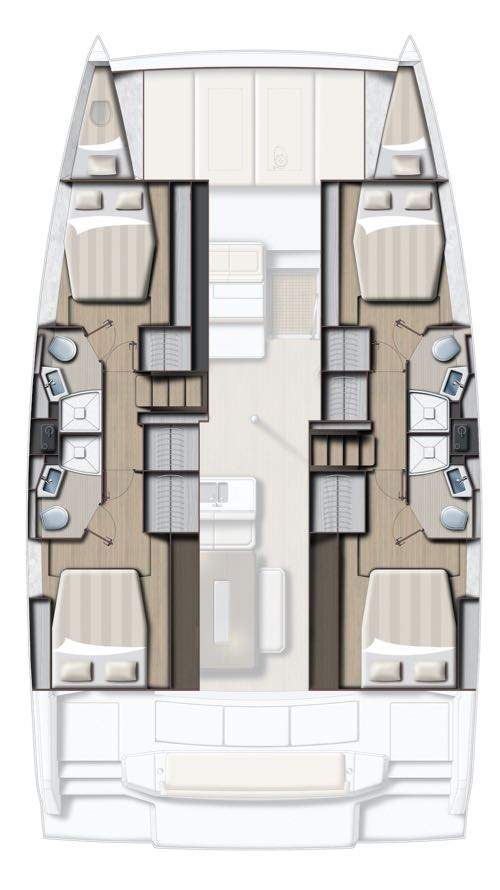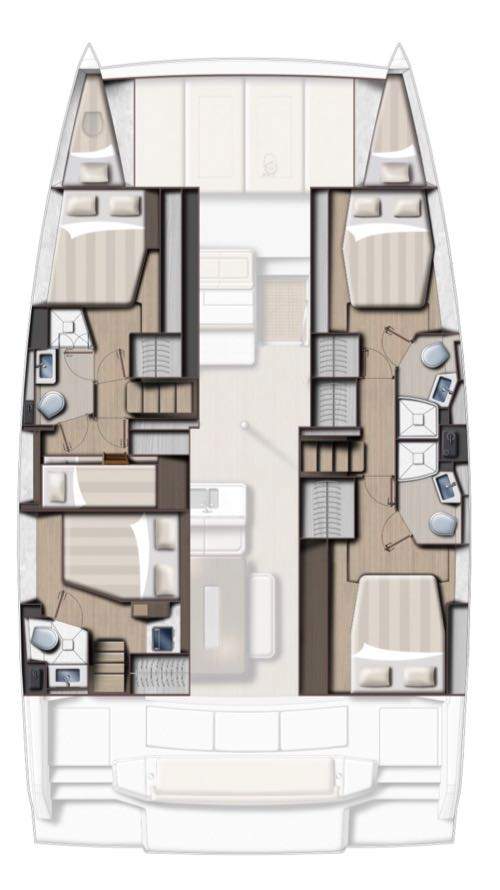 As far as cabin layout is concerned, Lagoon chooses to fit 4 similar-sized cabins with the Queen-size berths facing forward and aft, which offers good walk-around space. Bali offers this option as well as berths orientated to face the water but does so with more steps. When the mid-ship berths face the hull windows, the beds are elevated, which may be a little intimidating for less nimble guests or those who are less comfortable with steps.
* Though the owner version is available for purchase in the Navigare Yachting fleet, few owners choose this layout for their new catamaran because it's less popular amongst charter clients and therefore generates less revenue.
Contact Navigare Yachting to obtain your Pro-forma including purchase price and expected return on your model of choice and for the charter base, you're considering.
Other considerations
There are some other issues to consider like the visual appeal of the boat and the finishes which are a matter of opinion. Equipment choices are comparable and pricing will depend on how you choose to outfit your yacht.
One fantastic upgrade on the Lagoon 46 is the hydraulic swim platform. This platform carries the dinghy but once that's deployed, this area turns into a teak beach that can be lowered just below the waterline. It's a great place for kids to play or for the less mobile to board the vessel and then be raised to deck level with no need to climb the transom ladder from the water. Finally, there's also the matter of resale value. Lagoon has been building boats since the 1980s and its brand is strong which may translate to a higher value when it comes time to sell.
Which is better: Lagoon 46 or Bali 4.6?
Personal preferences will drive the decision to choose one of these models over the other. Features like a hard foredeck, ample refrigeration, or a five-cabin layout as found on the Bali 4.6 may be important. However, the resale value from a well-established brand may trump all of those and may steer you towards the Lagoon 46 instead.
Then, of course, there's the matter of aesthetics. Some people simply prefer one style over another. When comparing such similar models, the question isn't really which is better, but rather which is better for you.