Calm seas never made a good sailor! And a great sailor is a prepared one. We always recommend preparing for rough seas, it's much better to be safe than sorry. This is a summary of the safety measures and items that are a good idea to have onboard.
Before you leave the marina
Make sure that your boat is equipped with emergency flares, a foghorn, flashlight, lifebuoy, fire extinguishers, and a first aid kit. Check the fire extinguishers frequently. If it's a powder extinguisher, remember to shake and flip it over at least once a year to make sure that the powder doesn't lump together. Note that it's illegal to fire up an emergency flare if you're not in distress.
Everyone should have a lifejacket handy onboard. Make sure that everyone has a lifejacket in the correct size. A lifejacket has collars to keep your head over water, and mainly all its buoyancy is placed in the front of the jacket, over your stomach, to help you turn and float on your back. The sizes of lifejackets are based on your weight, so make sure to have a jacket in your weight span. But how the lifejackets fit you is equally important. If you weigh 75 kg, and the lifejacket in the weight span of 50-70 kg fits you better, then you should choose that one.
Have current charts, a working magnetic compass, and a transporter onboard. Do not put yourself in a position where you only rely on electronic equipment. In the event of a power failure, you may lose orientation.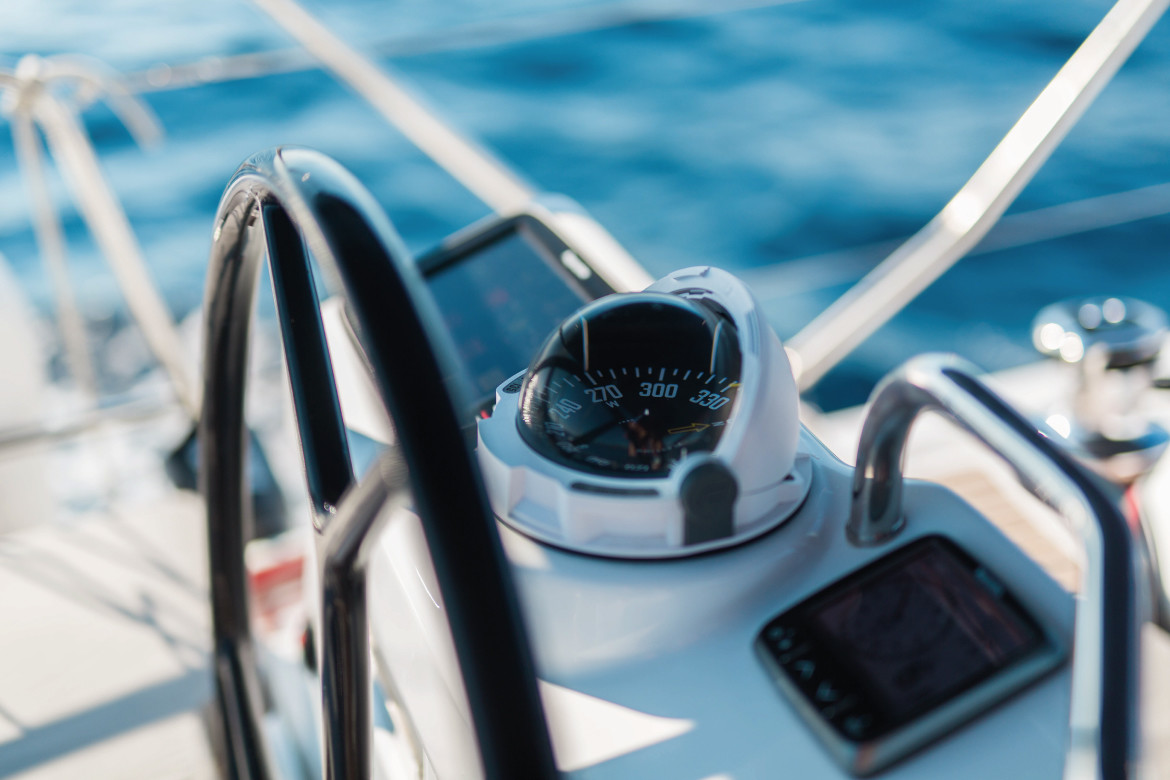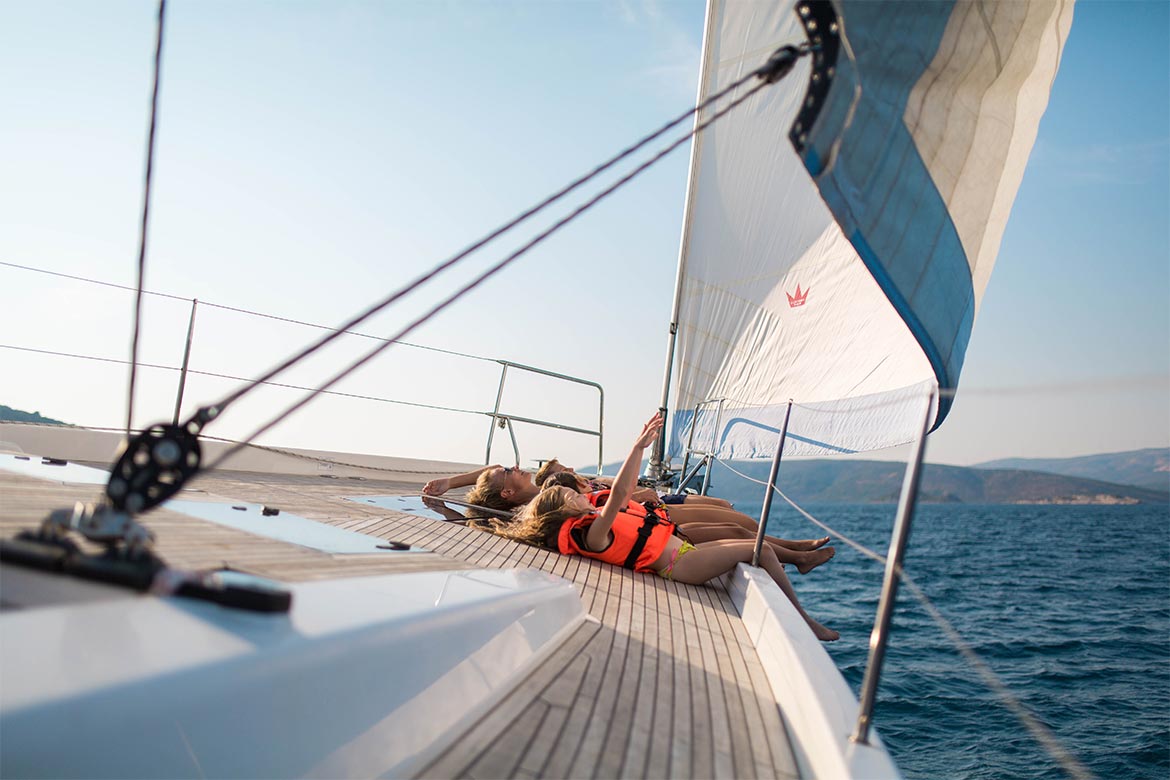 Make sure that your phone is charged so that you can call for help if needed. It's even better if everyone on board is familiar with how to use the VHF radio if you have one on board.
Double-check that the anchor lights and lanterns work. Keep extra lights onboard so that you can easily change them if one light should go out. Or a flashlight to replace the broken light as a short-term solution, until you can have it changed.
Everyone on board should know how to turn the gas off. As we all know, the most dangerous thing on the sea is the land! But a fire onboard is not desired. Boat galleys onboard very often have gas stoves, and if an accident would occur in the kitchen, everyone on board should know how to prevent it. Turning off the stove may not be enough if there's a fire, the gas needs to be turned off completely.
Stow the boat with extra supplies and drinking water. In Sweden, there's a playful expression: "The sea sucks" – which refers to the fact that you will probably be extra hungry onboard from pulling all those lines and being in the sun a lot! So, remember to drink a lot of water, and refill your salt depots!
Before you lift the anchor and hoist the sails, make sure to listen to the weather report. And always have a plan B, if the incoming bad weather should hit one day earlier than expected.
Review with everyone on board the steps they should follow if they were to find themselves in a man overboard situation. Everyone needs to be familiar with what to do. We will talk more about this below.
On the sea
Don't drink and sail! It's almost customary to have an "anchor beer" when you have moored in a bay. Take a moment and see how the boat behaves if the anchor took and make sure that you are not dragging. But do not drink underway when you are steering the boat. Deepwater and a drunk captain are not a good combination.
Have a good lookout, always keep an eye out and watch for other boats, underwater rocks, or suspicious clouds on the horizon. Do not blindly rely on the plotter or weather reports. Not all obstacles may be marked on the charts, and weather can change quickly. Moreover, make sure to keep a safe speed.
Check fuel levels frequently. The fuel indicator can fail, so make sure that the indicator behaves normally – you do not want to get stranded with no fuel in the tanks.
Keep track of your position, if something were to happen it's always good to know exactly where you are if you need to call it out on the radio, if you have a man overboard situation, or if the power should go out.
If you find yourself in a man overboard situation, make sure to have someone in the crew keeping track of the person in the water. Note your position on the chart and turn around. Some of the plotters even have a "MOB" (Man overboard) function, which locks the position you had when you pressed it so that you can find your way back as you turn the boat around. If possible, have someone else in the crew call it out on the radio as well. If you are the one who fell into the water, try to stay calm and concentrate on staying afloat. Do not panic when you see the boat sail away from you, it takes a few minutes for the boat to turn around and go back. When you approach the person in the water, put the engines in neutral and drive up on the side of him or her. Try to stay as calm as you possibly can. It's a great idea to practice this so that everyone on board knows what to do – especially if your main captain should be the one in the water. NOTE: DO NOT PRACTICE MAN OVERBOARD with a real person in the water! Use a fender or something else that floats. Otherwise, you will risk finding yourself in a real man overboard situation, which could end up bad.
And lastly, do not exceed the number of people on board that the boat is approved for.