Tips on stocking a bareboat charter
Food – it's so much a part of the vacation that you want to get it right, especially if you're provisioning for a bareboat charter like a fabulous week in the British Virgin Islands or Croatia with Navigare Yachting. Provisioning is part math and part art form and it takes planning to get it right. Here are some proven tips on what to expect, how to order, and how much you'll need – so ideally, you can come back with an empty larder and full charter guests.
Provisioning means acquiring food and it's an expression generally used by boaters and charterers. Over-provisioning is wasteful and expensive but under-provisioning leads to a cranky crew, especially when boating in remote locations where restaurants are few. Your charter company, crew, and destination will lead you to the right combination of choices.
Crew concerns and menu planning
The best place to start is with who will be aboard? Determine everyone's likes, dislikes, allergies, and dining expectations. Understand your group. Are they foodies? Are they restaurant hounds? Will they cook? Do they know how? Will anyone volunteer to do the dishes? Women tend to eat less than men but also tend to have more food intolerances or preferences like not eating meat, gluten, or dairy.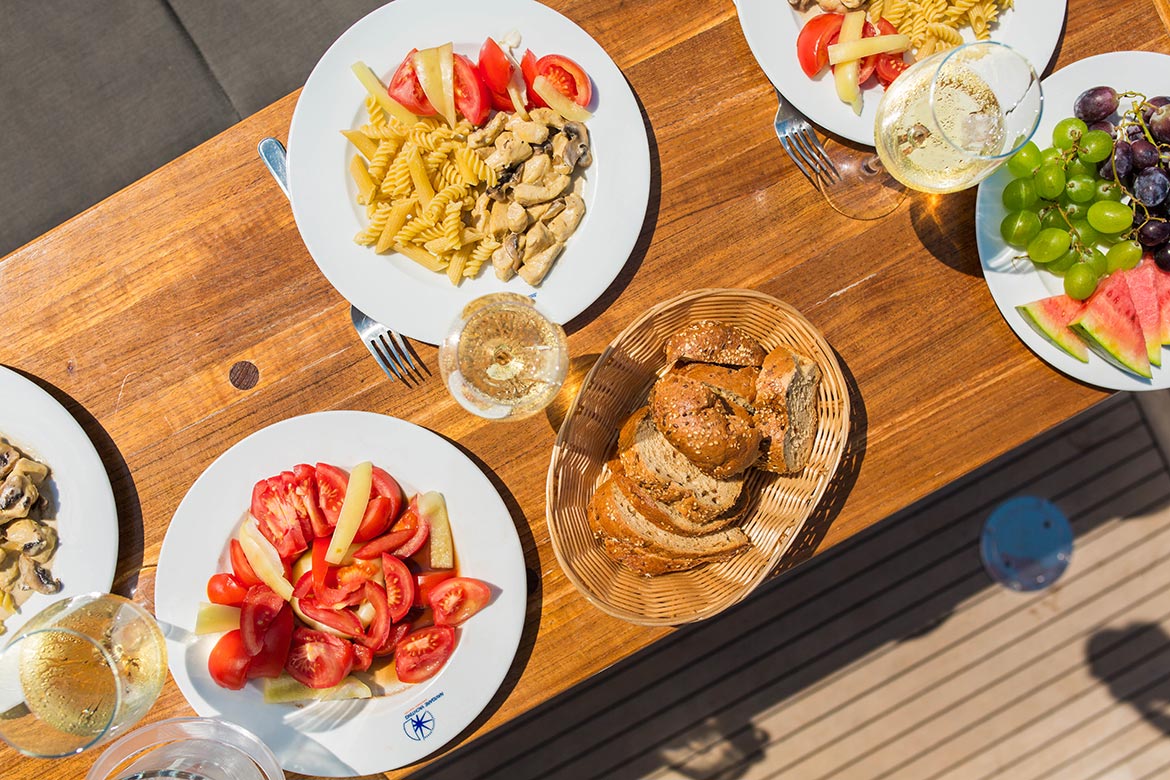 Estimating how much each person will eat or drink is tricky since people on holiday snack a lot and consume more alcohol than in daily life. Ask about any serious allergies like seafood or nuts that could result in anaphylactic shock. Also, some people only want to eat out on vacation, so you'll need fewer dinner items and more reservations. Once you determine who's aboard, start with menu planning and then break meals down into ingredients and make lists.
Plan for four "meals" each day – breakfast, lunch, dinner, and happy hour. That last one is key even for kids who will love joining the adults with some punch and a pre-dinner snack. Meals don't have to be elaborate. Pastries or yogurt for breakfast, salads for lunch, cheese and veggies for happy hour, and then a nice dinner will work.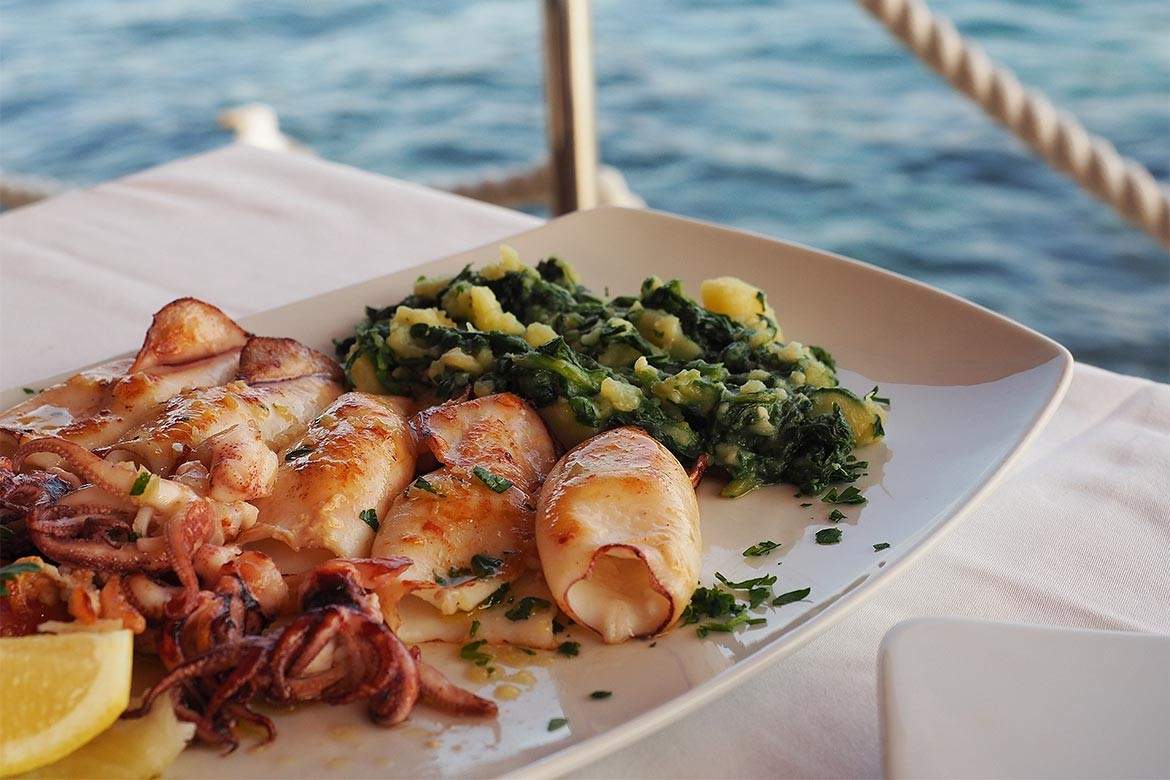 If your group wants to eat aboard a lot, plan dinners for every night minus one and make that last meal a mishmash of leftovers – it's likely you'll have plenty. As for onsite shopping, it's a bit like herding cats if you take your full crew to the market and they disperse, all bringing back items that don't work together… so menu planning is key as is designating a CPO (Chief Provisioning Officer).
Destination opportunities
Provisioning will be driven by where you charter your boat. For example, if your Navigare bareboat is in Croatia or Greece, you'll be able to stock minimally at the base and then re-provision along the way because there are shops in every town. There are also lots of tempting restaurants in every harbor so allow for spontaneous adventures ashore. You won't be the first sailor to be tempted by the smell of a cheeseburger in paradise. Remote locations like the Bahamas or Thailand may dictate more meals aboard so consider that in your meal planning.
In parts of the Caribbean, local vendors come to your boat with fresh French bread and croissants or you can buy the morning's catch from local fishermen. Be flexible and enjoy these treats by having less aboard that must be consumed. Eat locally to be more adventurous and to save money. Find out what's in season and shop educational, fun, and local produce markets. When passion fruit and mangos are available, why pay for imported strawberries?
Options via the charter base
Most bareboat charter companies offer three levels of provisioning: full, partial, or none. "None" is risky if the stores are closed when you arrive, and "full" is usually expensive and includes too much. The smartest way to go is a limited partial (like all breakfasts and lunches but just a few dinners) so you have some food aboard but aren't tied to set choices, quantities, and prices.
You'll receive some outside provider recommendations or a list via the charter company – with options from steak to matches, and you'll need to decide how many people to feed for how many days as well as adding extras like cleaning products. Set aside time to do this math. Check out the base ordering procedures (they differ by company and location) and ask questions of your charter consultant. You'll be amazed how much flexibility there is beyond the basic order forms. Ask whether your goods will be delivered to the boat and whether perishable items will be placed in the refrigerator if you won't be on the boat at that time.
If you've hired a chef for the duration of your charter, they will work with you to prepare your provisioning plan.
Partial provisioning is best for the basics like heavy bottles of drinking water. A rule of thumb in hot climates is a gallon per person per day. You'll need more in the Caribbean and less in the Mediterranean. Most charter companies provide a list in English, so you'll know what you're getting. Choose items that are easily overlooked when you get to the store like matches, dishwashing detergent, condiments, sponges, trash bags, charcoal, and salt and pepper shakers. Seasonings can be brought from home, so you don't have to buy large quantities on site.
Bonus considerations
Less is more. Whatever you think you'll need, cut it by a third. Based on your destination, shop small and often instead of loading up on a week's worth of groceries at the point of departure. Your provisions will be easier to store and stay fresh, and it's fun to go into local markets and discover unexpected treats like Mahi mousse (a fish paste) or local beer.

At the end of your charter, you'll need to figure out what to do with extra groceries. Sharing your leftovers will ease the feeling of having overspent on provisions. Offer your unopened goods and water bottles to a full-time cruiser, or ask our base staff if they may donate your extras.
Maybe it's the fresh air or the appetite you work up from sailing and paddle-boarding, but the food tastes better when you're on the water. Whether you're a foodie or can survive on Spam, careful meal preparation will never be wasted time. Provisioning is an intricate dance between strategy and tactics and anyone who proves to be good at it should be invited along on lots of charters in the future.